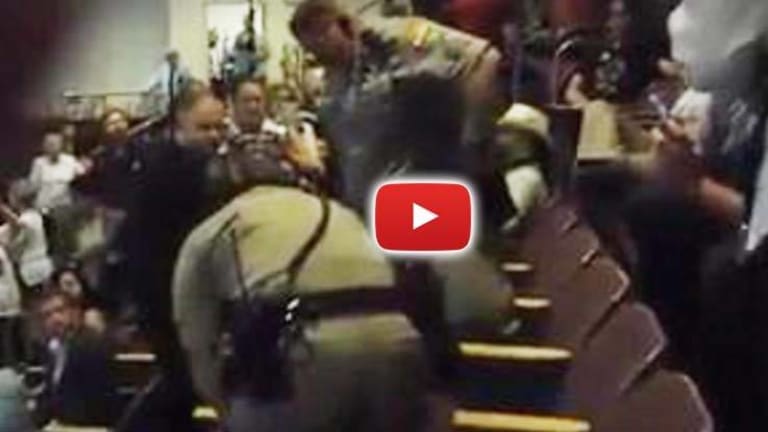 WATCH: Peaceful Man Violently Arrested for Sitting Quietly at Election Fraud Hearing
This is what democracy looks like.
Maricopa County, AZ -- As the Free Thought Project reported, voter suppression in Maricopa County, and the rest of Arizona ran rampant last week during the primary. The number of polling locations was drastically reduced, leaving many voters with a wait time of 5 hours just to vote. Others were left with no voting locations at all.
The election rigging was so obvious that a hearing was held this week in the House Gallery to discuss possible courses of action to correct it. However, if a county is corrupt enough to suppress voting they are also corrupt enough to suppress those who try to call attention to it. Video from inside the hearing shows that to be the case.
According to Arizona Family News, at least two attendees were cited, temporarily detained and then later released. But, video from the inside of the hearing shows that it got much worse than mere citations.
A video was uploaded to Facebook after the altercation Monday night which shows police violently arresting a non-violent man, who, according to witnesses, did nothing to deserve it.
The man arrested in the video, Jonathan S. McRae, was put in jail and facing charges of trespassing and resisting arrest.
https://www.facebook.com/photo.php?fbid=10205744191395701&set=gm.803953339749006&type=3&theater
"All because he has a Guy Fawkes mask on," one person said of the arrest.
The video poster, Janet Higgins told Heavy, that after the voter suppression hearing ended, they all chanted "Revote!" when they entered the gallery. They were told to quiet down and one person was removed. She said the guy seen in the video was sitting quietly alone and was given no warning.
She later wrote, "We were at the point of chaos. All brought on by the police. For a man sitting quietly. With dreadlocks. His name is Jonathan S. McRae. He is currently in jail, charged with trespassing and resisting arrest. I disagree. He was harassed, held to the floor for over 5 minutes, and kidnapped. I don't know if he was injured in the attack."
The onlookers were unafraid of voicing their opinion about the aggressive cops and, at one point, it looked like they were about to step in. However, the officers were successful and the man, whose only crime was sitting down silent with a Guy Fawkes mask on, was assaulted and thrown in a cage.
This is what democracy looks like.
Man arrested at Arizona State House for sitting.We went to the meeting on voter suppression at 10:00. It ended at 1:30 so the Arizona House could talk about the dark money bill. We chanted "Revote!!" when we arrived on the gallery. We were told to quiet down. One man was removed. The man in front of me was sitting quietly alone in his seat. He had dreadlocks and a Guy Fawkes mask pushed back on his head. He was given no warning.Part Two: https://www.facebook.com/toomuchsun/posts/10206156817510545?hc_location=ufi

Posted by Janet Higgins on Monday, March 28, 2016