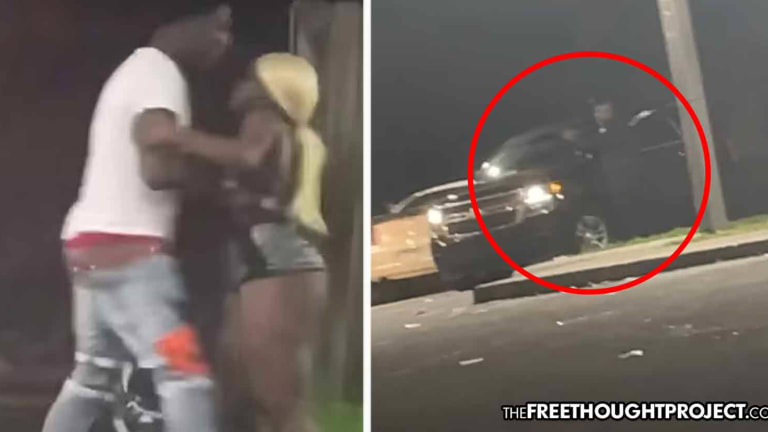 WATCH: Police Chief Drives Up to Fight in Parking Lot, Randomly Shoots Innocent Bystander
An Arkansas police chief responded to a fight in a gas station parking lot and randomly shot a bystander. He's now on suspension.
Little Rock, AR — In Little Rock, Arkansas, 22-year-old Kelecia Mayo is fighting for her life after being critically wounded by a bullet fired from the police chief's weapon. She was shot by police for merely being in the wrong place at the wrong time. Little Rock Police Chief Keith Humphrey was put on leave Saturday after cellphone video captured the completely irresponsible shooting.
According to police, the chief was responding to a fight in a parking lot on New Year's Eve between a man and a woman. During the fight, Taz Hayes, a 29-year-old woman brandished a gun and began aimlessly firing in the lot. Humphrey was out on patrol as part of an "all hands on deck" initiative when he watched the chaos unfold.
"On New Year's Eve, Little Rock Police Chief Keith Humphrey initiated an all-hands-on-deck approach to patrol just as he's done in the past and required command staff to patrol the city," Little Rock Mayor Frank Scott Jr. tweeted Saturday afternoon.
"While patrolling, Chief Humphrey saw a disturbance that, unfortunately, led to a shooting," Scott confirmed.
"Chief Humphrey also fired his weapon at the suspected shooter, and as is customary practice in an officer-involved shooting, he has been put on administrative leave. This is an unprecedented situation because it involves our chief of police," he said, pointing out that the Arkansas State Police are now investigating the incident.
As the video shows, Humphrey appears to be far away from the incident, taking cover from his truck when he opens fire. He didn't shoot anywhere near Hayes and instead shot Mayo.
As Mayo fell to the ground, the shooter, Taz Hayes made her escape and got away. She would be arrested a day later and charged with battery.
The state police have now taken over the investigation as Assistant Chief Crystal Young-Haskins stepped in to fill Humphrey's position.
According to the Arkansas Gazette, State police investigators will submit their findings to Prosecutor Larry Jegley, who will determine if Humphrey's use of force was consistent with Arkansas law.
TFTP found May0's social media account and she appears to be making a recovery after surgery. Luckily for her, it looks like she is going to make it through. Others, like Valentina Orianna-Peralta, 14, were not so lucky.
As TFTP reported last week, Orellana-Peralta was shopping with her mom at the Burlington in North Hollywood, California just before Christmas when 24-year-old Daniel Elena-Lopez of Los Angeles began assaulting people at the store with a bicycle lock.
In the videos released last week, Elena-Lopez can be seen grabbing and hitting multiple people on store surveillance, including dragging one person behind a counter.
When police arrived on the scene, they found one of the victims bleeding from her head with Elena-Lopez standing 20 feet away in his underwear. Though Elena-Lopez had assaulted several people, when officers arrived, he was not near anyone and was backed into a corner.
Instead of engaging him, attempting to surround him, or otherwise trying anything other than deadly force, the officer immediately opened fire in a crowded store, killing him and Orellana-Peralta.