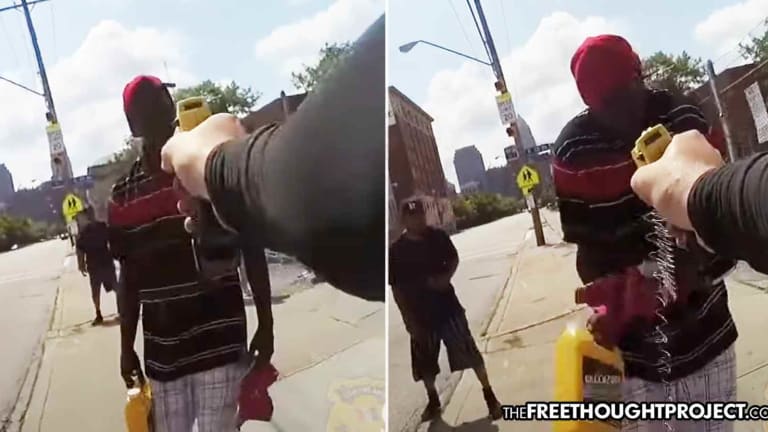 WATCH: Psycho Cop Tasers Innocent Man, Claiming He Was 'Armed With Jug of Antifreeze'
A cop lost it on an innocent man practicing his first amendment rights and subsequently attacked, tasered, and falsely arrested him.
Cleveland, OH — As frequent readers of the Free thought Project know, police officers will use almost any reason to justify the escalation of force and subsequent arrest. TFTP has reported on savage violence dished out by law enforcement in case after case of "contempt of cop" otherwise known as damaging a cop's ego. Body camera footage released this week, shows exactly that, and this cop has been doling out abuse for years with no accountability — until now.
Cleveland officer John Petkac was finally fired in December after terrorizing his community for years. After his arrest, the department began releasing body camera footage from his past which paints a picture of a jackboot thug who used his badge to bully, intimidate, and arrest otherwise entirely innocent individuals.
In the most recent video below, Petkac is seen walking up to an innocent man in what is clearly a case of contempt of cop. For no reason, he tasered, assaulted, and subsequently arrested the man.
The most recent video is the second of three videos released by the department after Petkac's firing. Exactly why police didn't release all three of them at once is unclear. What is also unclear is the contents of the third video, which they have so far refused to release publicly. All we know is the video shows he used his stun gun on someone who was "passively resisting," according to city records.
In this second video, Petkac is making an arrest when a man standing on the sidewalk starts yelling. TFTP would like to take this time to remind our readers that cursing at police officers is protected under the First Amendment of the U.S. Constitution—so is flipping them off. In fact, the U.S. Supreme Court ruled, in City of Houston v. Hill, that police must tolerate even more abusive speech than an average citizen—which certainly includes a random bystander cursing at them.
The court concluded that "in the face of verbal challenges to police action, officers and municipalities must respond with restraint," and added that, "the First Amendment protects a significant amount of verbal criticism and challenge directed at police officers."
When Petkac approached the man on the sidewalk, the arrest was already over and that suspect was in custody. Petkac had no legitimate cause to approach the man as he had committed no crime, did not interfere in the arrest, and merely exercised his first amendment right to free speech.
According to Cleveland.com, Cleveland Safety Director Karrie Howard wrote in his letter notifying Petkac of his firing that he found the officer used excessive force, improperly used his stun gun, failed to use de-escalation tactics and failed to report his use of force accurately.
This was the polite way of putting it.
As the video shows, Petkac abandoned his suspect to confront the man identified as Maurice Lewis. While confronting him, he insulted the man and mocked him for being homeless.
"Go back to 2100," Petkac said, referencingthe nearby homeless shelter. "Go back to 2100, and I'll go back to my community."
Petkac again yelled at Lewis to "get the hell out of here."
Lewis didn't move. Petkac pushed Lewis with his other hand. Lewis said, "Don't touch me."
"You're trying to set me up, b----h," Lewis said.
During the middle of that sentence, Petkac tasered the innocent man, causing him to drop to the ground.
"What did y'all do to me?" Lewis said. "I didn't do nothing."
Petkac would claim in his report that he knew Lewis from previous incidents and that he had a tendency of "violent behavior." This was not evident during their interaction. He also claimed — falsely — in his report that he tried to de-escalate the situation but became "fearful" because Lewis was "armed with a large yellow container."
That container turned out to be nothing but a jug of antifreeze. Petkac continued in his false report, writing that Lewis raised the bottle "in a swinging manner" that made Petkac believe Lewis was about to attack him. After watching the video, it is clear that this is a lie.
Nevertheless, Lewis was subsequently arrested and charged with obstructing official business, a fourth-degree felony. After being locked in a cage for two weeks, the charges were dropped.
Last week, TFTP reported on the first video released by the department showing Petkac's abuses. In that video, he was seen stomping on a man's neck while holding a gun to his head. The man's only charges were "resisting arrest" — meaning he had committed no crime prior to Petkac attacking and arresting him.
Despite lying on multiple reports, and falsely arresting people, Petkac went on policing for years until he was fired in December. He still has not been charged.