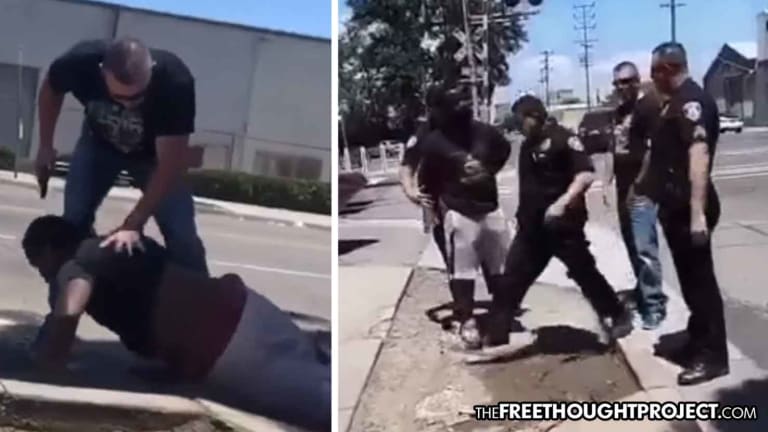 WATCH: Road Raging Off-Duty Cop Holds Man at Gunpoint, Calls Fellow Cops to Help Him
A cop in an apparent fit of road rage abuse his authority and held an innocent man in gunpoint until his fellow cops showed up to falsely arrest him.
Stockton, CA — A video of an apparent case of road rage by cop was submitted to the Free Thought Project this week by the victim, James Weaver, who tells us he nearly lost his life over the incident. As the video shows, the cop — who was off-duty — draws his gun and holds Weaver and his friends at gunpoint as he calls his fellow cops to help him carry out his fit of rage.
The incident unfolded last week as Weaver and two of his friends were towing a car to Stockton. The police version of events drastically differs from what Weaver says happened but the video does not lie.
If we take the official statement from the cops, Weaver was swerving all over the road, trying to kill the off-duty cop with his car that he had just purchased. So, the officer — being the hero that he is — followed Weaver and his two friends until they reached their destination.
The officer, identified as Kevin Hachler, having no other choice, saw Weaver get out with his "hand in his pocket" so he pulled his gun out and shoved it in Weaver's chest to "protect himself."
Hachler said he called dispatch while he was in his truck to report that Weaver was trying to kill him with his trailer. However, as the video shows, Hachler holds Weaver at gunpoint first, before walking to his truck to make the call.
After Hachler makes the call, multiple units arrive to help him carry out his fit of rage and arrest Weaver.
What Hachler told police and what Weaver and his two eye witnesses say, are two totally different stories.
Weaver tells TFTP that he was purchasing a new car and driving it back home when he changed lanes.
"I saw in my side mirror I was clear to get over so I did," Weaver said. "Next thing I know, this blue truck speeds around me flipping me off."
Inside the blue truck was officer Hachler.
As Weaver continued driving, they heard a loud bang from the trailer so they pulled over to make sure the vehicle was okay.
Hachler "pulls over behind us but not on the shoulder, blocking the right hand lane in traffic. He said nothing to us. We then hop back in my truck and continue to drive."
According to Weaver, he and his friends noticed that Hachler was following them and when they arrived at their destination, Hachler got out and assaulted them with a deadly weapon.
"We go toward him to ask why he was following us and he grabs me by the shirt and points a 9mm at my chest," Weaver told TFTP. "I thought I was being robbed," he said.
Only after Weaver had a gun pointed at him did the officer tell him he was a cop, at which point his friends began recording.
When Weaver asked the officer for his badge number, Hachler responded with "shut the f**k up."
As Hachler held Weaver at gunpoint, forcing him down on the ground, his fellow badged brothers show up to help him finish his act of rage. Weaver was then arrested and charged with fleeing an officer—for driving away from an off-duty cop in his personal vehicle—and assault with a deadly weapon—for changing lanes in his truck.
Weaver said he was taken to jail and his kids, one of whom has special needs, were put in a holding cell too.
Weaver paid his $10,000 bond to get out. But when he went back the following day to be arraigned, he says there were no charges on the docket—meaning they had been dropped.
To think that a man buying a new car, driving with his two friends, would somehow try to randomly kill someone in a truck is asinine. The most likely scenario here is that the cop got mad Weaver changed lanes in front of him, so he road raged.
Since he carries a badge and a gun, Hachler was able to abuse this authority to follow through with his fit of rage by having his victim arrested and falsely charged.
Had Hachler not been a cop and done the same thing, rest assured that he would be in jail right now. However, because he's a cop, he was able to hold a man at gunpoint during a fit of road rage and will likely face no charges.
If you would like to let the Stockton police department know how you feel about their officer abusing his authority to inflict his road rage on Weaver, you can do so on their Facebook page, here.
Below is the video.