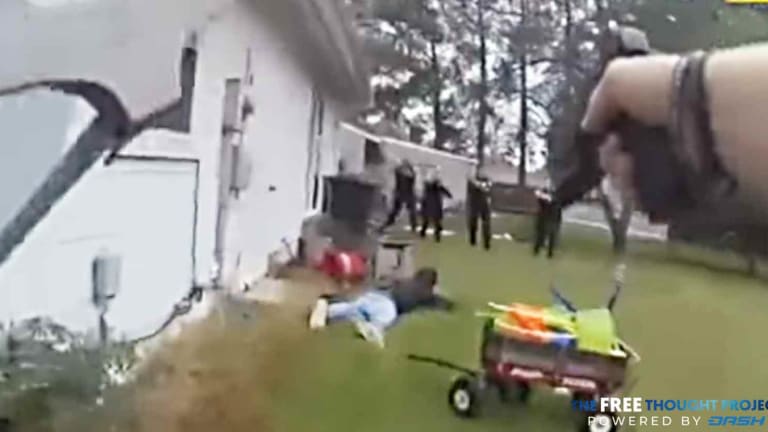 WATCH: Cop Shoots Fleeing Teenager In The Back Multiple Times, Then Turn Off Body Cams
While a police officer claimed that a teenager was pointing a gun at him before he opened fire and shot the boy in the back, the body camera footage tells a different story.
Portsmouth, Virginia ­– Disturbing body camera footage has been released that shows a police officer shooting a teenager in the back multiple times as he runs across a backyard, even though the boy does not appear to be posing a direct threat.
Deontrace Ward, 18, is lucky to be alive after he was shot by Portsmouth Police Officer Jeremy Durocher while attempting to flee the scene of a reported robbery. The video footage that has been released from the incident, which was captured by a body camera worn by Durocher, starts by showing multiple officers surrounding a house with guns drawn after they received reports that a robbery involving multiple suspects was in progress.
Durocher began running towards a person who can be seen running from the house, and within seconds, he fired two consecutive rounds. The gunshots did not deter the suspect, and he continued to run, jumping over a low chain-link fence into an adjacent backyard.
"He has a gun! He has a gun!" Durocher screamed before firing two more consecutive shots and hitting the boy in the back.
Even though Ward can be seen lying on the ground and making no attempt to move after he was shot, Durocher kept his gun trained on Ward's body and continued to yell, "Stay down! Stay down!" before jumping over the fence and approaching Ward.
At least five officers can be seen approaching Ward from the opposite direction with guns drawn, and Durocher again yelled, "He's got a gun! He's got a gun!" While three officers put their weight on Ward to make his body stay on the ground—even though he had still made no attempt to move—a female officer ordered the remaining officers to keep looking for the other suspects from the robbery who had fled in the opposite direction.
Durocher can be heard breathing heavily as he stands over Ward's body and watches two officers secure his wrists behind him with handcuffs. When Ward cried out in pain, one officer screamed, "Don't you move!" and a second yelled, "You understand?"
While it is not clear in the body camera footage that has been released, a report from the Virginian-Pilot noted that according to a transcript of the video from the court file, when Ward said, "I can't breathe," the male officer on the ground next to him, James Clark, replied, "If you're talking, you can breathe."
"He's got a gun in his waistband," Durocher repeated once again.
"If you reach for that, I swear to God, you'll regret it," Clark told Ward as he put on gloves before searching the boy's wounded body for weapons.
Durocher then told the two officers that he saw Ward holding out the gun and specifically pointing it at him. "He had it pointing, like, towards me, so when he jumped the fence, I shot him," Durocher said. "He didn't shoot, but he had it, like, at me as he came out the window."
The officer's account of the story is not visible on the footage.
"Who shot?" Officer Angelina Baaklini asked as she held Ward handcuffed arms while Clark searched his body.
"I did. Just me," Durocher responded.
He continued to breathe heavily and started pacing back and forth. Another officer told him to calm down and led him to the front porch of the house where he repeatedly told him to take deep breaths. After a few minutes, Durocher was approached by Sgt. Kim Funkhouser, who took his firearm from him and told him to calm down.
Officer Joseph Worley then interfered and gave Durocher his own handgun, insisting, "He's got to have one. I don't need one."
When Durocher began to talk about how Ward came out of the house with a gun pointed at him, Funkhouser interrupted him and appeared to reach up and turn off her own body camera before another officer's arm was seen reaching towards Durocher's body camera, and the video ended.
In a statement, Durocher's attorney, Nicholas Renninger, told WAVY News 10 that the shooting was justified because it was clear that Ward was armed and Durocher was in fear for his life when he opened fire.
"[The suspect] had a gun with him, which showed Ward's intent was if confronted he was going to use this weapon and that's something police officers are trained in, an armed burglary is much more dangerous than an unarmed burglary and Officer Durocher was presented with that immediate threat when he saw him with the weapon," Renninger said.
However, the body camera footage does not appear to show that Ward was holding a gun or pointing any kind of weapon at Durocher when he ran from the house. While the officers claim that they did eventually find a .45-caliber Springfield handgun inside Ward's right pant leg, the claim that he intended to use it to shoot and kill police, cannot be substantiated.
In an interview with the Virginian-Pilot, Ward insisted that he did not show the gun at any point before he was shot, and he made no attempt to threaten the officers.
"I was just pretty much trying to get away. Showing no aggression. I feel he shot for no reason," Ward said.
Deontrace Ward is set to stand trial May 1, and he has been charged with six felonies, which include armed statutory burglary, assault of a police officer and possession of a firearm by a felon.
Officer Jeremy Durocher, who had been with the Portsmouth Police Department for less than six months when the shooting happened in October 2017, was placed on administrative duty until an internal investigation is complete.
Watch the body camera footage from the shooting below: