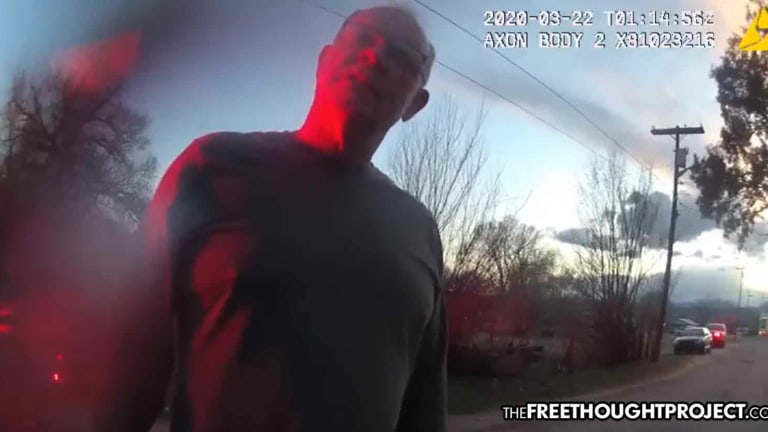 WATCH: Sheriff Charged After Showing Up Drunk to SWAT Standoff to Allegedly Protect Suspect
A New Mexico sheriff reportedly obstructed justice in a SWAT team standoff in Espanola. He was later criminally charged by Espanola's police chief.
Rio Arriba County, NM — It's not every day a police chief accuses another sheriff of obstruction of justice but thanks to the keen investigative journalism work by Mindy at the Northern New Mexico Independent we are able to bring this story to you. The sheriff of Rio Arriba County, Sheriff James Lujan, showed up at a SWAT team standoff in nearby Espanola and attempted to prevent Espanola police from taking a reportedly dangerous suspect into custody. Complicating matters, Espanola police allege Lujan may have been drunk at the time.
On March 21st, suspect Phillip Chaco barricaded himself into his residence after allegedly beating and stabbing another man at an earlier crime scene. The Espanola SWAT team surrounded the home but then Lujan arrived and started barking orders at officers who were not under his command and in a location which was not his jurisdiction.
After ordering Espanola officers to pull back, Lujan told Sgt. Michelle Ortega, "Excuse me? I'm not asking you. I'm telling you!"
In body camera footage obtained by NNM Indpendent, Lujan can be seen telling officers on scene he had a key to the residence, asked for handcuffs from officers, and eventually obtained a pair from an officer. Chaco reportedly wanted to turn himself in to Lujan but officers were being distracted by the Rio Arriba County sheriff who at one point reportedly told officers Chaco wasn't even at the home.
It's unclear what relationship Lujan has with Chaco but Lujan allegedly already helped Chaco escape justice in another unrelated case. But as officers were surrounding the home in a SWAT team standoff, Lujan pushed passed the front lines into the so-called "hot zone", arrived at the front door and began knocking on the door. When Chaco did not open the door, Lujan walked away. Officers also commented to each other recorded on body cameras that Lujan reeked of alcohol.
At this point it should be noted if a normal citizen, not a badge wearing police chief, had attempted to push through a SWAT team standoff, that person would have been arrested on the spot and charged with obstructing — if not killed. If that person drove himself or herself to the scene with alcohol emanating from their breath, a DUI charge would most likely follow.
But since the sheriff is a member of the thin blue line, no one did anything except complain to their commanding officer, who later took legal action. However, at no point did anyone attempt to arrest Sheriff Lujan for putting his nose where it did not belong.
The Santa Fe New Mexican reported Lujan has now been charged by Espanola's Police Chief Roger Jimenez with resisting, evading or obstructing an officer, according to the criminal complaint personally filed by Jimenez. The chief also proved what TFTP has been saying all along that police officers get special treatment by their own. In his own words Jimenez wrote, "had a civilian or citizen committed the offenses Sheriff Lujan did, they would have been arrested and removed from the scene."
All of which begs the question as to why do police officers not immediately arrest each other when they're suspected of committing crimes? Jimenez wrote in a statement:
It is an unfortunate situation, but it is important to remember nobody is above the law in cases like this.
In a telephone interview, Lujan reportedly told reporters he was innocent of any criminal wrongdoing and was only trying to protect the safety of everyone involved. The case is now being reviewed by the New Mexico State Attorney General's office to see if the charges will result in Lujan being prosecuted.
We at TFTP, after writing thousands of articles on police accountability, doubt very seriously if Lujan will be prosecuted for any of the crimes for which he has been accused. And if he is prosecuted will likely get off with nothing more than a slap on the wrist. Proving our point, according to KOB News Channel 4, "two judges have already recused themselves in this case. Sheriff Lujan is expected to be arraigned on April 13."