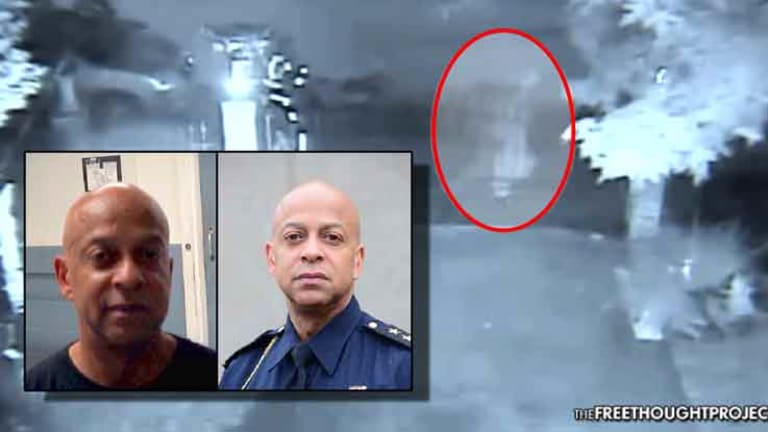 Video Shows Sheriff Run from Cops After Flashing His Genitals at People in the Park
Before the video was released, the Sheriff claimed that this was all a misunderstanding and vowed to clear his name.
DeKalb, GA — After making a public statement on Monday — noting that him being caught exposing his genitals in a park was a 'misunderstanding' — DeKalb County Sheriff Jeffrey Mann was seen on video running from police.
Unlike anyone else who would've been caught exposing their genitals in a park, Mann was given a forum in the press to attempt to clear his name. However, even with this special privilege, people aren't buying it.
As the Atlanta Journal-Constitution asks, What was he doing in an area of Piedmont Park police say is known for "sexual acts after dark"? And why, when confronted by an Atlanta police officer, did he flee, leading the officer on a quarter-mile chase before eventually surrendering?
Mann was given a forum with Channel 2 Action news to express his innocence. He noted that he appreciates Atlanta police and said he is "working with the City of Atlanta to clear these charges."
"It is embarrassing," DeKalb County Commissioner Nancy Jester said Sunday. "It's certainly not a good headline for DeKalb County."
Still, Mann is vowing to clear his name in spite of the arresting officer witnessing his act first hand.
According to the police report, as noted by the AJC, a police officer said Mann was exposing himself as he approached him in Piedmont Park late Saturday night. Once he got within 10 feet, the report continues, the officer turned his flashlight on Mann, identifying himself as police and commanding him to stop.
Instead of stopping, Mann — the town's top cop — turned and ran...from the cops.
"I continued to watch the male run while I waited to cross 10th Street and its traffic near Argonne Street," the report states. "The male had stopped to tie his shoes. I got approximately 10 to 15 feet from the male before he noticed my approach. The male immediately stopped fixing his shoes and started running again."
During the pursuit, Mann and his pursuing officer were seen on a resident's security camera in what looks like a scene out of Benny Hill.
Mann began to get tired, however, and the arresting officer caught up with him. According to the report, Mann surrendered and the search of his person found two condoms in his pocket.
Notably, the sheriff attempted to flex his blue privilege and asked the arresting officer if he could retrieve his identification from his vehicle. However, the officer denied that blue privilege.
Mann was, however, was allowed to speak to the officer's supervisor.
"It's tragic and unfortunate the citizens of DeKalb County have to endure yet another black eye," said Harold Dennis, whom Mann defeated in November's election with 80 percent of the vote. "The citizens of DeKalb deserve better by their elected officials."
Mann was booked into jail and charged with one count of exposing himself in public and another of obstruction.
"It's important for the citizens of DeKalb County to have someone with integrity, to have someone they trust," Mann said during a debate last July. 
Well, it appears that the citizens of DeKalb County can no longer trust him. But this will likely change very little.
If the people of DeKalb county continue to trust this man, even after this embarrassing debacle, they deserve what they get. As AJC points out, the history of corruption and violence within the DeKalb county sheriff's office stems back over decades.
Sheriff-elect Derwin Brown was shot and killed in his front yard in December 2000 after defeating incumbent Sheriff Sidney Dorsey in that year's election. Brown had pledged to clean up corruption and kickbacks in the sheriff's office during his campaign. Dorsey was convicted of ordering Brown's killing, and he's serving a life sentence.

Three of Dorsey's predecessors also had their careers end following criminal inquiries.

Lamar Martin was convicted of taking bribes in 1972. Ray Bonner, a sheriff in the mid-1970s, was acquitted in the fatal shooting of a 16-year-old boy in his front yard. Bonner lost the 1976 election to former Atlanta Braves pitcher Pat Jarvis.

Jarvis pleaded guilty in 1999 to participating in a kickback scheme to get cash from food vendors, bonding companies and maintenance firms that had contracts with the county jail while he was sheriff. He was sentenced to 15 months in prison.
Sadly, judging from the sheriff's confidence in resolving this situation, coupled with the corrupt history of the DeKalb sheriff's department, it appears that he could very well keep his job.