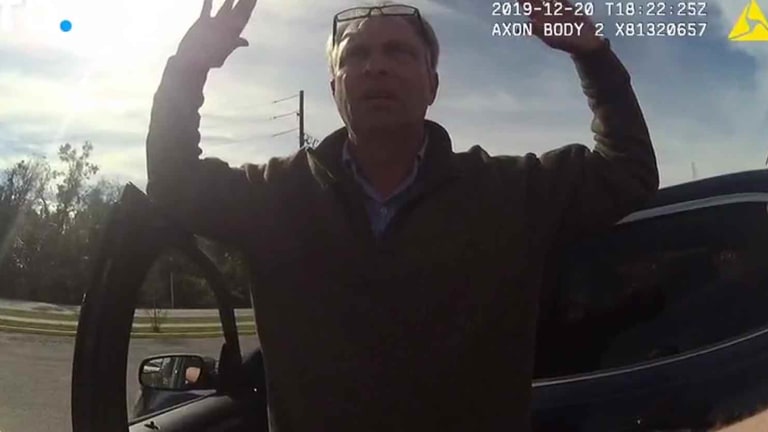 WATCH: Sheriff's Deputies Nearly Shoot, Torture FBI Agent For Investigating Their Corruption
A Florida FBI agent, undercover, was detained, tortured, and nearly shot by sheriff's deputies for attempting to investigate police corruption.
Tallahassee, FL — What started out as a hit and run ended with one FBI agent being sent to the Tallahassee Memorial Hospital. In early December, Marilyn Bean, a local real estate agent, backed into Byron Rainwater's Cadillac with her 2015 Mercedes Benz at the local Dollar General. Instead of calling police and exchanging insurance information, Rainwater stated Bean got out of her car, looked at the damage, said something about a "scratch" and then drove off. This set off a series of events that would lead to an FBI investigation and a dramatic scene that unfolded in the video below.
After the crash, Rainwater called police who took the police report and issued a criminal citation for Bean for leaving from the scene of the accident, a misdemeanor. However, that ticket was never filed. AJ Smith, the Sheriff of Franklin County, is reportedly a friend of Bean's. After Deputy Rolf Gordon spoke with Ms. Bean and got her side of the story, he said he was convinced she didn't leave the scene of the accident on purpose and he withdrew the ticket (some people may call that 'ticket fixing').
Weeks later and just five days before Christmas, Special Agent Alexis Hatten called deputy Gordon on his personal cell phone and asked to speak with him about the ticket. Even though all charges and tickets were dropped against Ms. Bean, FL Asst. State Attorney Jarred Patterson declined to prosecute the real estate agent after fully investigating the incident. He cited a lack of evidence against Ms. Bean. The supposedly wealthy real estate agent also paid Rainwater $1,600 for damage to his vehicle. Rainwater, satisfied with payment, was no longer willing to prosecute the sheriff's friend. So the tickets and the case against her were dropped.
Any presuppositions as to exactly what Special Agent Hatten wanted to speak with Gordon about would be mere speculation because the agent was tight lipped about why he wanted to speak with Gordon. In fact, when the body camera footage begins rolling it is mentioned Hatten wanted Gordon to get into the car with him and turn off his department issued body camera so the two could speak in private. That request apparently sent up red flags for Gordon who then began to question the agent's claims he was in fact an FBI agent.
In all fairness to the FBI agent we reviewed the body camera footage several times and attempted to ascertain how and why Gordon came to the conclusion the agent was acting "suspicious" and seemed illegitimate. The agent presented his FBI identification, along with his drivers license and badge, and was speaking with his supervisors over a handheld radio.
He also had a gun on his person which he was willing to surrender should the deputy believe the action was necessary. Gordon could not seem to get over the fact the FBI knew what his personal cell phone number. And Hatten was unwilling to inform the deputy as to how he got his personal cell number. As a result, the deputy then decided he didn't believe him and investigated further. The tags came back to a business name differing from the FBI and Hatten explained it away saying his car was an undercover bureau vehicle.
As TFTP has consistently reported, officers will often use "suspicion" and "suspicious activity" as probable cause to detain someone. However suspicion is not a crime and unfortunately, the FBI agent did not use the verbiage we at TFTP recommend citizens to use. He did not simply ask deputy Gordon what crime he was suspected of having committed. Instead, Hatten complied with the officers commands and was eventually placed in handcuffs and stuffed into the back of Gordon's cruiser while Gordon and his fellow boys in blue attempted to ascertain the true identity of the self-professed FBI agent.
All of this raises the question, "How long should it take for police officers and federal agents to be able to determine whether or not someone is a cop, an FBI agent, a Border-Patrol agent or any other of the dozens of federal law enforcement job titles out there?" Unfortunately for Mr. Hatten more than 30 minutes passed with Hatten being in the back of the cruiser for most of that time period.
When Gordon's fellow officers hear Hatten screaming at the top of his lungs for assistance, the deputy comes to the vehicle, opens the driver's door and speaks with the agent. Hatten complains the deputy has the "heat on" and the FBI agent is sweltering. Agent Hatten did have on a tweed jacket and a long-sleeved shirt. Gordon admitted to having his defroster on the entire time Hatten was in the back. The FBI agent then asked Gordon to open the rear door so he could get some air because he said, "I can't breathe!" Of course we at TFTP have reported in the past how police officers will sometimes torture suspects by using heat or cold to make them extremely uncomfortable.
By this time in the interaction, Hatten is overheated. Apparently, however, Gordon was still unwilling to open the back door and give some air to the gentleman. He would not and did not extend the professional courtesy of opening the rear door for ventilation as requested by the agent. Hatten stayed in the back of the cruiser with his winter clothing on for an additional 5 minutes. Even after the Franklin County Sheriff's Department later verified Hatten was a federal agent and should immediately be released, cops kept him there in the back of the police cruiser with the doors shut minutes longer
Indicating just how humorous the incident seemed to be for the cops, one of Gordon's fellow boys in blue even asked Gordon for a copy of the body camera footage as a personal "stocking" stuffer for Christmas. The FBI agent, however, didn't think it was funny at all, apparently.
While the whole scenario may have been amusing to Gordon and his brothers in arms, Hatten didn't think it was a bit funny. As soon as he was allowed out of the police cruiser and released from handcuffs he demanded the officers call EMS for the injuries he sustained in the process.
Upon closer examination of the body camera footage, when Hatten took off his jacket, one could easily see the elderly man was sweating profusely. He again demanded an ambulance. Then, he took his radio and called his FBI supervisor to report the officers had hot-boxed him and that he was going to go the hospital. He asked the FBI to call EMS for him saying the Franklin County deputies refused to do so.
The ambulance arrived and transported Hatten to the Tallahassee Memorial Hospital where we assume he was treated for his injuries.
In the beginning of the interaction with Gordon, Hatten had his hands raised above his head. He told Gordon he was afraid that cops might try and shoot him for being armed. He also told Gordon the deputy had no business being a law enforcement officer for the way he was being treating a federal agent.
We at TFTP thought the entire interaction was indicative of the distrust some federal agents have for local law enforcement. Had Hatten made some sudden move towards his gun, the title of this article could have been written completely different.
It's unclear if the FBI and Hatten will attempt to sue Gordon and the Franklin County Sheriff's Department. At any rate, this story is far from being over. It's unclear as to what level of corruption the FBI wanted to investigate Smith and his office. For now, we will just assume it was for a low-level back scratching ticket fixing scheme which is what it appears to be from the outside looking in.
Of course, the tyrants did not so much as offer up an apology. Do you see what we've been saying, now? If it can happen to an FBI agent, it can certainly happen to the rest of us commoners. The cops were clearly on a power trip and were treating the federal agent as if he was a terrorist on a terror watch list.