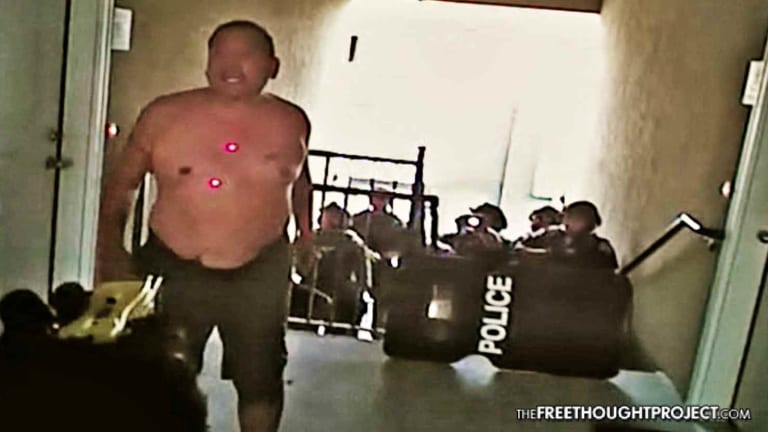 WATCH: Entire SWAT Team Dispatched to Handle One Unarmed Drunk Old Man
A drunk, shirtless, and depressed Utah man was tased by two tasers simultaneously during a SWAT raid on his house and is now permanently disabled.
A Utah couple is suing the West Utah City Police Department (WUCPD) for excessive use of force after Fernando Coronado was tased by police. The deployment of the taser caused Coronado to fall on his head leaving him permanently disabled from the resulting brain damage, according to the lawsuit.
Tabetha Coronado called police in 2016 after her husband got drunk and threatened to kill himself. Instead of sending in a few officers to take the man into custody and presumably to either jail or receive mental health, the WUCPD sent in their swat team, evacuated the entire apartment complex, and engaged in a standoff with an unarmed, shirtless, drunk old man. 
From recently released body camera footage, the SWAT team can be seen ordering Fernando to get on the ground. The belligerent man stood his ground, refusing to comply. Presumably, an entire SWAT team could have easily taken down the drunken male. But the standoff carried on for two hours.
Eventually, the decision was made to flank him, and send another officer behind him with a taser. As the SWAT team can be overheard telling Fernando "Everything is going to be okay" and "We're here to help you", another officer was sneaking up behind the mentally disturbed man. As Fernando realized he was being outsmarted, he turned to face the taser-wielding police officer.
Fernando moves toward the officer who deployed his taser. The heavy man fell flat on the ground, striking his head on the concrete stairs in the process. The rest of the SWAT team moved in and secured the man, calling for emergency medical services (EMS) to come and care for his injuries.
But as is often the case, Fernando's injuries from the resulting fall were so severe the family believes they were wronged by police. They're now suing for compensation. The suit alleges Officers Kenneth Olsen and Jacob Hill violated his constitutional rights in using excessive force against the nearly naked unarmed man.
Robert Sykes, one of the family's attorneys, claims police operated with reckless abandon in tasing his client. He said:
He was totally unarmed and they could see it...His waistband was clearly visible, he had nothing in his hands.
Sykes pointed to the fact the entire SWAT team was called, which included 60 body cameras and several sniper teams, as proof the team engaged in a "gross overreaction".
The family's attorney claims both Hill and Olsen fired their tasers simultaneously, sending 100,000 volts of electricity through his client's body. He also said Fernando could not hear or understand the officers' commands because he's partially deaf in one ear and could only hear echoes of the officers' orders.
Fernando says he didn't want to get shot by police which is why he came out of the apartment without a shirt on. Tabetha says the police knew he was unarmed. She claims she told them there was an unloaded gun in the closet and that the only threats he was making were to himself.
Police, on the other hand, tell a very different story. Interim West Valley City Police Chief Colleen Nolen issued a written statement Thursday:
Mrs. Coronado reported that her husband was intoxicated, suicidal and making threats that he intended to kill himself and others...Mrs. Coronado also alerted police that her husband had military training and had access to multiple weapons inside of their apartment. The threat to the safety of surrounding apartments and open spaces necessitated an evacuation of the area and the call-out of West Valley City Police Department SWAT officers.
It seems clear from the actions of the SWAT team they were in fear for their lives. Instead of going hands on, they deployed two tasers, not once, not twice, but simultaneously. While the use of a taser was likely justified, it was the massive response from police that led to this situation getting out of hand.
As TFTP has reported on numerous occasions, many citizens have died when police have decided to tase someone. The most egregious instance being the tasing of a 14-year-old boy from a moving squad car. Damon Grimes was riding his four-wheeler on the road when Michigan State Trooper Mark Bessner shot him with his taser. The cowboy-like actions of the trooper resulted in Grimes losing control of his four-wheeler and slamming into the back of a parked pickup truck, killing him instantly.
While WVCPD's Chief Nolen claims Fernando Coronado was a threat to everyone around him (including nearly a dozen SWAT team members) and had to be tasered, the facts are indisputable. The SWAT team could have easily taken down the man, overwhelming him with brute force. Instead, the call for help by a concerned spouse resulted in a man now being disabled for life.
According to the Salt Lake Tribune, the couple is seeking an undisclosed amount of money in damages:
The lawsuit says Coronado had facial reconstruction surgery and has racked up about $300,000 in medical bills. He has suffered extensive physical and neural problems that affect control of his bladder and bowels, his balance and his memory, according to the suit.
He also is unable to get in and out of bed, dress himself or cook food, Coronado said, adding that he always has a chemical taste in his mouth. In addition, he can't play with his son because of his constant pain, he said.
Because he can't work, Coronado depends on Social Security disability benefits.
You decide. Below you can see firsthand how the SWAT team responded. Do you think the deployment of the taser was justified? Like, share, and comment below.