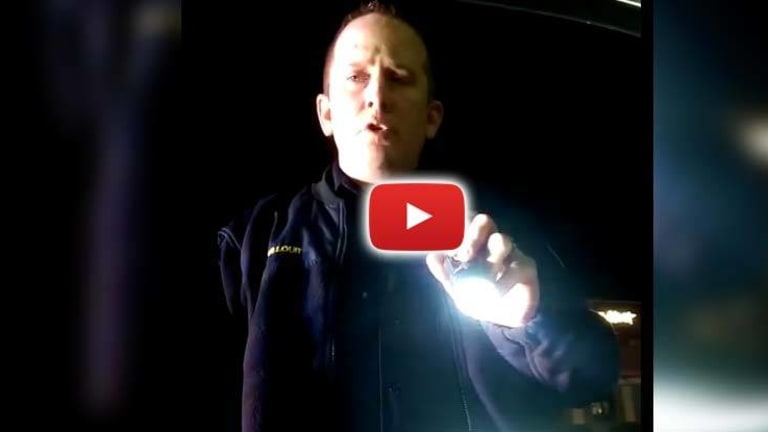 WATCH: Teen Schools Cops After They Stop Him for Exercising 1st Amendment
For complaining about a cop dangerously blocking traffic, this teen was detained and unlawfully harassed and threatened. But he stood his ground nonetheless.
Delta County, MI -- Last month, Cody Damitz was driving down the street when he saw an officer blocking traffic, so he made the decision to voice his opinion about it. As Damitz drove past the officer, he rolled down the window and told the cop, in a loud voice, that he was dangerously affecting traffic conditions by causing a road hazard. Moments later he was stopped by multiple officers -- for nothing other than his freedom of speech.
Once Damitz was stopped, he asked the officer why he was being pulled over. The cop, who identified himself as Officer Willer, explained that he pulled Damitz over because he had yelled out of the window at his deputy and he wanted to know what he said.
Damitz politely explained that the officer on the side of the road was creating a road hazard, so he let him know. At this point, the stop should have been over. Once the officer realized that there was no threat, no emergency, and no reason to have stopped this innocent teenager, he should have apologized for the detainment and moved on.
But that was not at all what happened.
Instead of realizing that what Damitz had done was protected by the First Amendment, officer Willer flexed his authority and launched a fishing expedition. He then made the accusation, with absolutely no proof, that the window tint on Damitz' vehicle was illegal.
Damitz, however, refuses to be bullied and stands his ground, and after multiple officers try to wear him down, including one trying to illegally search his vehicle, the end result is freedom.
However, after he was let go from this stop, Damitz explains that he was targeted again, this time by the cop he yelled at.
"He pulled me over and said that he'd give me a ticket and that I'm going to 'be noticed now,'" explained Damitz. "How can I get a ticket for doing nothing wrong?"
Damitz said that the officer then harassed he and his friends and ended their conversation with a threat. "He also told me to watch out when I'm in town," explained Damitz. All of this for the freedom of speech.
Damitz tells the Free Thought Project that the departments involved in his unlawful detainment were Escanaba Public safety and Delta County Sheriff's department.
Below is a video illustrating how a verbal complaint against a public servant is dealt with in a police state -- harassment and intimidation. Luckily there is still enough freedom left in this country to flex these rights and stand up against tyrants. However, the less we choose to assert these rights, the more they will dwindle.
[author title="" image="https://tftpstagingstg.wpengine.com/wp-content/uploads/2016/03/magorist-e1456948757204.jpg"]Matt Agorist is an honorably discharged veteran of the USMC and former intelligence operator directly tasked by the NSA. This prior experience gives him unique insight into the world of government corruption and the American police state. Agorist has been an independent journalist for over a decade and has been featured on mainstream networks around the world. Follow @MattAgorist[/author]