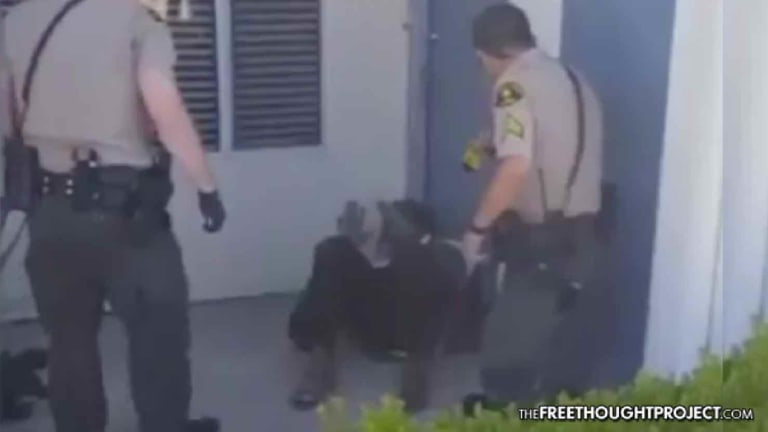 WATCH: Unarmed Man Tasered Repeatedly by Cops Until He Dies
Disturbing cellphone footage shows a man writhing in agony as police taser him repeatedly until he dies.
San Diego, CA — Mark Roshawn Adkins, 54, of Lemon Grove died last week, hours after a confrontation with San Diego police officers in which he was tasered repeatedly. Cellphone footage captured Adkins last moments alive.
According to police, deputies were responding to several calls of a man jumping fences in backyards and attempting to gain entry into townhomes. When police arrived on the scene, they found Adkins in a common patio area and demanded he get on the ground.
According to police Adkins refused to comply. The department issued a statement on what happened next.
"Both deputies deployed their Department issued Tasers, striking the suspect. The suspect went to the ground but continued to ignore commands to comply and attempted to stand again. A second round of Taser was deployed with the same minimal effect."
"On your stomach. I will zap you again," one deputy said in the video.
As NBC 7 reports, Paul Brown, a resident who recorded the incident on his cell phone, told NBC 7 Monday that he and his wife heard the commotion and he came outside to see what was going on.
"We were in the bedroom and at first I thought it was the TV and she said 'No, that's not the TV.' So I looked out the window and I saw the sheriff's and so I said 'Let me get my phone and go and see what's going on.'" Brown said.
Brown reported hearing the tasers deploy at least three times. After police put Adkins in handcuffs, the paramedics were called.
"He seemed like he was okay," Brown added. "He was still moving."
However, despite moving once in the handcuffs, Adkins became entirely unresponsive shortly after. Two hours later he was dead.
The incident is now under a use of force investigation. The cause of death has yet to be released. However, after watching the video, one can come to their own conclusions.
"The results of the autopsy have not been completed and are pending toxicology results," Lt. Kenneth Nelson said in a written news release.
To add further controversy to Adkins death, his wife Collette said he wasn't the man police were looking for. He had no reason to jump the fences because he lived in the neighborhood.
"I don't think so. That's a lie," said Mark's widow Collette Adkins. "There's no reason for him to get into anybody's home. He got killed right on his own street."
Collette has had to check herself into Scripps Mercy Hospital because of the stress building up after watching her husband die on national television after being tasered by cops.
"To watch your TV and see your husband get killed on nationwide TV by a Taser I can't take it," she said. "It's too much for me."
According to NBC 7, the 54-year-old, unemployed father attended Lincoln High. Friends say he had his struggles. He was also dealing with mental health issues, according to family members.
"If a person is in a state of mind where they can't comply, for [deputies] to electrocute them is not the answer," said Collette, who now vows her husband's death will not be in vain.
"I'm also praying for justice to be served in this case," she said.
Sadly, police officers tasering people to death is not an isolated incident. Also, when their actions do result in the death of another human, they are rarely held accountable.
On November 20th, 2015, sheriff deputies in Coweta County, Georgia were summoned to help subdue a man having a psychotic breakdown. Instead of helping him, they tasered him to death. In October 2016, the Coweta district attorney's office announced their decision to not press charges against the officers responsible.
The death of 32-year-old Chase Sherman was captured on video, yet neither of the cops was charged.
On February 3rd, 2015, Natasha McKenna, 37, was shocked four times with 50,000 volts while her hands were cuffed behind her back, her legs in shackles, and wearing a mesh mask.
The multiple electric shocks stopped her heart and her breathing. She was taken to Fairfax hospital, however, it was too late. McKenna was declared brain dead and removed from life support several days later.
None of the officers involved in McKenna's death were charged.
On March 3rd, 2015, Ruth Temple called out Oklahoma police officers after her boyfriend started acting strangely. That 9-1-1 Call would eventually lead to Temple's boyfriend, Darrell Gatewood's death.
A clearly mentally distraught Gatewood was then dragged into the street and pepper sprayed and tasered until he died.
Sadly, Mark Adkins now becomes a name on this ever-increasing list.