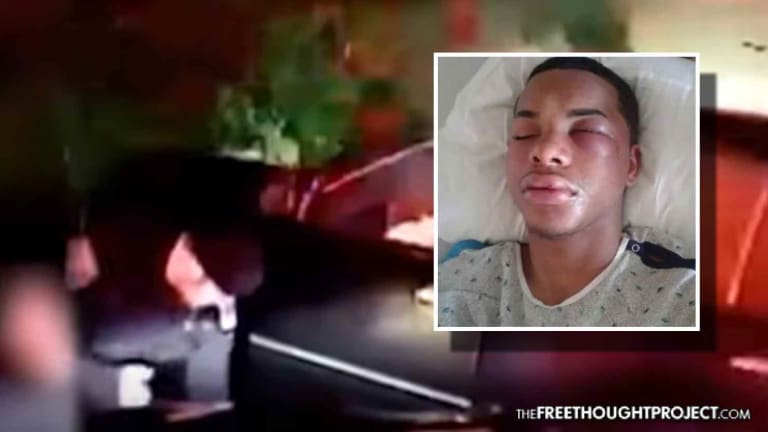 WATCH: Video of Cop Beating 16yo Boy So Bad, Even His Fellow Cops Were Caught Calling Him Out
"They know how he is and they just let him continue," multiple cops shared their concerns after a fellow officer mercilessly beat up a 16-year-old boy and blamed his injuries on a car accident.
Carteret, NJ – New footage has been released in the case of a police officer who is facing assault charges after he was caught mercilessly beating a teenager, and the recently released footage gives insight into the officer's past conduct and his fellow officers' fears that the department would once again cover up his crimes.
Officer Joseph Reiman, 31, is now facing three counts of official misconduct for failing to activate his body camera during the incident, failing to use "reasonable discretion or restraint," and assaulting a 16-year-old boy.
Reiman claimed that after the boy led police on a chase in his parents' car, he crashed the car and then jumped out and took off running. He attempted to place the blame for the ghastly injuries on the boy's face on the car crash. However, footage from the incident shows that the boy was uninjured after the crash, and there was no blood in the vehicle.
The boy insisted that after he crashed the car into a suspension wire, he stepped out of the vehicle with his hands up and made no attempt to run. He said Reiman grabbed him and punched him in the right eye, which knocked him to the ground. Reiman then held the boy down on the ground and punched him more than a dozen times.
The boy also claimed that another officer kicked him in the face while Reiman handcuffed him, and throughout the entire incident, he made no attempt to resist arrest. While a neighbor who witnessed the incident corroborated the boy's story initially, the Dash Camera footage also revealed that Reiman was lying.
Additional Dash and Body Camera footage have been released that give insight into the conversations had by officers following the incident, and it reveals that Reiman's conduct, in this case, was nothing new.
One officer who arrived at the scene after the beating said that there was "blood all over the f—king place," and another officer said that the incident was "indefensible," as the teenager, who was unarmed, had no chance of fighting back against Reiman.
"I've been doing this less time than you but I've never punched anybody in the face like [inaudible]... never," one officer said after witnessing the assault.
"That's what I told Jerome last time," another officer responded, indicating that this was not Reiman's first time to attack a suspect during an arrest.
Joseph Reiman is a former Marine who joined the police department in 2015. One officer can be heard on the footage asking, "If he does this as a cop, what did he do before actually when he was in war?"
"Uh-huh. I was thinking the same thing the other day," a second officer responded.
"Holy shit.... there was probably a wave of freakin' innocent victims," the first officer said.
Reiman's older brother, Daniel, is a longtime mayor of the city, and their middle brother, Charles, is also a police officer in Carteret. The unnamed officers who were discussing the incident said they believed Charles Reiman, who was at the scene, was attempting to come up with a narrative that would protect his brother.
"Charlie's already, ya know, writing his thesis," the officer said, noting that he heard Charles Reiman claim the boy "wouldn't show his hands."
One officer said he believed Joseph Reiman would not face any consequences for the assault because his body camera was not on. "They are going to blame it on the car accident... Nothin's gonna happen. They're gonna say nothing happen... he didn't have his body camera on," he said.
"When I was there, they were like, 'Well, he was in a car accident. He was in a car accident.' I'm looking at this kid's face, I'm like, "that ain't a f—king car accident... the whole side of his face has to be away from his skull and it's like repeated... lump... lump... lump," another officer said.
"They know, they know how he is and they just let him continue," an officer said. "And here you are... just letting it go... and you keep making excuses."
One officer said that even the Emergency Room doctor at the hospital said, "Wow you guys beat the shit out of him," when he saw the boy's condition.
"This is indefensible, you look at this kid and this kid is not overpowering Joe," an officer said after he left the hospital. "Joe is just punching this kid in the face and not attempting at all to get control of his arms."
Joseph Remain is still receiving his full salary and he is currently enjoying a tax-payer funded vacation while he awaits the results of the trial. Even though Reiman has been cited for using force on suspects in 115 cases during his first two years with the department, and he is currently the subject of four lawsuits for use of excessive force, NJ Advance Media reported that the assistant prosecutor has claimed she "would not use the officer's prior records of use-of-force in her main case."