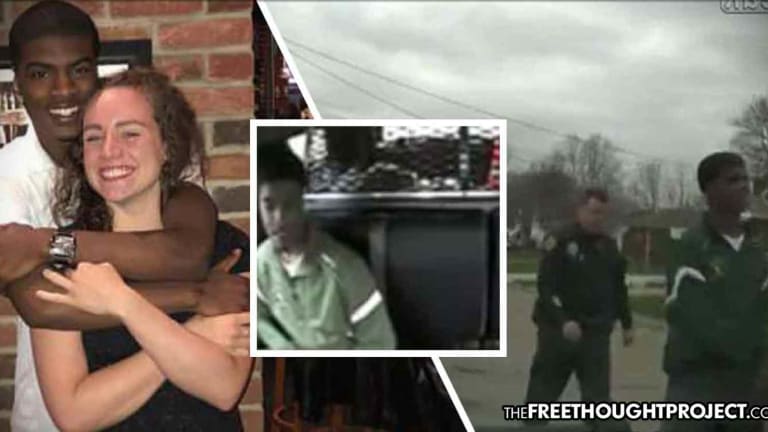 WATCH: 'We'll Make Some Sh*t Up': Cop Not Charged for Kidnapping, Framing His Daughter's Boyfriend
Despite breaking a slew of laws on video, a cop has avoided charges after pulling over and kidnapping his daughter's boyfriend.
Lorain, OH — An abusive power tripping cop was fired after dashcam footage surfaced showed him pull over his own daughter and her boyfriend and threaten to make "some s**t up" to arrest him. Not only was he caught threatening to arrest an innocent teen and illegally detaining two innocent people but this abusive cop was also caught ignoring an actual call for help during the stop.
On April 16, 2018 Lorain police officer John Kovach Jr. pulled over his daughter's boyfriend, Makai Coleman without cause and broke a slew of laws in the process. Three years later and this cop has yet to face any repercussions other than being fired from the department.
Last June, the FBI and U.S. Attorney's Office determined that Kovach's actions in April 2018 did not rise to the level of a federal civil rights violation.
The incident was an "more of an internal matter," Cleveland FBI spokeswoman Vicki Anderson said.
According Safety-Service Director Dan Given, Police Chief Cel Rivera and other command officers, Kovach violated a slew of department policies during the stop, including unlawfully using police resources to track down his daughter's ip address on her phone and geo-locate it.
"These actions are not acceptable for members of our Police Department and we felt it warranted immediate dismissal," Given said.
As the Chronicle-Telegram reports, according to an internal investigation completed by Lt. Ed Super as well as dashcam footage from Kovach's cruiser, shortly before 6 p.m. on April 16 a silver vehicle with a driver and three passengers passed Kovach's patrol car in the same direction that he was facing on West 34th Street. Without alerting dispatch, Kovach initiates a stop.
Kovach then orders Colemen from the car as his own daughter sits in the back seat. He tells Coleman that he is "going to jail," and demands the teen "have a seat in my car." When Coleman questions why he's being arrested, Kovach responds by saying, "We'll make sh*t up as we go."
According to the report:
Kovach then addresses Gloria Morales, who comes out of her home nearby because her children are two of the three people in the car with Coleman. He tells Morales his daughter's computer is inside her house and while she initially gives him permission to search the house, she later tells him to come back with a search warrant when he threatens to give her daughter a $300 ticket for not wearing her seatbelt.

Morales and Kovach argue back and forth after Kovach tells her to go inside the house. When she says she is calling 911, he threatens to arrest her, telling her it is not an emergency, according to documents related to the firing. He tells her two children to get out of the car and go with Morales. At that point, he notices his daughter, Katlyn Kovach, 18, in the backseat.

At that point, Kovach tells Coleman to get out of the cruiser and he pushes his daughter into the cruiser while she protests that she is 18 and can't be arrested for without cause. He eventually gets her into the cruiser and drives away.
During the stop, Kovach failed to address an actual call for help about a road rage incident down the street. He simply ignores the call while threatening to arrest an innocent mother, search her home without a warrant, and kidnap and extort multiple innocent teens—including his own child.
Kovach attempted to justify the unlawful behavior by claiming he was worried for his daughter's safety and cited an apparently non-existent Facebook post as his reason.
Coleman said that he had been stalked by Kovach, receiving a call weeks prior to the stop telling him that he would make up a warrant to have him arrested. According to Coleman, the officer also said he would go to the Army recruiter and tell them not to allow Coleman to leave for boot camp and ruin his chances of getting in the Army.
During an internal investigation, the claims of Kovach's misconduct were all substantiated and the officer was recommended for discipline. He was then fired on May 11, 2018.
Rivera said the actions his officer were "an abuse of police authority and a serious departure from appropriate protocol…they are contrary to the mission, values and policies of the Lorain Police Department."
Despite these egregious acts -- all of which were caught on video -- Kovach remains a free man. Still think that blue privilege doesn't exist?