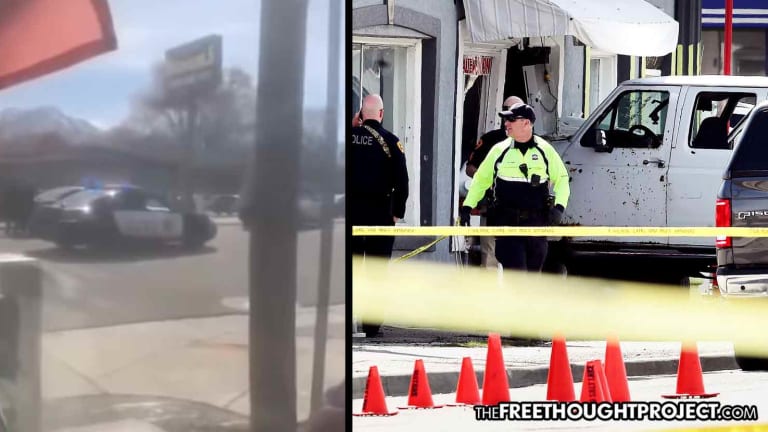 WATCH: While Killing a Suspect, Cops Fire 196 Rounds Into Store, With People Inside
An Iraqi war refugee was nearly killed when Utah police opened fire on a fleeing suspect killing the suspect and nearly killing the refugee, a tailor, as he was working in his shop.
An Iraqi immigrant who narrowly escaped his war-torn home country was nearly killed last year when Utah police from three different agencies opened fire on a motorist who had led police on a high speed chase.
In April of 2019, Thaer Mahdi (a tailor) was in his shop when a white truck crashed through his shop's front window. Police then opened fire on the suspect killing him and nearly killing Mahdi who somehow, miraculously, escaped unharmed.
However, the incident did not leave the traumatized fabric worker uninjured. The officers, 10 in all, unloaded their clips in the direction of the suspect with most of the rounds finding their way into Mahdi's Princess Alterations & Leather Work, destroying his shop, the machinery, clients' property, and leaving Mahdi an emotional basket case who now has tinnitus, constant ringing in his ears.
Since the April 2019 killing of the suspect, Mahdi has not returned to work. He is now suing the Utah law enforcement agencies involved in destroying his livelihood claiming his constitutional rights against unreasonable force (14 Amendment) were violated.
Modern-day policing in many parts of the country now include guidelines for police officers not to give chase from fleeing suspects. Unfortunately, the Utah police officers involved in last year's shooting did give chase. When they did, the motorist began firing at the officers. Harold Vincent Robinson (suspected of armed robbery at two convenience stores) reportedly fired 50 random shots at officers while attempting to get away from law enforcement.
Those bullets were not only dangerous to officer safety but to the public as well. Instead of backing away and allowing a police helicopter, for example, to give chase, 20 law enforcement officers from the Highway Patrol, the Unified Police Department, and the Salt Lake City Police Department continued to give chase like a pack of coon dogs some might say.
Robinson lost control of his vehicle and crashed into Mahdi's tailor shop where he was shot and killed in a hail of bullets. Fifteen cops fired 196 rounds over 20 seconds, causing havoc as many of the bullets found their way into Mahdi's place of business where he was working at the time.
The lawsuit describes how the Iraqi immigrant who used to help U.S. soldiers with their tailoring needs was affected. It claims the cops succumbed to "group think" and did not use their training according to police department policies. His wife, Saadiyah Hassan said her husband is a shell of the man he used to be:
He's sad all the time. He's not like before. He was funny guy (who liked) to joke. He's just sad...I don't know what happened to him.
Predictably, Salt Lake County District Attorney Sim Gill found no wrongdoing in the officers' actions. Gill said in February:
It was a massive show of force...But considering the complexity of the situation and the risk that was put to our community, I think those officers under those circumstances acted as professionally as they could.
The landlord promised to repair all the damage to the shop and to make it like new again. However, the tailor, who was almost hit and killed by the barrage of bullets fired by peace officers, cannot bring himself to go back to work. His lawsuit claims he was forced into early retirement after 40 years as a tailor. Mahdi is seeking an undisclosed amount of money in damages from the police departments involved.