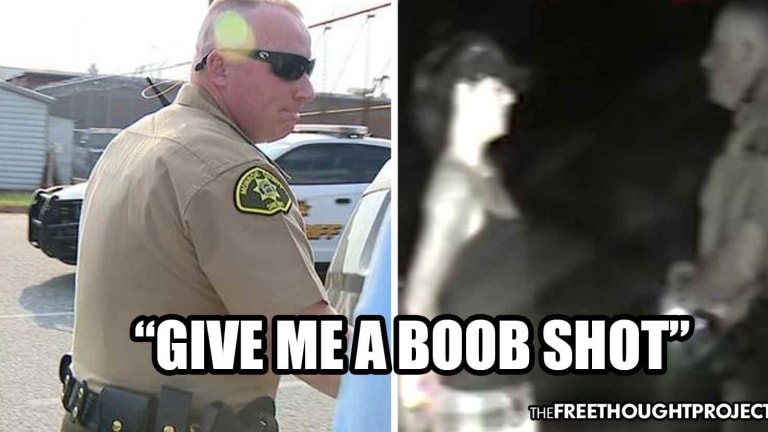 WATCH: Woman Secretly Records Cop Try to Force Her to Give Him Sexual Favors to Drop Charges
A Georgia deputy is still on the job despite footage of him blackmailing a woman he arrested in exchange for sexual favors.
Update: Former Monroe County deputy Bill Miller, who attempted to exchange leniency for sexual favors, has reportedly been banned from the county. Miller was convicted on Federal charges for bribery and violating his oath office and sentenced to 8 years probation. Miller has also been banned from entering Monroe, Lamar and Butts counties during that time
Forsyth, GA — Monroe County sheriff's deputy Bill Miller was recorded earlier this month on a woman's cell phone, epitomizing everything wrong with sickos in uniforms who seek to abuse their authority for personal gain. His victim recorded him trying to force her to give him sexual favors in return for getting her DUI charges dropped and this deputy is still collecting a paycheck.
Ashlie Roberts was arrested last month by Miller for driving under the influence and drug possession. Roberts admitted she had done the crime and she was willing to do the time. However, after she made bail, Miller contacted the 34-year-old woman and told her to meet him in a parking lot on August 14th. So, she did.
As FOX 5 Atlanta reports, she told internal affairs investigators the same story she told us: Miller put her in his personal Dodge Ram pickup, handed her a Coors Light, and drove them to a dirt trail off Freeman Road.
"I didn't think I had to record anything until I got to that dirt road," she explained. "After I turned on that dirt road, that's when I knew something was fishy."
As the recording shows, after Miller drove the woman down the dirt road, the sexual advances immediately began.
"You can come over here. I'm not going to jump on you, I promise you," said the deputy.
"I mean, I'm good. I'm all right," Roberts replies.
That's when the deputy asked her for oral sex.
"Not even a b***-job?" he asked.
"No," replied Roberts.
"I'm just messing with you. I think you'd like it but..." replied Miller.
"No, I'm good."
"You probably would like it," the deputy persisted.
"I don't know about that," said the terrified Roberts who didn't know if this cop was about to attempt to rape her or what.
After she shut down his initial advances, that's when Miller began to flex his blue privilege in an attempt to blackmail Roberts into sex by offering to "talk to the D.A."
"The whole reason I gave you that beer..." deputy Miller said as he began to blackmail the woman.
"Uh-huh," Roberts replied.
"...is leverage," said the corrupt cop.
"Oh. What leverage would that be?" she asked.
"Well, I got another unit over there," he said, claiming that he could have her arrested again if she didn't submit to his requests.
"So what are you trying to do? You trying to blackmail me or something?" she asked.
"Yeah," replied the deputy.
"Oh, it ain't gonna work," Roberts said.
"It won't?" Miller asked.
"No," replied Roberts.
"I'm just messing with you," said the deputy in an attempt to downplay what he had just done. However, as Roberts explained to FOX 5, this deputy was not joking.
On the recording, which is 19 minutes long, Miller is heard asking her to show her breasts over ten times. After turning him down all ten times, Miller finally concedes and begins to drive the woman back to her vehicle in the parking lot, but not before one last futile attempt.
"I really didn't want to have sex with you," the deputy said after his blackmail attempt was met with rejection. "I was just f**king with you."
"I know," Roberts said, seemingly glad the harassment was over.
But then the deputy subtlety tried one more time. "I mean, I would, cause you're not a bad-looking girl. You just need to straighten your ass out."
But Roberts told FOX 5 that deputy Miller picked the wrong girl.
"I'm not that type of girl," she insisted. "I'm a good girl. I just hang out with the wrong crowd."
The deputy then told Roberts to toss the can of beer out on the roadside and they drove off. As FOX 5 reports:
On the recording, you can hear deputy Miller tell Roberts it's okay to toss that Coors Light out the passenger window before they left that dirt trail. The FOX 5 I-Team followed the path and searched the woods. Sure enough, we spotted a Coors Light can still in the paper bag with a receipt inside dated August 14. It also had the buyer's debit card number. We used a stick to pull out the receipt. Later, we gave investigators directions so they could recover the can and any fingerprints that might still be on it.

We approached deputy Miller as he came on duty last Friday night. He said he didn't remember Ashlie Roberts and denied offering to get her charges dropped in exchange for sexual favors. He refused our offer to let him hear the recording of the two of them.
"We are shocked and disappointed," Monroe County interim sheriff Al Shackleford said. "Law enforcement should be held to a higher standard."
However, instead of arresting the officer for using his badge to blackmail a woman into having sex with him, the sheriff put Miller on a paid vacation.
After the incident, a Fulton County judge then revoked Ashlie Robert's probation and sent her back to jail, citing the DUI arrest, according to FOX 5.
"I did the crime. I'll do the time," said Roberts.
Sadly, however, Miller, who was caught in the act committing a far more serious crime, will likely not do any time. And, at least for now, he's enjoying a paid vacation for it. Even if he is fired, Miller will likely become a gypsy cop and get hired on at another department down the road.