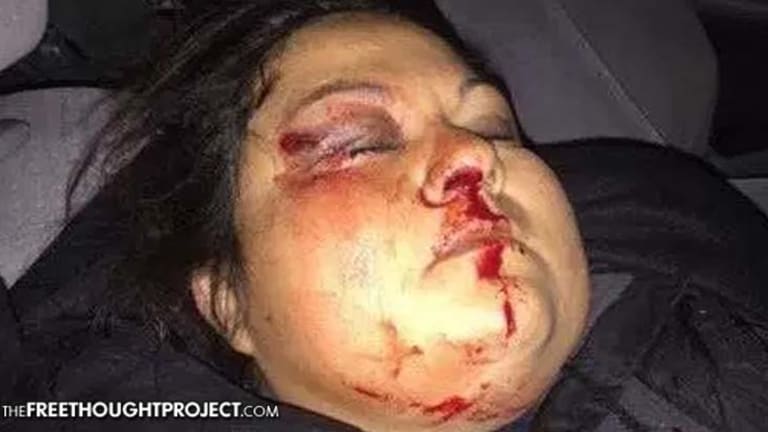 Water Protector's Retina Severed After Cops Fire Tear Gas Canister Into Her Face
A water protector might permanently lose her vision after a tear gas canister fired by police hit her directly in the eye.
Standing Rock Sioux Tribe and other water protectors have faced heinously excessive force from the Morton County Sheriff's Department and assisting police agencies, who seem to be targeting specific people — such as Vanessa Dundon, whom police struck in the eye with a tear gas canister last Sunday.
Dundon, known as Sioux Z in the Oceti Sakowin camp near Cannon Ball, North Dakota, has acted as security and a first responder during incidents when police initiate violence against water protectors since her arrival at the camp on September 11.
Now, for months of venerable efforts to ensure the safety of water protectors on the 'front lines,' Sioux Z has a detached retina, which will require costly, delicate, and painful surgery to correct — but even then, it's likely her vision in that eye cannot be restored.
On November 20, the Morton County Sheriff's Department unleashed all its fury against water protectors trapped on Highway 1806's Backwater Bridge after several people attempted to clear the roadway of a police blockade obstructing access by first responders.
Police in riot gear and better prepared to fight a war than control a small crowd of unarmed people, launched tear gas canisters, concussion grenades, rubber bullets, bean bag projectiles, mace, pepper spray, and — disgustingly reminiscent of attacks on black civil rights activists in the 1960s — deluged the crowd with a makeshift water cannon from the turret of an armored vehicle. That, with temperatures hovering in the low 20s Fahrenheit.
Hundreds were injured, 26 badly enough to be transported to the hospital; dozens became hypothermic when the police relentlessly hosed the crowd of 400 with icy water; a tribal elder went into cardiac arrest, twice; a 13-year-old girl was reportedly shot in the head with a rubber bullet; and one young woman, Sophia Wilansky, suffered a horrific trauma when a concussion grenade containing rubber pellets exploded on her arm, which might have to be amputated.
Perhaps due to photographs and attention rightly calling attention to Wilansky's grisly injury, Dundon's shocking wound has thus far escaped headlines. What the two women have in common evinces a disturbing pattern of behavior by police — intentionally targeting specific individuals to assault.
Dundon heard a cry for help from amid the fog of tear gas and water on the Backwater Bridge last Sunday, and immediately jumped to action to assist the female member of the media to get safely off the bridge. As she neared the source of the distress call, Dundon says the police suddenly shot a tear gas canister directly at her — hitting her squarely on the right eye.
"A witness claims that an officer pointed directly at Dundon before another officer fired the canister,"reportsThe Daily Haze, who spoke to Dundon. "Water protectors have claimed that it is common for officers to point out specific people in the crowd before firing rubber bullets into the crowd."
Further, "Dundon told TDH that not only was she hit in the eye with a tear gas canister but that the officer that fired it did not fire it up in the air. Instead, he fired it directly at her.
"Dundon finds that to be one of the most disturbing parts. She has been on the frontline with these same officers day after day for months. They know who she is and she knows who they are. Dundon told TDH that she could not understand why they would do that to her because she has never done anything to them."
A friend who witnessed the concussion grenade tear apart Wilansky's arm said in an interview police targeted her, as well.
Another medic on scene that night, who has 30 years of experience in emergency services, noted she and EMS crews from Bismarck observed officers cruelly targeting water protectors' heads, legs, and groin with rubber bullets and other projectiles.
It would seem that has become a common and incredibly perilous practice.
Dundon may never fully recover from wounds suffered when police assaulted the unarmed group of people trapped on a bridge — even though she had done anything to warrant being singled out.
"The last doctor that Dundon saw was brutally honest with her,"TDH continues. "He told her that there is a very real chance that she will never be able to see out of her right eye again. If the specialist is not able to reattach her retina, then she will never see out of her eye again. Even if the doctor does reattach her retina, her vision in her right eye will most likely be impaired for the rest of her life."
Her selfless effort to assist someone in distress may cost Sioux Z her vision. A GoFundMe campaign has been created to assist her with rapidly mounting medical costs and surgery she desperately needs, which can be found here. Consider giving if you are able, or sharing with your network to draw attention to Dundon's campaign.
">