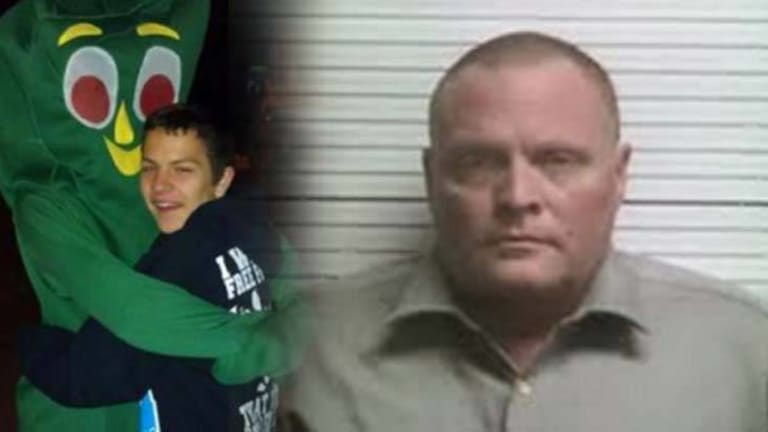 "We don't have time for this" Bang! -- Cop Testifies Against Cop for Murdering Teen for No Reason
After police subdued a mentally ill teenager, one officer drew his service weapon and killed him -- for no reason.
Boiling Springs Lake, NC -- "There was no reason to shoot this kid," Mark Wilsey said a few days after t2 years later, NC family remembers teen killed by police officer">hen-Sergeant Byron Vassey killed his emotionally troubled teenaged son in the family's home in Boiling Springs Lake, North Carolina. "They killed my son in cold blood. We called for help and they killed my son."
More than two years after that killing, one of Vassey's colleagues has validated Wilsey's conclusion during his testimony in the trial of Vassey for voluntary manslaughter.
"My recollection … is that he never came close to hurting me," testified Southport Police Officer John Thomas, who had been grappling with 18-year-old Keith Vidal at the time Vassey fired the fatal shot.
Vidal, who was being treated for paranoid schizophrenia, was "armed" with a tool described by the family and the police as a screwdriver. On January 5, 2014, Vidal's parents called for assistance in getting him to the hospital, and Thomas was the first to respond to a report that an "armed person" was "in crisis" at a familiar address. Thomas had responded to a previous call for help in hospitalizing Vidal, but on this occasion, the small, slender young man was in a more hostile mood.
"He kind of looked down with his head but up with his eyes," Thomas said during his testimony. "His face just didn't have the facial features of what I remember seeing…. He looked mad that day – hateful." In reply to Thomas's questions, Vidal – in the grip of an illness – muttered "fight me," the officer recalled.
Determined to de-escalate a potentially tragic confrontation with a young man who was not a criminal suspect, Thomas tried to persuade Vidal to speak with Samantha Lewis, a deputy with the Brunswick County Sheriff's Office. This approach approved unavailing. Sergeant Vassey of the Southport PD arrived shortly after Lewis and immediately demanded that the officers use their tasers to subdue Vidal.
Lewis fired her taser, which knocked Vidal to the floor. Thomas quickly jumped on the small teenager, using his 80-100 pound weight advantage to pin him to the floor. As the effects of the taser wore off, Vidal began to struggle, and Thomas called for another application. He heard Lewis reply that there was something wrong with the device – followed by a loud blast that he thought was a second taser charge. The officer managed to get Vidal into handcuffs, and when he stood he noticed that his ears were ringing – and the teenager's blood had covered his uniform.
As Thomas and Vidal were struggling, Sergeant Vassey approached them from Vidal's right side and fired a single shot from behind at a distance of about a foot and a half. From the perspective of "officer safety" – which in too many episodes of this kind is the only one that matters – Vassey's actions were counterproductive, as he could easily have injured or killed Officer Thomas. In this case, Vassey's actions weren't dictated by concern for officer safety, but a frustrated reaction to being inconvenienced. Vidal's horrified parents have testified that before pulling the trigger, Vassey exclaimed, "We don't have time for this!"
The officers were not constrained by a time limit or dealing with exigent circumstances. The primary objective was to help a sick person, rather than to subdue a criminal suspect. This would involve disarming the young man of the tool he had brandished as a weapon (which Vassey's defense attorney characterizes as a "pick," rather than a screwdriver). This would involve an element of risk, but not a prohibitive one, given that three officers were on the scene and one of them had already gone hands-on with the teenager.
Vassey's decision to shoot Vidal was dictated by simple impatience: He killed a mentally ill teenager as a time-saving measure – and then, according to witnesses on the scene, he pointed his gun at the horrified father of his victim, who had been trying to assist the officers.
"We called for help and they killed my son," Wilsey told WECT, the local NBC affiliate, following a January 6 press conference by the local chapter of the Police Benevolent Association to address the shooting. "They had Tasers on them, and they didn't have to even tase him, they could have just talked to him."
The family, who hadn't been invited to the PBA press conference, showed up with protest signs and watched silently as union officials performed the familiar liturgy of institutional self-justification. The parents were briefly interviewed by reporters for WECT following the event. Vidal's mother used the opportunity to warn other parents of mentally ill teenagers not to allow the police to intervene when crises occur.
"Mentally ill people should not be treated like this," she advised, her voice freighted with sorrow. "We called the police department for help – we did not call the police department to have our son murdered…. Do not call the police department for help – because your son will probably be killed, like mine was."