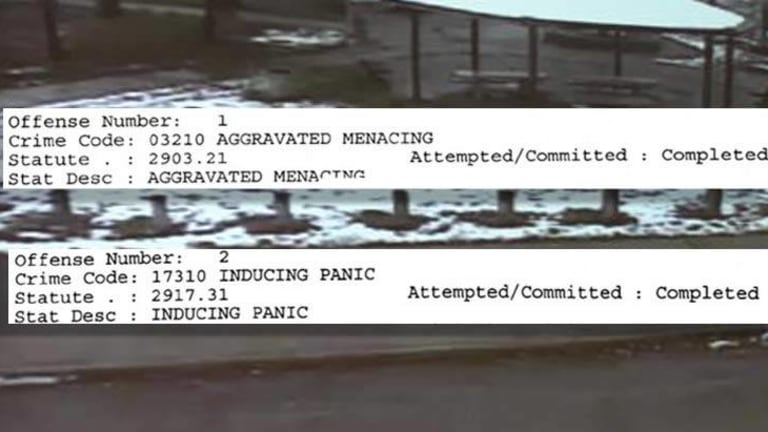 Victim Shaming: Cops Kill 12-Year-Old Boy, Charge Him with Two Crimes a Week Later to Justify It
Just when you thought the Cleveland police department couldn't look any worse, new documents surface showing a new low.
Cleveland, Ohio – Newly released documents have revealed that a week after Cleveland police officer, Timothy Loehmann killed 12-year-old Tamir Rice, the Cleveland police charged the sixth grader with "aggravated menacing" and "inducing panic," according to The Daily Kos.
The charges, dated Nov. 29, 2014, not only add insult to injury, but show a continuation of the corrupt manner in which the Cleveland Police Department has handled this case. They have consistently attempted to deny any responsibility.
The act of victim shaming a child, who was gunned down by a cop for holding a toy gun by the Cleveland Police Department, speaks to the nature of how corrupt the law enforcement apparatus has become.
To highlight the lack of accountability surrounding this killing, Mother Jones reports that Loehmann has still not been interviewed by investigators about his killing of Rice, almost a full 6 months after shooting. Four minutes go by after the shooting, during which Loehmann and his partner Garmback make absolutely no attempt to give Rice any first aid.
Rice was gunned down by Loehmann on Nov. 22, 2014, within 2 second of the officer coming into contact with him outside of a community center. Tamir died the next day. The emergency dispatchers were informed on the initial call that the gun Rice was holding was "probably fake," but it's reported that this information was never relayed to the responding officer.
It was later reported that Loehmann, prior to joining the Cleveland Police Department, had been found unfit for duty while an officer with the Independence Police Department, according to The Guardian. Ironically, his file was never even looked at prior to his hiring by the CPD.
The lunacy of the police attempting to portray their child victim as an "aggravated menace" who was "inducing panic," speaks volumes as to law enforcements disconnect with reality.
Tamir Rice was sixth grade child who didn't deserve to die, nor have his memory besmirched by police propaganda and victim shaming. Revealing even more tragedy, in a court motion earlier this month, Samaria Rice, Tamir's mother, said that she is currently living in a homeless shelter as a result of these events.
Without question, the only ones in this case that induced panic, or who should be considered aggravated menaces, would be the Cleveland police officers involved in the killing of Tamir Rice.
We demand justice for Tamir Rice and that charges be brought against officer Loehmann immediately.
Police Charge Tamir Rice with Menacing and Inducing Panic
Jay Syrmopoulos is an investigative journalist, freethinker, researcher, and ardent opponent of authoritarianism. He is currently a graduate student at University of Denver pursuing a masters in Global Affairs. Jay's work has previously been published on BenSwann.com and WeAreChange.org. You can follow him on Twitter @sirmetropolis, on Facebook at Sir Metropolis and now on tsu.