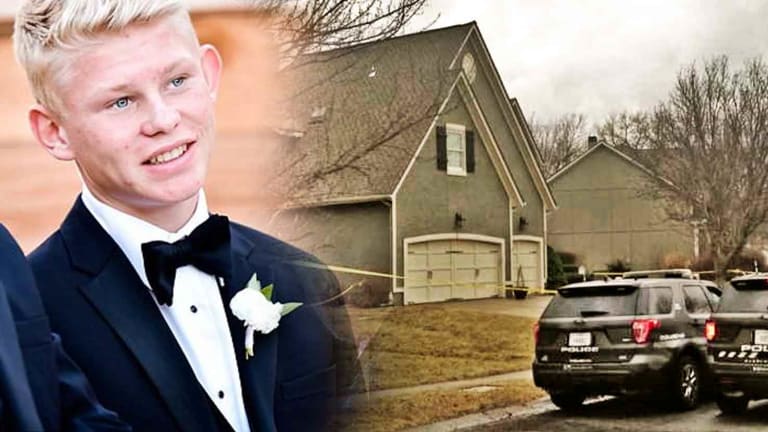 Unarmed High School Sports Star Killed by Police as He Backed Out of His Own Driveway
A high school track and wrestling star was gunned down by police conducting a welfare check. He was unarmed and merely backing his car out of his own driveway.
Johnson County, KS — A family grieving and a town left in shock after police responded to a welfare check of a beloved high school student Saturday afternoon—and killed him. Blue Valley Northwest High School junior John Albers was unarmed and backing out of his garage when an Overland Park Police Officer opened fire on him, killing him on the spot.
The incident happened on Saturday but the dispatch recordings were released Monday night which paint a picture of what happened. The most crucial part of the picture, however, is missing, and that is why the officer felt the need to kill the 17-year-old wrestling and track star.
Police said that "as the responding officers approached the residence to make contact, the garage door opened and a vehicle exited the garage, moving rapidly toward one of the responding officers. The officer discharged his service weapon striking the male driver," the statement said. "The driver died at the scene."
The officer was entirely unharmed in spite of creating a dangerous situation in which the teen lost control of the vehicle as he was filled with bullet holes—illustrating the entirely unnecessary escalation of force.
According to the dispatch records, Albers girlfriend called police after she says during a facetime chat, the teen indicated that he wanted to harm himself.
Monday night, the Kansas City Star released the dispatch audio, along with a timeline of events:
By 5:50 p.m. Saturday, police dispatch alerted that the call to the Albers' home was now "Code one. Stabbing."
"Copy," came a first-responder's reply. "We're sending them in."
Within a minute, someone radioed, "It seems to be a confirmed J-21 (suicide attempt) at this time. And they've requested additional units."
The last call picked up by the website Broadcastify was the dispatcher, listing three more officer numbers, saying, "You could all be en route for the (suicide) attempt" on West 149th Terrace.
The radio traffic found on the website does not reveal any clues on just when or how Albers was shot.
The officer who fired his weapon and killed the high school junior has yet to be named. The department only said that he has been placed on administrative leave while the shooting is being investigated by the Johnson County Officer-Involved Shooting Team.
Albers' parents—who were not home when he was killed—have not spoken publicly to the press. The did, however, release a statement on social media saying, "We are heartbroken at the loss of our beloved son, John. We truly appreciate the outpouring of support from friends, family and community. Thank you for your thoughts and prayers and for respecting our privacy during this very difficult time."
Albers' death has hit the community hard, especially his schoolmates who remembered him as "loving," "loyal," and "giving." On Sunday, dozens of students gathered to hold a vigil for the slain teen.
Albers was "very caring, very outgoing, very loyal," and "very, very, very giving," junior Gabriel Bright told BNVW News.
"I loved him," he said. "I want to raise awareness and make sure everybody knew that this world, this bubble that we live in isn't always so perfect."
Indeed, while many people think police killings are reserved for a certain section of society, as Albers' case illustrates, it can happen anywhere.