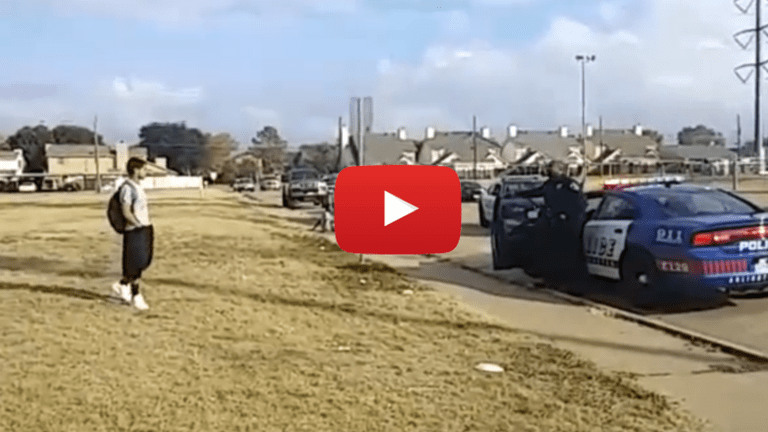 Cop Tells Kid, "What are you going to do if I violate his rights?" Why Filming Police is Necessary
Thanks to the power of the camera, this pompous officer was caught red handed in a blatant act of intimidation and disrespect for the rule of law.
Arlington, TX -- A video submitted to the Free Thought Project by a cop watching group out of Texas, highlights the importance of filming police.
Kory Watkins, with North Texas Cop Block and the Peaceful Streets Project go out almost every day of the week and perform an important role of holding police accountable.
On Friday, at approximately 3:00 pm Watkins was out with his fellow cop watchers in Arlington. Watkins tells the Free Thought Project that Sam Houston High School had just let out and police were on the scene because there had been a school fight.
When Watkins begins filming we can see the police detaining a young black man. He was being detained because officers said he had warrants. However, after this incident, Watkins tells us that he confirmed with the young man, and he did not have any warrants, nor did he have anything to do with the fight.
During the 2 minute long video, one officer is seen getting out of his cruiser and talking to kid near by. He apparently does not see the cop watchers nearby but does hear the bit about not violating this kid's rights.
When the officer begins stepping out of his cruiser, around the 00:16 mark, he does not see the cameras rolling he asks the kid directly in front of him, "What are you going to do if I violate his rights?"
At this point he sees the safety vests and cameras of the cop watch team and gets back into his cruiser.
Had the cameras not been present who knows what could have happened. But at least this blatant disregard for the rule of law was captured on video and the officer was exposed, thanks to cameras rolling.
The other officers eventually let the young man go and the situation was over.
Below are 7 rules for how to respectfully and professionally record the police. For an in depth explanation of each rule, see the full report here.
Rule #1: Know the Law (Wherever You Are)
Rule #2 Don't Secretly Record Police
Rule #3: Know How to Respond to "Shit Cops Say" ("Please stop recording me. It's against the law.")
Rule #4: Don't Share Your Video with Police
Rule #5: Prepare to be Arrested
Rule #6: Master Your Technology
Rule #7: Don't Point Your Camera Like a Gun