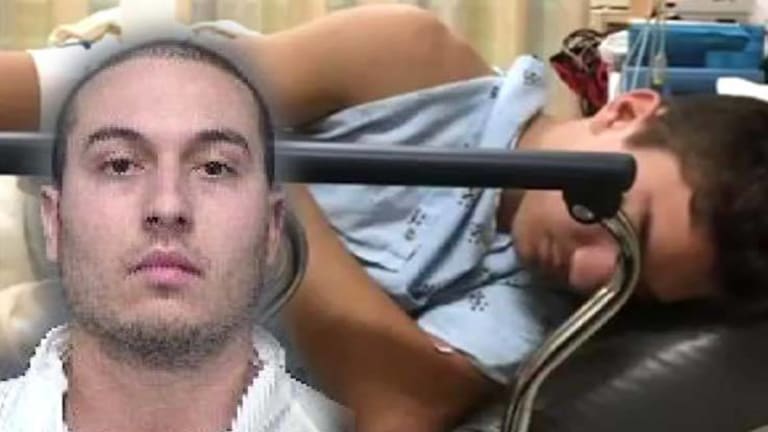 'What's up 'obamabam?' -- Racist Cop Arrested in Stabbing of a 17-yo Boy for Speaking Arabic
"They have to actually protect us, not stab us," Asem said. "He's a police officer, actually, he's supposed to be role model."

Huntington Beach, CA -- A 17-year-old boy was attacked on Sunday by three suspects as he walked home in Huntington Beach. One of the assailants was 28-year-old Arthur Roman, an Oak Forest police officer in Illinois.
Karam Jarrah, the victim, and his brother-in-law believe they were targetted because they were speaking Arabic.
"Was it like a racial issue? Is it because we were speaking Arabic or it can be like just the way we look," said Karam.
Karam explained that Arthur Roman, his brother Martin Roman, and his brother's wife Jessica Roman, all from Lake Forrest, approached the pair and began intimidating them with racist idiocy. The gang was apparently waiting in their car in the parking lot of a 24-hour Fitness Sunday afternoon -- seemingly looking for a fight.
"He was like, 'What's up 'obamabam?' I don't even know what that means," Karam recalled. "So, I said, 'What?' and he said, 'What's up 'obamabam?' He said it like he was mad."
"I came back very, very nicely, because we have faced this type of situation before," said Karam's brother-in-law Asem Dghem.
Despite being nice, the family of bigots attacked, and Martin Roman allegedly stabbed the young boy twice before fleeing in their car.
"When I stood up, it was just like a fountain squirting blood, like blood everywhere," said Karam.
Karam was transported to a local hospital and treated for his injuries which were, thankfully, non-life-threatening.
A short time later, the vehicle with the attackers was pulled over, and all three of them were arrested. The suspects, including the cop, now face charges of felony assault with a deadly weapon as well as battery.
Karam and his brother-in-law Asem are flabbergasted that an officer of the law was involved in this apparently racist assault.
"They have to actually protect us, not stab us," Asem said. "He's a police officer, actually, he's supposed to be role model."
Sadly, Asem and his brother-in-law Karam learned the hard way that not all police officers are there to protect and serve. Many police officers, in fact, as was the case in this incident, do quite the opposite.
The Free Thought Project reached out to the Lake Forest police department for a statement. However, we have yet to hear back. Investigators in Huntington Beach haven't stated whether or not this was a racially motivated attack.
Matt Agorist is an honorably discharged veteran of the USMC and former intelligence operator directly tasked by the NSA. This prior experience gives him unique insight into the world of government corruption and the American police state. Agorist has been an independent journalist for over a decade and has been featured on mainstream networks around the world.