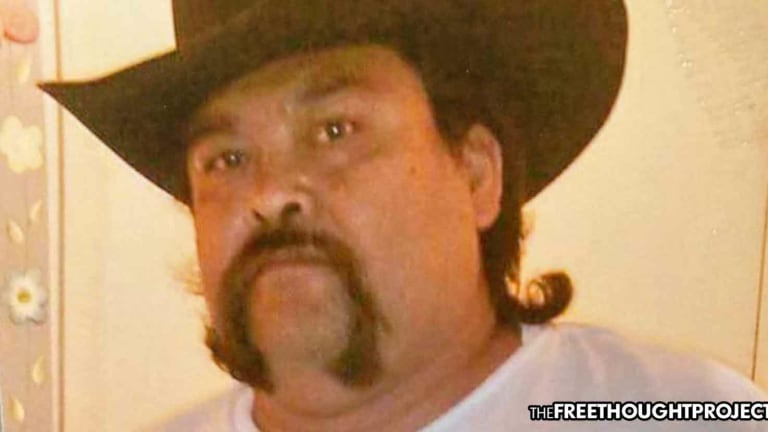 While Trying to Kill a Suspect, Police Miss and Kill Innocent Father Sitting in His Car
While trying to kill a suspect, police missed and shot and killed an innocent father instead.
Guadalupe, CA — The trigger happy nature of many police officers in America are not just a danger to due process but as we've reported over the years, they are also a danger to innocent bystanders as well. In utterly tragic cases, we've reported on police officers attempting to shoot a dog or an unarmed suspect and killing women and children in the process. Now, another family is grieving in California after another trigger happy cop started shooting, missed his target, and killed an innocent bystander.
Juan Luis Olvera-Preciado, 59, died Saturday night after an unnamed officer opened fire on a suspect. Olvera-Preciado was sitting in his car around 9:40 p.m. when a bullet intended for the apparently unarmed suspect, hit him in the head instead.
Guadalupe Police Chief Michael Cash held a press conference this week during which he fought back tears offering his apologies to Olvera-Preciado's wife and kids. When asked why the officer opened fire, the chief didn't want to "speculate" and refused to elaborate any further.
Had the suspect been armed, rest assured that this would have been the first thing police would have mentioned. Guadalupe police officers said they recognized the person at an intersection as a suspect with an outstanding felony arrest warrant, moments later, they opened fire, killing Olvera-Preciado before taking the suspect into custody without incident.
"At this early stage of the investigation, the details that are available for release are that an officer fired his service weapon at the wanted suspect, but instead struck an uninvolved resident who was sitting in a vehicle in the 100 block of Obispo Street," the chief said.
Under California's new law, AB 1506, the California DOJ and Attorney General's Office are required to investigate all police shootings and will initiate a criminal investigation.
KSBY reports that the Attorney General's Office said Monday that the DOJ's California Police Shooting Investigation Team for Southern California has been deployed to the scene of the shooting.
"Alongside local authorities, the California Department of Justice is investigating the incident," a statement from the attorney general's office said. "Once the investigation has been completed, it will be turned over to the California Department of Justice's Special Prosecutions Section within the Criminal Law Division for independent review."
According to police, the suspect was taken into custody without incident. Despite promising transparency, authorities have not released the name or names of the officer or officers involved, nor have they released the name of the suspect.
"I wanted that and I asked for that and everyone stepped forward so we can be as transparent, thorough and complete as possible," Cash said. "I wanted people to have faith in this process."
The family has since launched a GoFundMe campaign to raise money for funeral costs, you can donate here.
Though the chief promised the family justice, it is highly unlikely that the officer or officers involved will be held to account.
In December 2017, the Free Thought Project reported on the similarly tragic death of 6-year-old Kameron Prescott whose life was stolen from him when police opened fire on an unarmed woman suspected of stealing a car. In June of 2018, the family of the little boy who was gunned down by police found out that the cops who killed their son all went back to work. Then, in March of 2019, the family found out that none of the officers responsible for the death of her son would face charges.
At the time, the incident received widespread coverage as the mainstream media reported that Kameron was hit with a "stray bullet." However, this bullet was anything but "stray." The shot that killed young Kameron was deliberately fired at an unarmed woman. In fact, he was hit twice.
The officers' guns did not accidentally go off. Deputies John Aguillon, George Herrera, Jesse Arias and Johnny Longoria all deliberately shot at an unarmed woman, and their fear, poor judgment, and carelessness led to the death of an innocent child.
Video released last year shows a DPS helicopter informing the deputies below that Jones was unarmed but they opened fire anyway, killing her and Kameron in the melee.