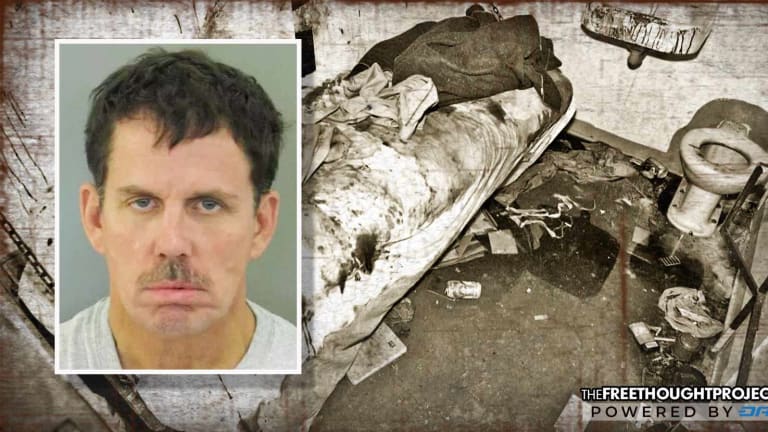 EXCLUSIVE: Whistleblower Exposes Officers Laughing as Inmates Eat Feces, are Beaten and Killed
A former inmate has made a mini-documentary in an attempt to expose the ongoing corruption within a jail that has failed to hold its staff accountable for torturing and murdering inmates.
The former inmate and whistleblower who has openly shared his account of his horrific experiences during the time he served in Florida's Charlotte County Jail, has made a mini-documentary in an attempt to further expose patterns of rampant corruption within the jail, and the dangers it poses for inmates.
Rob Tigro and Rodney McGee initially spoke out in an exclusive interview with The Free Thought Project in June 2017 after they began documenting the ongoing misconduct in the jail's medical wing.
McGee said he witnessed the death of inmate Thomas Andreason, a panhandler, who had been complaining of chest pains. McGee said Andreason was Tased, pepper-sprayed, and placed into a restraint chair until he died. Even though he was in the medical wing, he received no medical treatment, but worse still, McGee claimed that the very officers who were supposed to help the inmate actually killed him.
Tigro said he was forced to clean up the bloody aftermath after he watched officers torture an inmate to death in August 2015. Gregg Ireland, 47, was arrested for driving while intoxicated with a blood alcohol content that was nearly three times the legal limit. He was booked in Charlotte County Jail's medical wing, where the staff failed to give him the potassium supplement he was prescribed, or any detox medications to help him with alcohol withdrawals.
Instead, Tigro claimed that officers Tased, beat, and pepper-sprayed Ireland to death. According to a report from WINK News, over the course of an hour, "Ireland was Tased a total of nine times and restrained by several deputies. When they realized he was not responding or breathing, they started CPR and eventually transported him to the hospital."
Tigro said he was forced to clean up the bloody scene from Ireland's encounter with officers. Now he has made a mini-documentary to bring attention to the way Sheriff William Prummell handles criminal complaints of his deputies and corrections officers.
The beginning of the video shows Prummell giving a press conference at CCSO headquarters. The sheriff was attempting to explain how one of his officers forced an inmate to eat feces and was subsequently fired.
The inmate, 57-year-old Mark Kapuscinski was serving time for drug charges and has a history of mental illness.
"You can clearly see there was fecal matter on his hand. He presented it to the person standing at the window and that he put it on his face," Sheriff Prummell said at the time.
The sheriff said the officer Michael Burnette also failed to report the strange incident.Video would later surface showing Burnette laughing as the man ingests his own bodily waste.
The overarching controversy detailed in the video below involves that case as well as deaths in the medical wing of the jail, the cover-up, and rampant corruption throughout the department.
To date, no officer has been arrested or charged with any crime associated with the deaths of Andreason and Ireland, despite a consensus by inmates housed in the medical wing who collectively believe the two men were murdered.
Tigro told The Free Thought Project that he believes the crimes and the illegal activities the Charlotte County Sheriff's Office are engaged in, are being covered up by a law enforcement agency which, predictably, investigates itself and finds no wrongdoing.
Following TFTP's publication of the two former inmates going public with alleged abuses and murders, the story made mainstream media headlines in Charlotte County. Tigro was later interviewed by Lauren Sweeney with WINK News who further investigated the deaths of inmates while in custody.
For her story, first reported on TFTP, Sweeney was awarded "First Place" by Florida's Associated Press. Tigro's purpose for coming forward was not so that a journalist could be awarded for her story but, rather, to raise awareness about the practice of abusing and killing inmates in the medical wing of the jail. Already, too many inmates have died at the hands of sociopath corrections officers, who not only allegedly killed inmates but were allowed to keep their jobs thereafter.
Tigro's video details the climate where officers appear more as terrorists—dressed all in black with their faces covered—resembling Mexican Mafia members than officers of the peace.
Every state in the union should follow the law as implemented in the State of Wisconsin. There, thanks to the vigilant actions of Michael Bell, state law now mandates that any time there is an officer-involved incident that leads to the death of someone in custody, an outside agency must take the lead in the investigation.
The days where a law enforcement agency can investigate itself and find no wrongdoing need to come to an end. There is simply no justice when police can exonerate themselves.