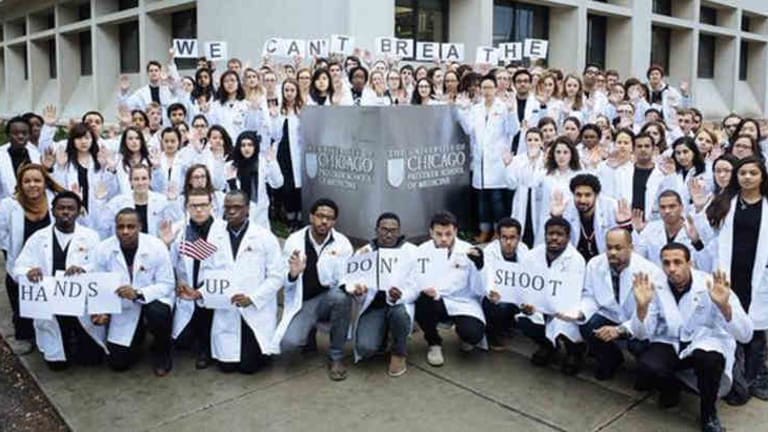 "White Coats for Black Lives:" MD's and Med Students Across the Country Protest Police Violence
"They tried to bury us. They didn't know, we were seeds."
On Wednesday, December 10, International Human Rights Day, students at over 70 medical schools across the nation walked out together in protest of the death and pain caused at the hands of the police, calling it a public health emergency.
Students from coast to coast donned their lab coats and laid in silence, most for 4.5 minutes to represent the 4.5 hours Mike Brown's body laid on display on Canfield Drive on August 9, others staying for 11 minutes for the 11 times Eric Garner plead with officers saying "I can't breathe."
"We feel it is essential to begin a conversation about our role in addressing the explicit and implicit discrimination and racism in our communities and reflect on the systemic biases embedded in our medical education curricula, clinical learning environments, and administrative decision-making. We believe these discussions are needed at academic medical centers nationwide." the call to action read.
It continued on to say;

"Racial bias and violence are not exclusively a problem of the criminal justice system. As we have seen in Ferguson, Mo., New York, and countless other places, bias kills, sickens, and provides inadequate care. As medical students, we must take a stand against the oppression of our black and brown patients, colleagues, friends, and family. By standing together at medical schools nationwide, we hope to demonstrate that the medical student community views racial violence as a public health crisis. We are #whitecoats4blacklives."
They didn't just stop there, White Coats For Black Lives contingencies mobilized once again on Saturday for the Day of Resistance and took to the streets to march in solidarity.
One thing is for sure, with people from so many different walks of life joining the fight every day, this movement is showing no sign of slowing down. History is being made, be a part of it instead of just a spectator.