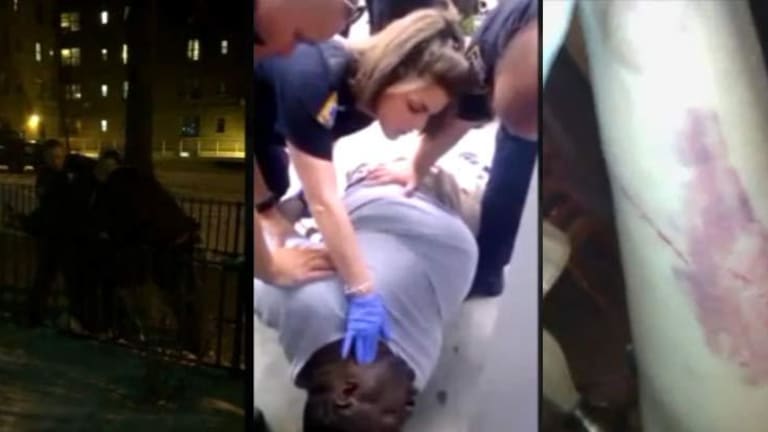 Woman Who also Filmed the Death of Eric Garner, Says NYPD Targeted and Beat Her
Staten Island, NY-- Taisha Allen, who also filmed the death of Eric Garner, is speaking out and saying that her involvement with the case has put a target on her back with the NYPD. She says that officers used excessive force when arresting her two weeks ago.
The woman gave photos of her injuries and bruises to Pix11 and the incident was also captured on video by another concerned citizen.
"He grabs me, throws me over the gate and beats me with the baton on my back." she told the station. "He drags me from the gate then took my arms and said stop resisting arrest."
The incident reportedly stems from Allen and her friend walking through a park that is not open to the public in the evening, something which she does not deny. Her friend was reportedly going to be issued a summons for the infraction, but was instead taken into custody when the officer found out there was an open warrant for his arrest.
"The officer said, 'you are that little girl from the Eric Garner case.'" Allen stated
Allen attempted to intervene, which shifted the focus over to herself, and she also had a warrant. She was arrested again just days later for an alleged assault.
The other man who filmed the death of Eric Garner, Ramsey Orta, had also made claims that he was targeted by the NYPD.
Orta had been friends with Garner for several years, he referred to Garner as "the neighborhood dad."
A week after Garner's death, Orta reported to Time that he was already receiving harassment from police for the filming of Garner's death. He was arrested and indicted by a grand jury shortly after his arrest on charges of third-degree criminal weapon possession and criminal firearm possession. The police claim that Orta had slipped a handgun into his 17-year-old friend's waistband near where Garner was killed.
"I had nothing to do with this. I would be stupid to walk around with a gun after me being in the spotlight," Rawstory reports Orta saying. "When they searched me, they didn't find nothing on me, and the same cop that searched me, he told me clearly himself, that karma's a b***h, what goes around comes around."
Are these cases coincidences, or does it seem like the NYPD wants to scare people away from filming their criminal acts?