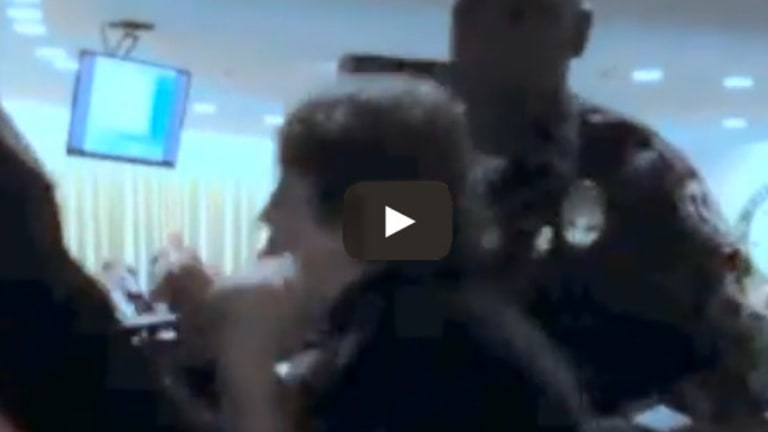 Woman Arrested for Clapping at Town Hall Meeting
John Vibes
May 27, 2014
A woman who was arrested for clapping at a California town hall meeting last year is now filing a federal lawsuit, citing that her freedom of speech was violated by the arresting officers. A local activist named Letitia Pepper was arrested, but not held on any charges after she was removed from a town hall meeting for clapping.
City officials claim that members of the audience were told not to clap, but Letitia and other onlookers were clapping for speakers that they agreed with to show support for whichever cause was being discussed at the meeting.
In a statement delivered to the local newspaper, the town's mayor William Bailey said that "'The city of Riverside seeks to provide an environment at City Council meetings where free speech rights are respected and where everyone can feel comfortable expressing their views." 
Bailey and other officials claim that audience members clapping takes away the freedom of speech of those who are speaking, but this excuse shows a gross misunderstanding of what free speech is. Having freedom of speech means that violence will not be used against you if you speak freely, it is not a guarantee that others will be silent and attentive when you choose to speak.

This is not the only time that someone has been arrested at a town hall meeting in Riverside, California. Also last year, a 60 year old woman was arrested for speaking too long at a town meeting in this area. Despite her age she was treated aggressively by police, and received misdemeanor charges for disobeying the authorities.
John Vibes is an author, researcher and investigative journalist who takes a special interest in the counter culture and the drug war. In addition to his writing and activist work he is also the owner of a successful music promotion company. In 2013, he became one of the organizers of the Free Your Mind Conference, which features top caliber speakers and whistle-blowers from all over the world. You can contact him and stay connected to his work at his Facebook page. You can find his 65 chapter Book entitled "Alchemy of the Timeless Renaissance" at bookpatch.com.