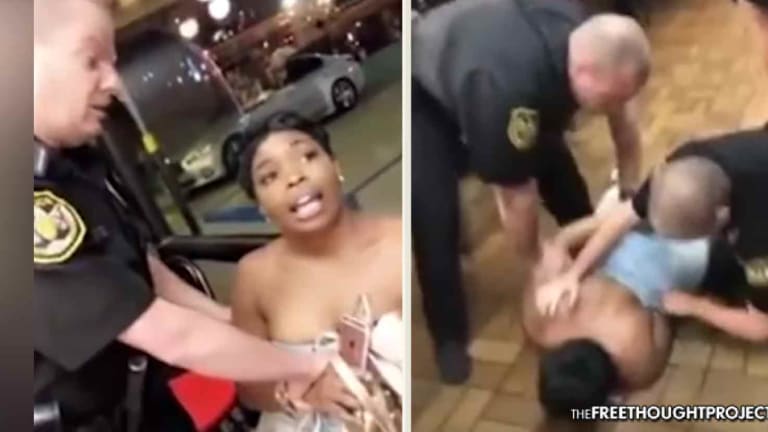 WATCH: 'I'll Break Your Arm!' Says Cop As Police Strip Woman Topless in Waffle House Arrest
A young woman was thrown to the ground, her breasts exposed, and she was violently arrested at a Waffle House restaurant over the weekend all over a dispute about plastic utensils.
Mobile, AL — Residents are outraged and the NAACP has stepped up after a graphic video from inside an Alabama Waffle House has gone viral showing a violent police struggle with a young woman. During the violent encounter, the woman's breasts were exposed.
Highlighting how unnecessary the escalation of violence was, the entire incident was sparked over plastic utensils. According to witnesses involved in the incident, 25-year-old Chikesia Clemons was inside Waffle House with a friend and had placed an order when they were told they would have to pay $0.50 extra for the plastic utensils.
After being told she would have to pay for the utensils—something that is largely available for free at most restaurants—Clemons and her friend Canita Adams questioned the charge, noting that they did not have to pay for them the night before.
According to Chiquitta Clemons-Howard, Clemons' mother, after they asked why they were being charged for the plastic utensils, the Waffle House employee canceled their order.
At that point, according to Clemons-Howard, her daughter asked for the contact information of the Waffle House district manager who is in charge of that location.
"They didn't even ask her to leave, she was waiting for them to give her the district manager's card so she could file a complaint on one of the waitresses," Clemons-Howard said. "When they went to go get the card, that's when the police showed up. The officer should've come in and said we need you to leave."
What happened after that was a miscarriage of justice, Clemons-Howard explained to AL.com.
"The footage shows the story completely," she said. "My nerves are very, very bad right now."
As the video shows, Clemons quickly found herself surrounded by police. The video starts out with one officer physically grabbing Clemons as the young woman tries to explain what is going on.
The video then jumps to officers throwing Clemons down. As two officers pile onto the young woman, her top comes off and her breasts are exposed, prompting Clemons to try and cover herself up.
"What are you doing?" Clemons asks at one point, to which an officer responds, "I'll break your arm, that's what I'm about to do."
Eventually, Clemons is handcuffed and arrested on charges of resisting arrest and disorderly conduct.
On Sunday, the NAACP responded to the incident after they said it was shared with them multiple times.
"In light of the current situation in our country -- such as the arrest of two young black men at a Philadelphia Starbucks coffee shop -- we felt it was important for our members to get a first-hand account of the incident, which has now gone viral on social media locally and across the country," Mobile NAACP President David Smith said.
"When incidents like this happen in our own backyard, it is incumbent upon the local NAACP to take a closer look and move the matter to whatever level is appropriate," he said.
The Free Thought Project contact the Saraland Police Department to get their reaction to this video and they released the following statement:
The Saraland Police Department is aware of the arrest at Waffle House and the accompanying video on social media. The situation is being thoroughly reviewed and is under active investigation right now. Our department strives for transparency and we encourage our community to be aware of current events. Saraland's public safety director, Chief J. C. West, and the mayor are aware of the situation and are awaiting the results of the investigation. When the facts of the investigation are gathered, we will have a response.
As Smith pointed out, this incident comes on the heels of the ridiculous arrest caught on video in a Philadelphia Starbucks restaurant during which two black men were arrested for sitting there waiting for a friend.
In that case, the Philadelphia police Commissioner Richard Ross publicly apologized to the two men and Starbucks announced last week that it will close 8,000 U.S. stores for racial bias training.
Below is the Facebook Page of the Saraland PD.