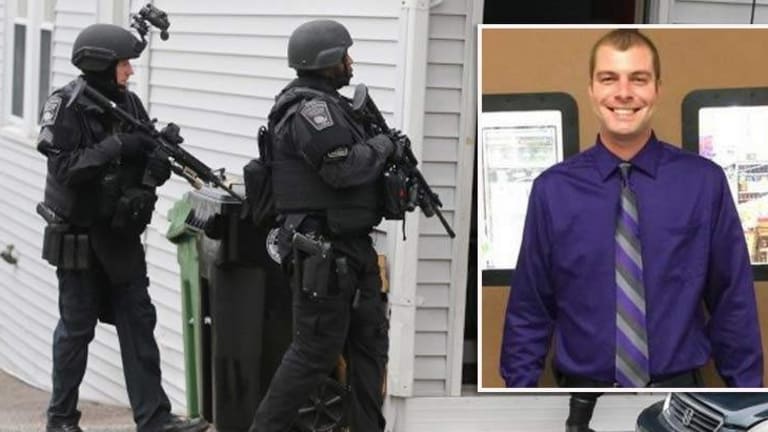 Woman Calls Non-Emergency Hotline for Suicidal Boyfriend, Cops Show Up with AR-15s, Kill Him
Within minutes of a non-emergency call for help with a suicidal man, cops with assault rifles show up and fill him with holes.
St. Augustine, FL -- Justin Way had been alcohol-free for five weeks. He was doing well, but then slipped off the wagon on May 11, leading to an intoxicated evening with suicidal thoughts.
"He just lost his job, and he had a setback," said his father, George Way.
According to the Daily Beast, 
Way's live-in girlfriend, Kaitlyn Christine Lyons, said she'd caught Justin drinking a bottle of vodka, which she took away from him to pour out. She said he was drunk, lying in their bed with a large knife, saying he would hurt himself with it. She called a non-emergency number in an attempt to get her boyfriend to a local St. Augustine, Florida, hospital for help—and told them she did not feel threatened.
Lyons explained to the Beast that her brother had been "Baker Acted" three times for threatening to hurt himself, so she assumed that is what would happen with Way. Florida's Baker Act allows for the involuntary institutionalization of people who may present a threat to themselves or others. Police officers in Florida can be the ones to carry it out.
However, just minutes after Lyons would end her call with the non-emergency hotline, two officers from the St. Johns County Sheriff's department would show up. They were apparently not interested in Baker Acting anyone.
Deputies Jonas Carballosa and Kyle Braig showed up with assault rifles in hand and told Lyons to wait outside while they attended to the man in crisis.
"I thought they were going into war," Lyons told the Daily Beast. Seconds later Way was dead.
According to the Daily Beast:
George Way said the initial report he received from Det. Mike Smith detailed an incident wherein his officers said they were attacked by Justin with a knife. Way said Smith told him Justin had threatened Kaitlyn. Kaitlyn denies this.

Denise Way, Justin's mom, said that the detective relayed to her that "they told Justin to drop the knife and he didn't—so they shot him because that's what we do."

Denise said Smith then told her about "this new trend in law-enforcement now—it's called suicide by cop." She said Smith explained "suicide by cop" is when suicidal people provoke the police in an effort to end their own lives.
The department implying that Way chose to end his life through "suicide by cop" is asinine. He never called the cops, and his girlfriend called a non-emergency number.
According to the family, there was no blood on the walls nor on the floor, only in the bed. Police would not tell them where or how many times Justin Way was shot.
After finding a bullet in the mattress, Way's family is convinced he was killed while still in the bed.
"If Justin was coming after them with a knife, at 6-foot-4, wouldn't there be blood splattered all over the room?" George Way said.
The Beast asked the department if it was "standard procedure to bring assault rifles, but not mental-health professionals, to a scene where someone is suicidal."
Commander Chuck Mulligan responded by saying, "If the deputies feel that that is the appropriate weapon system to use, then yes."
This is the second time in under six months that deputy Braig was involved in the killing of a man holding a knife.
According to the Beast, Way's parents said they do not ever want to call the police again—for anything.
"I think they should come in using other things," said Lyons. "And I think they definitely need to figure out how to handle suicidal people."
Unfortunately for Lyons and the rest of the American population, police officers seem completely unwilling to learn how to deal with individuals who are experiencing a mental crisis.