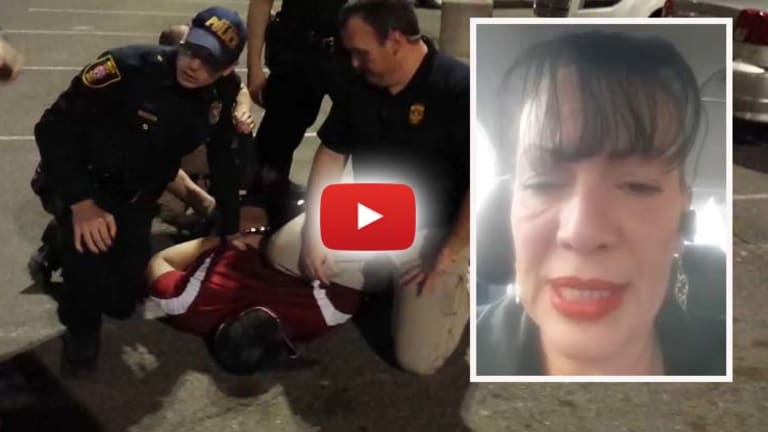 Cops Want to Punish Woman who Called them 'Pigs' for Killing Her Innocent Husband on Video
A widow is facing potential charges for going on Facebook Live and referring to the men who killed her innocent husand, Luis Rodriguez, as 'pigs.'
Moore, OK — In February of 2014, as a family walked out of a movie theater, they were confronted by police who would beat their father and husband to death. The killing of Luis Rodriguez by Moore police was captured on film by his wife Nair.
Nair now has obvious animosity toward the Moore police department for taking her husband from her that fateful night. So, she took to Facebook live to express her discontent with police, who are subsequently disallowing her from attending the deposition of one of the cops who killed her husband.
In the Facebook video, Nair referred to the officers who killed her husband on video as 'pigs.' Now, those same cops who killed her husband are trying to charge Nair with 'inciting violence,' because Nair calling them pigs and 'asking for help' made them fear for their lives.
However, during the video, Nair reveals that she was simply venting about the deposition and lack of income since police killed her husband.
"She made comments about her 'husband killers' and 'won't somebody please help me' — in this day and age this could mean a number of things," said David Kirk, an attorney who represents the Moore Warren Theater and three off-duty game wardens who were working as security guards at the theater the night of Luis Rodriguez's death, according to News OK.
"A number of people involved in the lawsuit thought that was tremendously inappropriate and we felt the need to act. We don't think it was very nice of her to threaten the lives and safety of our clients," Kirk said.
For asking for help after police killed her husband, in the same manner they would go on to kill Eric Garner, Nair is being targeted. Imagine the hurt and helplessness a widow must feel after cops kill her innocent husband on video, get away with it, then threaten her for speaking out about it. It is pure madness.
"As you hear, here on the 13th floor is where they are conducting the depo of Joseph Bradley, the killer, the one who asphyxiated Luis and he is still free of responsibility," Nair said in the video.
"This is the system. Please, if you can help me, I know it would not be in vain."
On that tragic February night back in 2014, Nair Rodriguez and her daughter Lunahi got into an argument at the Warren Theater around midnight. Nair said she slapped her daughter then stormed away. Her husband, Luis, chased after her. That was when the family said officers confronted Luis Rodriguez and asked to see his identification.
According to Lunahi and Nair, he tried to bypass the officers to stop his wife from driving off because she was so angry. They said officers took him down and it escalated.
Lunahi Rodriguez said that five officers beat her father to death right in front of her, in the parking lot of the movie theater.
The heart-wrenching video is hard to watch and shows Luis Rodriguez gasp for air, saying, "I can't breathe," as police squeeze the life from his body.
It only took four months for officials to clear the cops in the murder of Luis Rodriguez. Since then, Nair has filed a lawsuit against them.
As PINAC reports, an autopsy conducted by the Cleveland County Medical Examiner concluded that Luis Rodriguez died from "cardiac arrhythmia due to physical restraint," basically blaming the victim for his heart not being able to withstand five cops piling on top of him while choking, punching and kneeing him.
However, a private autopsy conducted by a doctor hired by the Rodriguez family determined that the 44-year-old man died from "asphyxia caused by restricted respiration caused by external forces."
Luis was choked to death — on video — and the only person who may face charges for this, is his wife who filmed it. And this is called 'justice' in the Land of the Free.
[author title="" image="https://tftpstagingstg.wpengine.com/wp-content/uploads/2016/03/magorist-e1456948757204.jpg"]Matt Agorist is an honorably discharged veteran of the USMC and former intelligence operator directly tasked by the NSA. This prior experience gives him unique insight into the world of government corruption and the American police state. Agorist has been an independent journalist for over a decade and has been featured on mainstream networks around the world. Follow @MattAgorist on Twitter and now on Steemit[/author]