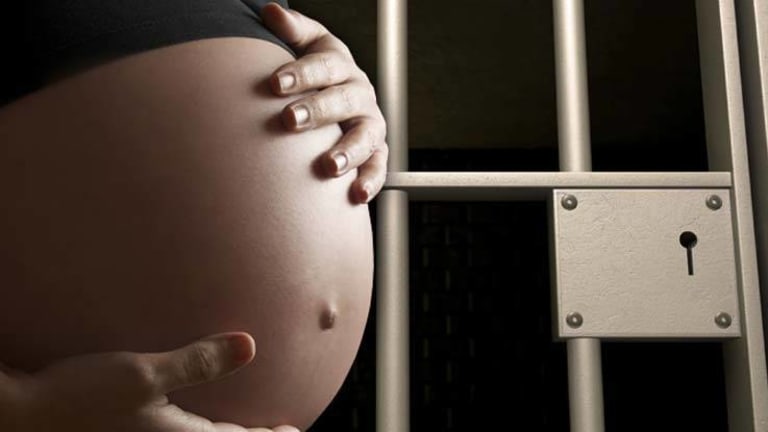 Pregnant Woman Denied Care in Jail Waiting for Trial -- Forced to Carry Dead Baby for Days
This poor woman cried in pain for days, telling the nurse the baby hadn't moved, and was still denied a doctor.
Cole County, MO – Time after time we hear of people dying in jail under suspicious circumstances or neglected health issues. This culture of disregard is highlighted by the case of Sentoria McMillon, who lost her unborn child at a Cole County jail soon after being booked as a pretrial detainee.
McMillon, whose due date was weeks away, began complaining of abdominal pains and continually cried for help, telling the nurse she felt increasing pain and pressure. Her child had died in the womb and, being denied a doctor visit for a week, she was forced to carry the decaying body for days.
Strangely, McMillon was released of her own recognizance hours before a scheduled appointment with the prison-contracted doctor. McMillon's normal prenatal physician sent her to the emergency room, where doctors induced labor and said the baby had been dead for a week.
As Shadowproof reported, McMillon has filed a lawsuit against Cole County Sheriff Greg White and his jail staff, as well as for-profit medical contractor Advanced Correctional Healthcare (ACH) and the 2 medical staff responsible for her care.
"The lawsuit alleges deliberate indifference to serious medical needs, wrongful death, and medical malpractice. ACH denies all of the allegations made in McMillon's complaint…

Had the defendants followed appropriate protocol or policy, and demonstrated simple humanity toward a pregnant inmate in distress by allowing her to see a physician, the lawsuit argues, "Doctors could have properly monitored [her] pregnancy and, if necessary, induced labor in order to provide life-saving care for [her] unborn child.""
Dr. Catherine Van Voorn, employed by ACH and named in the lawsuit, already has a notorious track record for neglecting inmates' medical needs, and was "publicly reprimanded" in 2013 for several instances of misconduct relating to prescription drugs.
Shadowproof investigated ACH in 2015, finding that Dr. Van Voorn is one of many careless physicians employed at the prison-exclusive health care company. The company says it delivers care at a much lower cost than government, and it appears to do this by letting people suffer and die.
Note how McMillon was released just hours before her scheduled appointment with Dr. Van Voorn, after being ignored for days. When the doctor conversed with the jailers that first night by phone, she expressed little interest in carrying out her duty. The jailers also failed to pass on vital information. Shadow proof reports:
"Dr. Van Voorn spoke with McMillon's jailers on the phone for roughly two and a half minutes regarding the inmate's condition, according to the complaint. During that conversation, the jailers only told the doctor McMillon was in pain. Jailers did not mention she had just seen her prenatal physician the day before her incarceration due to complications with her pregnancy.

The jailers did not even tell the doctor McMillon was pregnant, and the doctor never asked. In fact, the complaint alleges Van Voorn barely inquired about her patient at all, whose file and face she'd never seen. Van Voorn ordered McMillon be given over-the-counter pain medication and a follow-up appointment with the nurse the next morning. McMillon's pain persisted, and she cried through the night."
McMillon's case is the latest in a string of lawsuits that have been brought against ACH, where inmates have suffered or died due to minimized care in the interest of cutting costs. A spokesman for the company said it is "completely false to suggest that ACH denies care to patients in an effort to reduce expenses."
The company admitted it "does not have policies and procedures regarding pregnant inmates," and says it relies on procedures of the jail facilities. Inmates rarely see a doctor in person, with most medical care being done by low-skilled, low-paid nurses on site. In McMillon's case, the nurse "elected to provide no further care for [McMillon] or her unborn child" even after McMillon said she had not felt the baby move since the previous day.
It appears to be a team effort by government and private contractors to provide the bare minimum of medical care in the prison-industrial complex. Even the most innocent, the unborn, can fall victim.