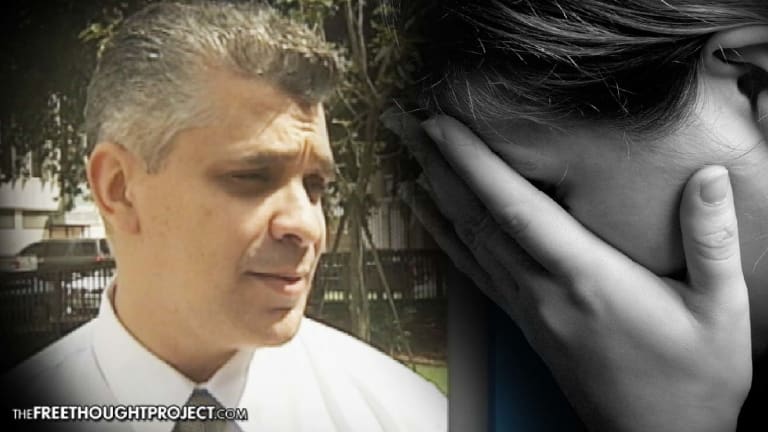 Despite DNA Evidence, Cop Not Charged for Forcing Woman to Perform Oral Sex on Him
A Florida woman finally finds enough courage to report a cop who forced oral sex on her only to be shot down by blue privilege.
Orlando, FL — A Florida woman may be asking herself why she even spoke out against the perpetrator who sexually assaulted her, now that the man, (who also happens to be a police officer), will not face criminal charges for forcing oral sex upon her.
Detective Angel Burgos knew the woman from an unrelated case. As Christmas Day was fast approaching, he decided to pay a visit to her home on December 15th, 2016. She said she felt like she had no reason not to trust him when he approached her, and asked her to get into his unmarked squad car. "He was an officer, I didn't think much of it, I trusted him," the woman told BuzzFeed News.
After getting inside his vehicle, Buzzfeed wrote Det. Burgos, "began telling her how beautiful she is and kissed her, while unzipping his pants and exposing his penis. When Burgos asked the woman to put her hand on his penis, she declined, and he then touched himself with one hand while squeezing the woman's breasts with his other hand."
She says she was in an awkward position, describing her state of mind as, "I was in a vulnerable position, I felt alone and isolated...You have someone who is in a position of power, you trust them...he took advantage of his position." Unfortunately, while we as a society often put police officers on a pedestal and hold them to a higher standard, they are, after all, human, flawed, and suffer from the same human condition the rest of humanity endures. But some are more seditious than others and sometimes use their position of so-called authority to abuse others.
Buzzfeed reported, "The woman said he pleaded with her to 'jerk him off,' but she continued to say no, until he grabbed her left hand and forced it onto his penis. When she pulled away, she said Burgos grabbed her by the back of her head and pushed her toward his lap." That's when the worst of the assault took place, the detective allegedly then forced the woman to perform oral sex on him. "The woman said she pulled away, telling him she did not want to do that — Burgos told her to 'live in the moment.'"
However, enduring the attack wasn't something the detective's accuser wanted to do. "I didn't want to do it," she said during her police interview adding, "I didn't like the way he was acting about it. I didn't like how he was turning. He wasn't the same person. He started turning into this horny guy as opposed to the man that I respected."
Buzzfeed reported, "Burgos forcefully pushed her head toward his penis again, telling her to 'be quiet'." The woman admitted she gave Burgos oral sex for about 30 seconds, but was able to pull away after she says she felt his grip on her head loosen a bit. "Once she stopped, she said Burgos stroked his penis until he ejaculated into a microfiber towel he removed from the center console of his car," wrote Buzzfeed who then described what happened next.
The woman got out and returned to her house. She said Burgos later yelled at her over the phone and asked whether she was going to report him, telling her to not contact him again. "I was not sure who to talk to," the woman told BuzzFeed News. "Who can I talk to about the situation, what do I tell them? At the time I was thinking in my head, Are they going to try and blame me for this?" The woman contacted the police department's internal affairs unit and an investigation was launched by the Florida Department of Law Enforcement.

"I was still very upset," she told BuzzFeed News about when she contacted law enforcement. "This was all still very fresh — it was just a week later. I was scared, hurt and confused."
As The Free Thought Project has observed time and time again, once a report is filed against an officer, the department often investigates and clears the cop of any wrongdoing. Shielded by lawyers, as well as the police unions, few officers are ever charged. The same can now be said of Detective Burgos.
After the FDLE investigation was completed, it was decided Burgos would not face any criminal charges, even though the woman's story was validated by the discovery of her DNA on his clothing. According to the report in Buzzfeed, "FDLE special agent assigned to the case obtained a search warrant for Burgos' house and his car, and recovered the shirt, pants, belt, and tie he was wearing during the alleged assault, as well as two microfiber towels. The woman's DNA — a sample of which she had provided the special agent — was found on the outside of Burgos's pants, according to the lab results."
Instead of facing a criminal charge of forced oral sex, the officer was cleared of any criminal misconduct. Just this week, the State's Attorney declined to press charges against the 18-year veteran police officer. "The Orlando Police Department is now conducting an internal investigation to determine whether any policy violations occurred," writes Buzzfeed who added for the moment Burgos "has been stripped of his badge and gun and continues to work in a desk assignment, the spokesperson said."
There's no reason to suspect the internal misconduct investigation will arrive at a different conclusion. What TFTP has observed in cases like this is that officers are often placed on paid administration leave, with some leave lasting longer than a year. In the meantime, while an internal investigation is taking place, the officers often find work in nearby police departments, and rarely, if ever, suffer anything more than the loss of vacation pay. Nevertheless, women should not be afraid of retaliation and follow the aforementioned FL woman's example and turn-in their attackers.