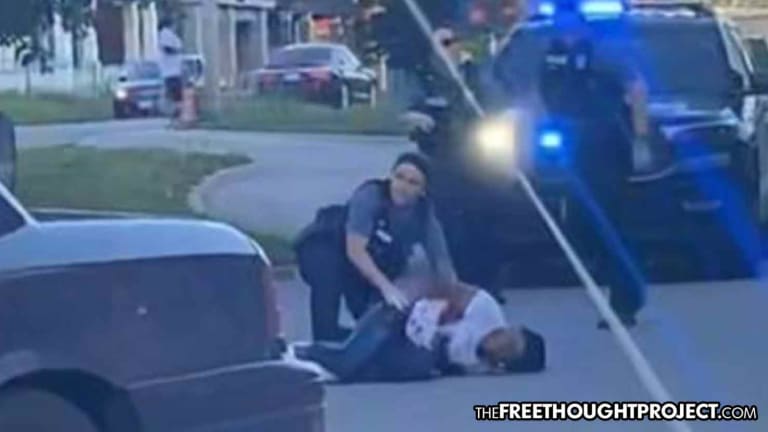 Woman Tells Cops She Can't Get on the Ground Because She's Pregnant, Cops Put 5 Rounds In Her
An unarmed pregnant woman, complying with police was shot five times for not being able to get on the ground, according to eye-witnesses.
Update: Police have sense released a still image from the body camera footage and it appears that Hale was holding a firearm at some point before she was shot. Whether or not it was pointed at police is unknown. However, it was not in her car as originally reported by the eye witness. We apologize for the inaccuracies reported earlier. 
Kansas City, MO — When a mother of three was travelling through Kansas City, Missouri last week, pulling off the highway to get her children some ice cream, she never imagined that she and her children would witness police shoot an unarmed pregnant woman. Unfortunately, however, that's exactly what happened according to Shé Danja.
Shé Danja, who declined to give her last name out of fear of police retaliation, pulled out her phone and recorded the incident as it unfolded and the video appears to show that 26-year-old Leonna Hale was unarmed when she was shot 5 times by Kansas City police officers.
Immediately after they shot her, police claimed that a "gun was recovered at the scene." However, Hale did not appear to be holding it and according to the eye witness, Hale told police there was a gun in the vehicle which was far away from Hale when she was shot.
The incident unfolded on Friday May 27 when police say they were looking for a carjacking suspect. According to police, they found a vehicle matching the description of the stolen vehicle located at the Family Dollar on 6th street.
When police approached the vehicle, the male driver exited the car and took off running while Hale stayed back. Hale then complied with police and got out of the car like she was asked to do.
According to the Kansas City Star, who interviewed Shé Danja, "The cops told the woman to get on the ground, but the woman informed them that she was pregnant, and so she couldn't get down on the ground." Then police asked her to get down multiple times, which she still couldn't. The woman then informed police that there was a gun in the vehicle.
The woman began moving back toward a fence of the parking lot. Numerous officers approached and drew their weapons. "She did not pull out a weapon on them," Shé Danja said. "She did not even have a stick in her hand." The woman ran three steps away from officers, Shé Danja said, and police shot five times.
"One, two, three, four, five. I remember it because it didn't stop. They shot five times," Shé Danja told the Star. "I remember seeing her hit the ground and I froze," she said. She also asked police numerous times why they shot the woman, but officers refused to answer.
Shé Danja was then forced away from the scene by one of the responding officers, despite telling him that her son was still in the store.
As the video shows, Hale is seen lying on the ground as the blood starts to leak through her shirt. Instead of medical aid, police move in to handcuff her. According to police, she was eventually taken to the hospital with life threatening injuries and remains in critical but stable condition. The condition of her unborn child is unknown.
After police shot Hale, Interim Police Chief Joseph Mabin showed up and told media they are "committed to being 100% transparent and fully cooperate with the Highway Patrol," who is now handling the investigation.
"We never want to be in these type of situations," Mabin told reporters. "Not the public, as a police department. Anytime it happens is a blight on our community. I want to ensure the public the scene is secure. There's no ongoing threat. … This is a holiday weekend. It's time for friends, not a time for violence."
But as Toriano Porter points out in an op-ed for the KC Star, "no one was violent in the parking lot that night except the police."
The Missouri Highway Patrol are now taking over the investigation, which they say could take weeks or even months to complete.