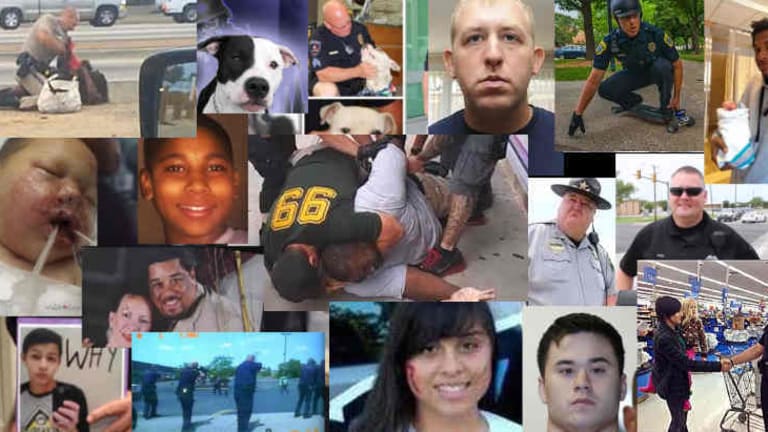 Year in Review: The Worst and Best Cops of 2014
2014 has been a dark year as far as police brutality and corruption is concerned. No longer does the phrase "isolated incident" or "bad apple" apply. Americans have been privy to gruesome and debauched acts of cruelty from California to New York and they are anything but "isolated."
It seems that every time we get over one horrific act, a new and even more disgusting atrocity rises up to the surface. One need only click on "Badge Abuse" in the menu above to confirm this.
Many of these repugnant scenarios would have never gotten a second look had it not been for the brave folks who pull out their cameras to record the injustice.
But there are also some cops who deserve recognition for their positive actions too. It would be irresponsible to point out the bad without shining light on the good, so this list will also contain the best cop stories from 2014.
"Injustice anywhere is a threat to justice everywhere." -Martin Luther King Jr.
The stories below are in no particular order.
Keith Vidal, who had just celebrated his 18th birthday, was killed by a police officer who responded to the family's Boiling Spring Lakes home in January.
As Vidal's Father tried to step in and grab the screw driver the Southport Police Officer that had instructed the other officers to use their tasers, moved between the father and the pile of people on the floor and said "We don't have time for this," and shot Vidal Once in the chest as the other two Officers held him on the floor.
Vidal's father then grabbed the officer as he was lining himself up for another shot.
In August, Steve Wronko had gone to the Helmetta Police Department with a list of objections about violations at the Helmetta Regional Animal Shelter.
When Wronko went to the police department to voice his complaints about the violations of his Constitutional rights by this corrupt, nepotistic system, he was met with even more corruption.
"I have major objections about what's going on at the shelter over there….," says Wronko.
To which the corrupt and now infamous Helmetta police officer Richard Racine, replies, "Obama just decimated the freakin' Constitution, so I don't give a damn. If he doesn't follow the Constitution, we don't have to."
Eric Garner was killed on video by NYPD officer Daniel Pantaleo. In an exclusive interview obtained by the Free Thought Project, the father of deceased Eric Garner, Benjamin Carr, explained that police had actually stolen money from Garner, who subsequently planned to file a complaint against the NYPD for this theft.
Police were there that day, Carr says, not to shake Garner down for selling smokes, but to retaliate against him for trying to expose their theft.
"I wouldn't really say [he was killed] because Eric was a black man. It's due to the fact that they stole money from him and refused to give him his money, and he filed charges against them. This is why they had a vendetta against him."
No charges were brought against the officers involved in the killing of Eric Garner
In a multijurisdictional raid in Habersham County police barged into the home of Wanis Thometheva at 3:00 am.
During the raid one of the uniformed men, tasked with caging people for possession of substances the state deems illegal, threw a stun grenade into the crib of a 19 month old baby.
Alecia Phonesavanh, the mother of the 19-month old, was staying at her sister-in-law's home when cops smashed in.
"It's my baby. He's only a baby. He didn't deserve any of this," Phonesavanh said. "It landed in his playpen and exploded on his pillow right in his face."
To top off this horrible story, Habersham county is refusing to pay for the family's medical bills for the damage they caused.
No charges were brought against any of the Habersham county officers involved in the raid.
The video footage to surface after the incident showed absolutely no restraint on the part of Cleveland patrol officer Timothy Loehmann, who fired the shot that killed young Tamir Rice.
Without any hesitation, police shot young Tamir Rice because they allegedly believed that he was pointing the gun at them, although the person who dialed 9-1-1 told them twice that the gun was "probably fake."
In the weeks following the murder, a number of disturbing details surfaced showing that this tragedy could have been prevented.
A quick look into the history of officer Timothy Loehmann, shows that he has a short and troubled past with police work. In fact, Loemann was actually terminated from his last job as a police officer, because they did not think that he was mentally capable, or mature enough for the job. He was let go by the City of Independence Police Department in December of 2012, and then was quickly rehired with the Cleveland Police Department in March of this year.
As of today, no charges have been brought against Loehmann.
The lawyer for a family whose patriarch died after a one-sided confrontation with police said officers may have continued beating the man even after he was already dead.
Luis Rodriguez died in February of this year after a confrontation with police outside a theater in Moore.
Rodriguez's wife and daughter say police arrived and then started beating him.
The Rodriguez family's lawyer released the heart breaking cellphone video of the incident.
No charges were brought against the officers who killed him.
The gruesome dashcam video of a summary execution of a mentally ill man by police was released to the public in October.
The video shows six police officers, in firing squad fashion, execute mentally ill, Milton Hall, in broad daylight in a Saginaw parking lot.
Hall was several meters away from the closest police officer when the shots began. He posed very little threat to the officers as he was armed with a small pocket knife and could have easily been brought down with a taser.
Six Saginaw police officers fired 47 times at the 49-year-old Hall, striking him 11 times. Police claim Hall acted aggressively, according to then-Saginaw County Prosecutor Michael D. Thomas.
While this actually happened in 2012 it wasn't until October of this year that the county made their official statement justifying this execution of a mentally ill man.
"After a thorough investigation, federal authorities have determined that this tragic event does not present sufficient evidence of willful misconduct to lead to a federal criminal prosecution of the police officers involved," a news release stated.
No charges were brought against the officers who killed him.
A federal civil lawsuit was filed in September against San Mateo county and a deputy, on behalf of the family of mentally ill 18 year old Yanira Serrano who was fatally shot by a County Sheriff's deputy outside the family home on June 3.
In the 9-1-1 tape, her brother is heard requesting medical help, as Serrano was schizophrenic and off of her medications. He is heard in the tapes stating that it was not an emergency.
Within minutes Deputy Mehn Trieu arrived. Lorenzo Serrano was still on the phone with 9-1-1 as the gun shot rang out- despite dispatch stating paramedics were en route.
No charges were brought against Deputy Trieu for the killing of Serrano.
In August Oklahoma City police officer Daniel Holtzclaw was arrested and charged with several counts of first-degree rape, forcible oral sodomy, sexual battery, indecent exposure, and one count each of first-degree rape by instrumentation, first-degree burglary and felonious stalking.
A month after his arrest in August more women came forward which resulted in 10 new charges against him.
A month after that, the charges against Holtzclaw totaled 32.
Most of these alleged assaults happened while he was on duty during his 4 pm to 2 am patrol shift. All of his alleged victims were in an isolated part of town, they were black, and most were pulled over for traffic stops.
Imagine being pulled over by this officer as a woman, thinking you are just going to get a ticket, and raped instead.
CHP officer Daniel L Andrew threw Marlene Mardella Pinnock on the ground in July and repeatedly beat her in the head.
The grandmother was waling down the road, barefoot and harmless when Andrew viciously attacked her.
"I thought he was trying to kill me," said Pinnock.
As of December 31, 2014 no charges have been brought against Daniel Andrew for beating this harmless woman.
Sadly, "Police Kill Dog" is not an uncommon segment of headlines across the nation. It happens so often that it has its own category on the The Free Thought Project's website as well as many other media outlets.
This disturbing trend led to WGRZ-TV in Buffalo, filing a Freedom of Information Act request for use of force incidents within the Buffalo police department only. What they found was shocking.
According to use of force reports requested by WGRZ-TV under the Freedom of Information Law, Buffalo Police shot 92 dogs from Jan. 1, 2011 through Sept. 2014. Seventy-three of those dogs died. Nineteen survived.
To provide a comparison, Buffalo's numbers more than triple the amount of dog shooting incidents involving police in Cincinnati, a municipality of similar size.
Nearly 30 percent of these dog shootings in Buffalo were carried out by one man. The unidentified officer has shot 26 dogs, killing 25 of them, in just the last three years.
Of course, no charges were brought against any of the officers for their puppycides.
John Crawford was holding a toy gun in an Ohio Walmart when police were called to the scene.
Without hesitation and in sniper-like fashion police stalked the innocent man and murdered him in cold blood.
"It was an execution, no doubt about it," alleged Crawford's father, John Crawford II. "It was flat-out murder. And when you see the footage, it will illustrate that."
In September the video footage from the surveillance cameras in Walmart were released which showed that police ran in, shot first, and worried not about killing this innocent man.
No charges were brought against the officers involved in the killing of John Crawford.
In August of this year Americans were outraged after officer Darren Wilson of the Ferguson PD shot and killed an unarmed teenager in Ferguson, MO.
The killing has been a defining moment in America's history, shaking people out of their stupor and calling them to action.
Earlier this month it was admitted that the witnesses who testified to the grand jury openly lied.
Speaking with KTRS radio, the lead prosecutor in the case, Bob McCulloch, said his goal was to have any individual who claimed to be a witness testify before the grand jury.
"Clearly some were not telling the truth," he said. Specifically, McCulloch noted that one woman in particular who said she witnessed the shooting but "clearly wasn't present." According to McCulloch, "she recounted a story right out of the newspaper" that matched up with the account of Ferguson police officer Darren Wilson.
No Charges were brought against officer Darren Wilson.
Now on to some stories that lift the spirits instead of infuriating you.
A group of police officers filed a lawsuit against the town of Normal, IL in November alleging that the police department is forcing them to write a certain number of tickets or face disciplinary action.
Patrol officers Brian Larimore, Deborak Weir, and Todd VanHovein, were tired of being forced to collect a minimum amount of revenue each month or face disciplinary consequences.
The group of officers are claiming that these requirements encourage them to make arrests without probable cause. By refusing to make the arrest and therefore being disciplined, the lawsuit claims Normal Police Department is in violation of Section 20 of the Illinois Whistleblower Act.
Officer Deborah Weir did face disciplinary action for not arresting enough people, she was suspended for day without pay for falling short of her alleged quota.
A man's life savings was recovered after an off-duty California Highway Patrol sergeant found over $125,000 in cash in the middle of a Concord roadway.
A 20 year veteran with the California Highway Patrol, who wishes to remain anonymous, was driving in her personal vehicle in October when she noticed drivers swerving to miss two objects in the middle of Concord Boulevard.
When the off-duty cop stopped to move the object she saw that it was two bank deposit bags. When she looked inside the bags she found $125,000 in cash.
Here is where the story gets interesting, she didn't try to keep it for herself or bring it to the evidence locker or try and justify keeping the money for the department. The Concord police actually located the owner of the lost cash and returned it to him!
Emmett Township Public Safety Officer Ben Hall was doing his standard patrol in October, when he pulled a car over for a traffic violation.
As he spoke with the driver of the vehicle, he saw that a child in the back of the car was belted in but not in a required child car seat.
When officer Hall questioned the woman, Alexis DeLorenza, as to why the child wasn't in a safety seat, she explained that she wasn't able to afford one.
Standard operating procedure of law enforcement would typically dictate this as simply another revenue generating stop.
In an extremely compassionate move, officer Hall had DeLorenza go to a nearby Walmart and actually purchased her a car seat for her child.
Activist and independent journalist Brett Sanders was conducting a First Amendment test in White Settlement, TX.
He was filming outside of the Lockhead Martin facility when 3 officers pulled up to inquire as to what he was doing.
Sanders refused to identify and they actually respected him for it! Instead of shoving his camera down or trying to confiscate it one officer sparks up a conversation about Sanders' camera and equipment because he also enjoys photography.
Eventually the conversation becomes so relaxed that Sanders feels comfortable enough to tell the officers that he is actually there to test how police react to a person practicing their First Amendment right.
Sanders then tells the officers the truth about how most police react negatively to someone filming. The response he was given was quite heartening indeed, "We're here to protect your rights, not violate them."
Uniontown police Sgt., Michael Batchik responded to a 9-1-1 call at Hartville Marketplace last week of a person trapped in a vehicle which was on fire.
Apparently the victim crashed into the vehicle in front of his after apparently passing out with his foot on the accelerator.
When Batchik pulled up to the scene he quickly and selflessly throws himself into harms way to rescue the unconscious man inside the dangerously smokey vehicle; which could have exploded at any moment.
Sgt Brian Hildebrandt, of the Evansville Police Department, teams up with several citizens, a fireman, a plumber, and a city worker in an adorable rescue.
9 baby ducks had fallen into a storm drain on Green River Rd, when Officer Hildebrandt showed up to help and filmed it with his body cam. The effort was a success and the ducklings were reunited with their momma duck.
This respect for life should be the norm instead of the harassment and brutality. Just in case there was ever any doubt, most people prefer this type of community outreach.
It is a rare instance to see a police officer protect the rights of others, and even more rare to see them voice their support for people flexing their rights.
An unidentified police officer in San Antonio, TX just so happens to be the exception to the rule.
When he walked up on open carry activists raising awareness, he commended them instead of told them to get on the ground.
He liked their activism so much that he actually took a selfie with them.
Meet Officer Joel Zwicky, "Skateboard cop," of the Green Bay Police Department.
Zwicky is not your typical cop, for starters, instead of harassing skaters, he's shredding right next to them.
Instead of lobbying for more strict laws on skateboarding, he's fighting to get restrictions lifted; and he's successful at it.
Earlier this year, Zwicky convinced the city of Green Bay to lift the skating ban on the 25 mile urban path known as Fox River Trail.
Sargent Carter of the Arlington Police Department in Texas first met a beautiful pit in June after they received a call for a possibly "vicious" pit bull running loose.
The unusually kind hearted cop decided this wasn't an aggressive beast, just a scared and thirsty lost dog. He then found his home and returned him.
Sadly, the pit bull escaped once again and the terrible owners decided their friend wasn't worth the effort to retrieve. He was taken to a local shelter where he began to run out of time before being put down.
The police station (who appears to often tweet out lost pets and pets who need homes), tweeted out an urgent call for someone to adopt the dog, and once again this big hearted cop came to the rescue.
Dashcam video showed a daring rescue by a Texas police officer.
Richmond PD officer, Ramon Morales, had only seconds to react as a train was speeding towards a woman lying across train tracks in the early morning hours of June 22.
Ignoring the oncoming train, Morales was able to grab the woman under the arms and drag her to safety only moments before the train came speeding by.
Jeff Gray with PINAC got reports that people who were trying to film near this Southern Georgia Air Force Base were being harassed by the local fuzz.
Gray went to the area in question and conducted a 1st Amendment test.
The response from the first set of officers is the typical harassment most folks receive when filming around places like military bases.
In a shocking display of Constitutional knowledge, Guthrie actually acknowledged that Gray is not doing anything illegal.
Not only does he acknowledge the legality of the filming, but he is also completely resolute in the refusal of Gray to answer questions, and does not react with anger.
When told about the previous police that unlawfully ordered Gray to stop filming Guthrie responds by saying, "They need to go back and read the Constitution."
On the Thursday afternoon, following the shooting of Mike Brown, Missouri State Highway Patrol Captain and 27 year veteran of the force, Ronald S. Johnson, was announced to be taking over security decisions in the outraged city of Ferguson.
As several thousand gathered to march Tuesday evening, the tone seemed entirely different.
People online watched tweets with baited breath waiting for the tear gas, swat, and violence from police we have seen in recent days. Except that didn't happen.
What did happen was an amazing show of what happens when police remove their helmets and treat people with dignity, and it was beautiful.
Highway patrol captain Ron Johnson led protesters on a march through Ferguson, saying "When I see a young lady cry because of fear of this uniform, that's a problem. We've got to solve that."
There were no arrests that night.
This list is obviously not all inclusive as there are so many tragic cases of abuse by those sworn to protect and serve, it would be nearly impossible to cover them all.
But hopefully these examples, both the good and the bad, will serve as markers in history of what policing a free society should look like and what it should not.