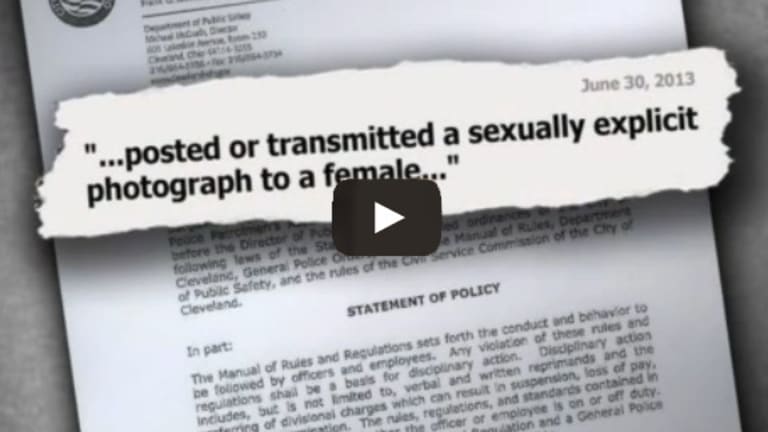 Writing Tickets to Get Dates and 'Virtually' Flashing Women. Sure, You Can Remain a Cop
"We look to officers to serve and protect us, not put us in uncomfortable situations and abusing their power to make us do things that we really don't want to do."
May 29, 2014
Thomas Tewell exhibits certain vulgar traits that manifest themselves into holding 'power' over women to try and get a date and sending unsolicited "sexually explicit" photos of himself to women.
The thing about Thomas Tewell however, is that he has a job in which he is supposed to uphold the law; not break it to play out his sexual fantasies. He is a police officer.
In April of this year, Tewell was charged with breaking several administrative rules.
According to Fox 8 News in Cleveland, a 24-year-old woman told them that last November that she met officer Tewell when she was involved in a traffic accident.
"At first, he was making sure that I was ok, and then it kind of turned into flirting," she said.
Tewel and another officer gave her a ride back to the department so she could get a friend to pick her up.
"I was sitting in the waiting area and he came inside and gave me a citation, and I was like 'why are you giving this to me now?' and I didn't realize until after the fact that it was probably just so he could get my personal information," she explained.
"Literally the next day is when he added me as a friend and started sending me inappropriate messages, like we should go out sometime. I felt like he was just abusing his powers as a police officer by making me feel like I had to go out with him if I didn't want this on my record," the woman said.
The charging documents also reveal that June 30 of last year, Tewell "posted or transmitted a sexually explicit photograph to a female."
It says he was "advised by a female to leave her alone after she received an unsolicited sexually explicit photograph from you."
Investigators said he contacted that woman again twice in September.
"We don't condone his behavior. We don't want this kind of behavior from our police officers and we're hoping that he learned his lesson," said Jeff Follmer, president of the Cleveland Police Patrolmen's Association.
Tewell was given a 25 day suspension without pay but will remain a cop after that is served.
"Honestly, I don't think that that's enough. I don't think that he should be a police officer anymore," said the woman who wished to remain anonymous.
What do you think? Do you think that this punishment is enough and that Tewell should be put back in a position where he can abuse his authority again to bend women to his will?