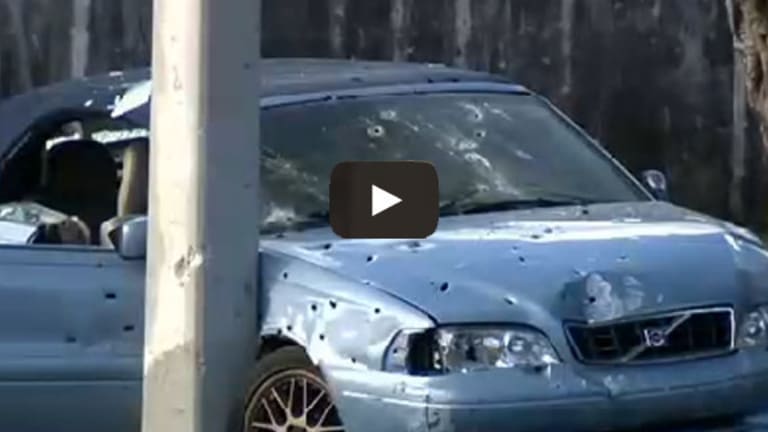 WTF!? 23 Police Officers Fire 377 Bullets at 2 Men With 0 Guns Wounding 2 of Their Own
May 8, 2014
Adrian Montesano was an armed and dangerous criminal, who'd just robbed a Walgreens at gunpoint and shot a police officer.
He escaped in the officer's patrol car and it was later found dumped at his grandmother's house, where he took her blue Volvo.
By 5 a.m. every cop in South Florida was looking for a blue Volvo.
When the blue Volvo was spotted, Montesano tried to escape once again. This time he crashed the car, wedging it between a light pole and a tree.
What happened next was sheer ridiculousness.
According to CBS Miami,
Nearly a minute passed before officers opened up – firing approximately 50 bullets at the car and the two unarmed men inside the vehicle.

The two men inside the car survived that initial volley of gunfire, according to witnesses, who said they could see the men moving inside the Volvo. Everything went quiet for nearly two minutes before the officers opened up a second time – unleashing an unrelenting torrent of bullets that lasted almost 25 seconds. By the time it was over, the two men inside the car were dead.

CBS4 News has learned a total of 23 officers fired a total of at least 377 rounds.

Bullets were sprayed everywhere. They hit the Volvo, other cars in the lot, fence posts and neighboring businesses. They blasted holes in a townhouse where a 12-year-old dove to the ground for cover and a four month old slept in his crib.

"It was like the Wild Wild West, man, crazy," said Anthony Vandiver, who barely made it through the back door of his home before the gunfire erupted. "Shooting just wild; shooting all over the place. Bullets could have come through the window. Anything could have happened man. They weren't thinking, they weren't thinking at all."
With total disregard for the safety of surrounding houses these crazy cops just let loose their aggression via their weapons. They even shot their own men, wounding two officers in the crossfire.
This story is like something out of a movie, but unfortunately this gross negligence is a reality. Not too mention that two men, who never had their day in court, are dead.
Thankfully no other innocent lives were lost due to this police incompetence.
And now for your moment of zen....