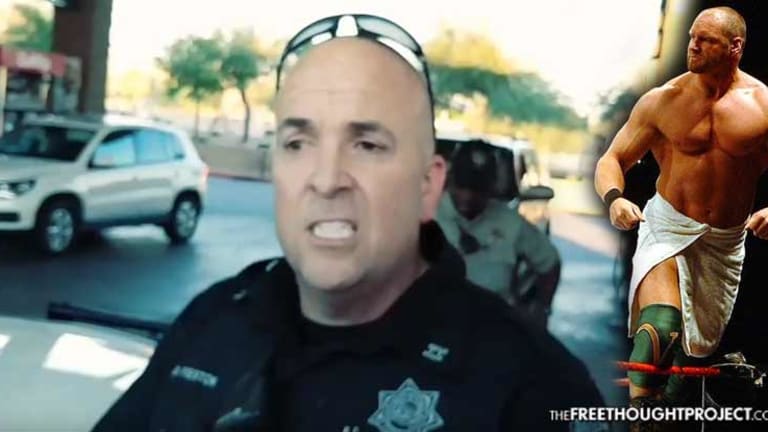 WATCH: Former WWE Wrestler Goes Off on Cops Arresting Woman for No Reason
Police appear to have used the fact that a woman was leaving the parking lot of a cannabis dispensary as probable cause to immediately arrest her for DUI.
Mesa, AZ – According to a video from a former WWF wrestler and cannabis advocate, when an employee at a cannabis dispensary left work and drove down the street to a local gas station, she was immediately confronted and harassed by police.
Witnesses claimed that as soon as the unnamed female arrived at the gas station, Mesa Police swooped in and quickly placed her in handcuffs. Sean Allen Morley, who at one time in his professional life went by the name Val Venis in the WWF/WWE, wasted no time in questioning the validity of the traffic stop, which took place on the gas station's property. On his " target="_blank" rel="noopener">Youtube channel, Morely described the interaction:
"Here is my interaction with UNACCOUNTABLE & NON-RESPONSIVE #ThugLawEnforcement in Mesa, Arizona. I drove into QT Gas station and watched a SCARED young woman getting arrested without being told why she was being arrested."
Morely could have been arrested for "obstruction of justice" as his over the top questioning could've easily been interpreted as interfering with the officers. But instead of arresting him, the officers engaged and explained in no uncertain terms that they would not speak with him in detail about the specifics of the case. The former professional wrestler, whose height is around 6'3", must have been intimidating enough for the officers to give some insight into why they arrested his co-worker.
Since his retirement from the World Wrestling Federation, Morely has been a cannabis advocate. But even in a state where marijuana is legal for medicinal purposes, pot users still get harassed.
Morely told The Free Thought Project that the woman was minding her own business when police officers approached her and ordered her to step away from the car.
"That young lady is a Budtender at the same MMJ dispensary I work at. She literally left for lunch to drive 30 secs up the street to pump gas. From what I've been told by witnesses and her word was she was simply pumping gas when a cop rolled up, got out of his car and started barking orders to step away from the car."
The former professional wrestler said he could only imagine what was going on when they put his co-worker into police custody. He said his first thoughts were:
"She was scared shitless. She had no clue she had done wrong. I pulled in for lunch after the fact. My thoughts are because she was wearing her state issued MMJ dispensary agent card, I'm thinking one of the cops thought 'man, if I could get a blood draw from her, I bet I could get an easy DUI.'"
Morely took action. He directly approached the officers and demanded to know what "probable cause" they had to approach the young lady who was simply pumping gas. He put his cell phone camera in their face and demanded to know. He wouldn't take "no" for an answer, calling the police officers "tyrants" who were actually "railroading" the woman into accepting a felony charge of DUI. "Here is AZ, even with your MMJ card, they will railroad you for having THC in your system even when you are not impaired," he said.
He vehemently disputes the notion Mesa police had any probable cause to pull over his co-worker and suspected that just because they saw her leaving a dispensary, they assumed they had enough probable cause to suspect she was operating the vehicle while under the influence of THC. He told TFTP why he chose to get in the officers' faces and demand answers.
"Obviously a MMJ dispensary agent card is not a fact that would satisfy the element of reasonable suspicion So I wanted to question them about the facts they used to justify reasonable suspicion or probable cause for the record before they get back to the PD and manufacture some facts and they would all be on the same page with their story."
Morley told TFTP his co-worker was eventually charged with a DUI, a result of being targeted by Mesa police for driving away from a legally owned and operated AZ dispensary. States like Arizona have a problem because although cannabis is legal for medicinal purposes, possession is still considered a felony by the state if a person does not have a medical marijuana card. In states like North Carolina, where cannabis possession has been decriminalized, it considered a misdemeanor.
As TFTP previously reported, the Arizona State Supreme Court ruled in December 2016 that the mere presence of THC in a motorist's system is not sufficient grounds to charge someone with DUI. However, as Arizona has trained several police officers as Drug Recognition Experts, whose testimony supersedes even a drug test, it remains to be seen if law enforcement will challenge the Supreme Court's ruling with further litigation.
One such so-called expert from Buckeye Police Department took down an autistic teenager he reportedly assumed was a meth addict, bringing shame to the department, along with calls for the "expert" to be trained to discern a meth-head from an autistic citizen.