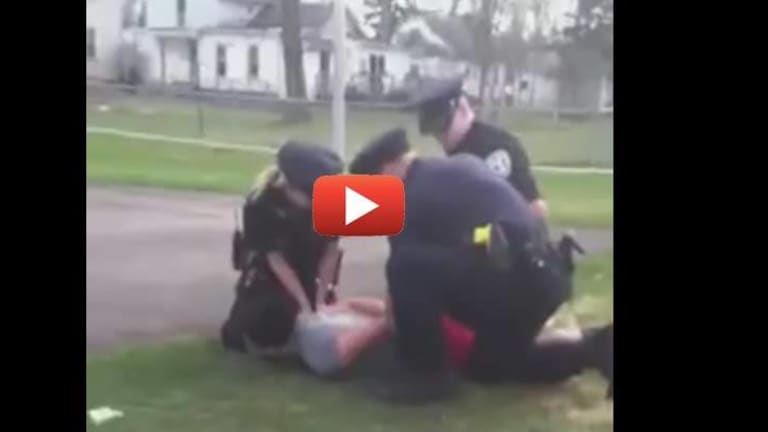 Power Hungry New York Cops Arrest Teen for Playing Basketball - Video Proves They Lied on Report
Cell phone footage provides a prime example of how police reports are often contrived acts of fiction designed to justify harassment and abuse.
Brockport, NY-- An incident captured on camera Monday shows police arresting a teenager simply because he voiced his displeasure with police harassing him on the basketball court.
The incident started in a park where 17-year-old Deonte Bertino was playing an innocent game of basketball with a couple other high school students. The police chief has defended his officers actions, despite admitting that he had not yet bothered to watch the two-minute-long video.
" width="791" height="593" frameborder="0" allowfullscreen="allowfullscreen">
The 17-year-old is described as a quiet and good kid who never gets in trouble but was clearly distressed by the officers demands to leave the park, as the teens were simply having some wholesome fun.
When the teenagers were told to disperse, Bertino walked over to the bench to grab his belongings, but was clearly distraught that he was being forced to leave.
Deciding that teaching manners is now in the job description of police, Officer Cranston attempted to grab Bertino as he was following the order to exit the park, causing the teenager to pull away.
Bertino told the officer not to touch him, as he was not detained, and there was no justification for the officer to have his hands on him. At this point, the officer tells him that he is under arrest and violently throws the barely 17-year-old to the ground with assistance from Officer Caitlin. A third officer then rushes over to pile up on him.
"The arresting officers lied on the police report saying my son threatened the officer and cursed at the officer. In the unedited video, you can plainly hear he never cursed at the officer," Dante's father, Jeremy Bertino, told The Free Thought Project.
Dante was charged with obstructing a government investigation, disorderly conduct, and resisting arrest. His father obtained a copy of the police report and maintains that the video proves the police lied. He plans to file a formal complaint on behalf of his son.
"They messed with the wrong guy's son. I am very informed of the laws and our rights and how they are trampled on daily," his father stated. "If everyone just keeps allowing the cops to violate our rights it will only get worse. We have to take a stand against the tyranny that is being allowed daily in this country by us citizens. The cops are trained to violate our rights for their arrest quotas."
Brockport Police Chief, Daniel Varrenti, spoke to local news channel WROC and defended the officers, even though he had not taken the time to watch the video before commenting to the press.
"I think the officers acted accordingly, if someone here in the Village of Brockport wants to come here and challenge a police officer's lawful orders, they will be arrested," Varrenti stated. "They chose not to disperse. They chose to resist arrest. They chose to obstruct governmental administration. Those were their choices. Had they just dispersed, we wouldn't be here today."
Varrenti, in typical police fashion, blindly stood behind the thin blue line, instead of the constitutional rights police like to claim they uphold.
"It is what cops are told they have to do. Blindly back up any other 'badge brother.' They are taught that if you wear a badge you are always in the right. This is the problem with most police forces today. No accountability." Jeremy Bertino told The Free Thought Project.