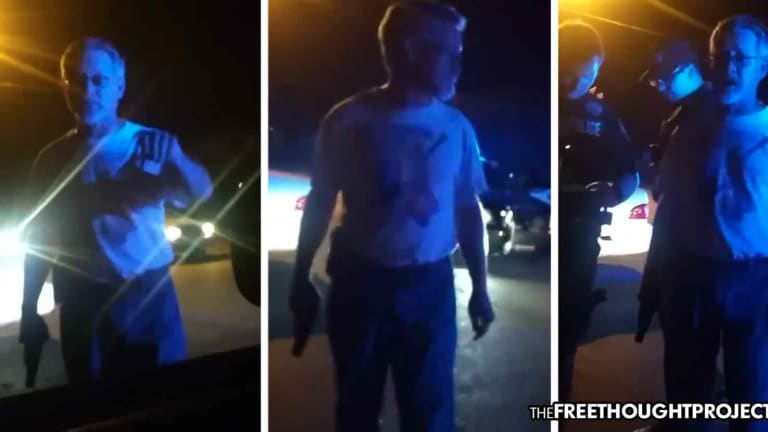 'You Do Not Belong Here': Crazed Cop Holds Man at Gunpoint to See His ID
An innocent man was held at gunpoint by an off-duty cop who told him that "you don't live here and you don't belong here."
Tuscambia, AL — Ryan Williams of Tuscambia, AL, had harmed no one, committed no crime, and was minding his own business Saturday night when an off duty cop, Greg Scoggins decided to go on a power trip. Scoggins, who is a Tuscambia police officer, approached Williams and held him at gunpoint while demanding to see his ID. The disturbing interaction was captured on video by Williams who tells the Free Thought Project that he is now considering legal action.
The incident unfolded Saturday night when Scoggins ran up to Williams' car and claimed he was speeding through the neighborhood—a claim Williams denies. As the two exchange words, it is clear who the dangerous and hostile party is, and it's not Williams.
"I don't know what you're stopping me for buddy," Williams says.
"I'm not your buddy," Scoggins replies.
"What's the problem?" asks Williams.
"Because you came reckless driving through here," Scoggins says.
"I'm parked!" Williams replies in disbelief that he is being accused of reckless driving while not even moving.
"No, you were not parked. I was standing right there walking my dog," Scoggins says.
While the two exchange words, backup begins to arrive. However, they do not step in until after Scoggins escalates the situation to potentially deadly force.
As Scoggins demands to see Williams ID, Williams continues to ask why, at which point, Scoggins pulls out his gun.
"You didn't even pull me over!" Williams says.
"I ain't got to," says the officer.
"What do you mean you don't have to?" Williams asks.
At this point, Scoggins gives Williams the real reason he pulled him over, and it had nothing to do with reckless driving.
"I don't have to pull you over. First of all, you don't live here and you don't belong here."
After the officer admits that he is holding the innocent man at gunpoint for "not belonging there," Williams asks to speak to the other officers who arrived on scene.
When the on-duty officers approach the vehicle, Williams says, "Look, it ain't even that serious for this man to be drawing a weapon on me."
Scoggins then denies pointing the gun at Williams, but as the gif below shows, that is a lie.
Luckily for Williams, when the other officers showed up, he was let go without incident.
"After the video ended I was allowed to leave after backup intervened and said he was in the wrong for being off duty and engaging me as he did," Williams told TFTP.
"It's a sad situation," Williams said. "I believe it was unlawful and in complete violation of my civil rights as well as neglecting police protocol. I don't want this situation to be taken as just a race issue even though that was one element of it i believe and because it's on a higher level then that. I truly feel its more about police misconduct going unpunished and the negligence of Tuscumbia police department for hiring a guy of his character. I'm going to pursue all avenues of justice to try and make sure something is done."
Williams is right too. Tuscambia police are at fault for hiring Scoggins as he is a convicted criminal. Scoggins used to be a police officer for the Muscle Shoals department one county over. But this cop was fired from Muscle Shoals after he was charged with reckless endangerment, hunting with the aid of a motor vehicle, and hunting without permission. In 2013, Scoggins was found guilty for shooting a deer, while on duty, from inside his own patrol car on state property.
Clearly this man has no problem with abusing his power and it almost cost an innocent man his life. 
In regard to the video of Scoggins, the Tuscambia police department isn't saying much, only releasing the following statement.
"The Tuscumbia Police Department was made aware of an incident that took place late Saturday night involving a Tuscumbia police officer and a citizen at an apartment complex in Tuscumbia. The department has began the process of an internal investigation into the situation. Protection our our citizens as well as our employees is paramount as we conduct our sworn duties. Following the conclusion of the internal investigation further information may be made available by the end of the week."
Below is this most disturbing video.