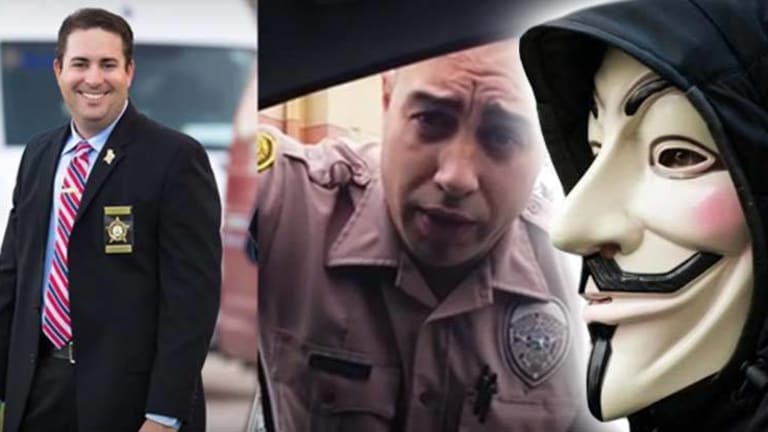 "You Should've Expected Us" -- Cop Who Doxed Innocent Woman Becomes Target of Anonymous
Hacktivists found and released his personal information including his phone number, and returned the favor.
"You should have expected us, Lieutenant Javier Ortiz."
Miami, FL -- In late January, Claudia Castillo pulled over Miami Police Lieutenant Javier Ortiz and accused him of speeding. She filmed the encounter and posted it to YouTube, where it went viral.
In response to being caught breaking the law, Ortiz, leader of the Miami FOP, used his police powers to access and post Castillo's personal information and photo online. He had doxed her.
According to the Miami Herald, Castillo received so many calls at work that she became concerned about her job security. "They sent me home yesterday," the project manager said.

Ortiz's social media is riddled with similar racist posts, and this public servant is no stranger to controversy. In December of last year, this hero police officer made headlines when he took to his Twitter account and declared that Tamir Rice, a 12-year-old who was killed by Cleveland police for playing with a toy gun, was a thug.

According to the Miami New Times, Ortiz criticized Marilyn Smith, a woman who posted a video of Miami police beating a man in handcuffs. Smith claims that police tried to knock her cellphone out of her hands and demanded that she delete the video.
When he's not attacking black people for protesting police killings of children, this stand-up officer is demonizing an entire religion.
All of his antics have finally gotten the attention of the hacktivist collective, Anonymous.
TruthSec, a group, claiming to act within Anonymous, has returned the favor. The hacktivists found and released his personal information including his phone number, and urged their followers to call him, reports Sputnik News.
The group also released two videos containing messages to the officer.
"Greetings fellow citizens of the world, this is Anonymous. It has come to our attention at Truth Sec, that Lieutenant Javier Ortiz of Miami Florida has been harassing and intimidating civilians, the same people he took an oath to protect. Lieutenant Ortiz favorite hobbies include: spreading Islam a phobia and Anti-Black propaganda, his main target being the Black lives matter movement. On his facebook page he was quoted saying, Tamir Rice was nothing but a Thug," the first video began.
This is the second such digital strike against law enforcement within a brief period by hackers. Just two weeks ago, after releasing a threatening video, the notorious hacking group exposed personal information of 52 Cincinnati Police Department officers in retaliation for the death of an Ohio man at the hands of law enforcement.
In the video, the speaker discussed the group's anger over the Cincinnati PD's handling of an officer-involved shooting last month that resulted in the death of Paul Gaston.
[author title="" image="https://tftpstagingstg.wpengine.com/wp-content/uploads/2016/03/magorist-e1456948757204.jpg"]Matt Agorist is an honorably discharged veteran of the USMC and former intelligence operator directly tasked by the NSA. This prior experience gives him unique insight into the world of government corruption and the American police state. Agorist has been an independent journalist for over a decade and has been featured on mainstream networks around the world. Follow @MattAgorist[/author]