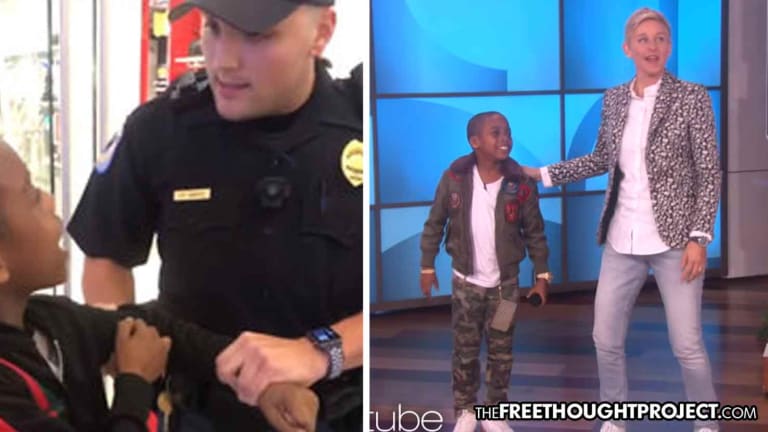 WATCH: 12yo Rapper Arrested, Charged with a Felony for Selling His Own CD in the Mall
An aspiring young rapper and entrepreneur was physically assaulted, arrested, and charged with a felony over the alleged sale of his own CD.
Cobb County, GA — Corey Jackson, a preteen rapper who goes by the name of 'Lil C Note' became famous in 2017 after he appeared on the Ellen DeGeneres show and traveled to different cities to donate his earnings in the form of toys to underprivileged children. Fast forward to 2018, however, and those same entrepreneurial skills which her received praise for on Ellen, made him the target of the Georgia police state.
In October of last year, Jackson was in the food court at the Cumberland Mall in Cobb County when a Georgia cop physically assaulted him and threatened him with arrest. His alleged crime? Selling copies of his records to willing customers.
Although Jackson was accused of selling his CDs in the mall, he and his attorney deny it. However, even if this aspiring young rapper was selling them, the subsequent arrest and charges are hardly appropriate for a child.
"When he was there, he was not selling any CDs or doing anything that would have been prohibited. He was there meeting other artists," said his attorney Mawuli Davis at the time.
Video of the arrest, captured by the child's aunt, shows a cop holding Jackson by the arm as he refuses to speak to the boy's father on the phone. Jackson is 12. He was not stealing anything, was not starting fights, and was merely in town visiting family when all this madness unfolded.
As the officer—hell bent on arresting a tiny black child—refuses to talk to the boy's father, a struggle ensues and the camera falls to the ground.
In an interview with CBS 46 that he posted to his Instagram account, he said the whole situation was "mind-blowing."
"I know that I didn't do anything wrong," Jackson said.
In multiple Instagram posts, Jackson noted that police treated him as if he were a robber or a murderer. He is also calling for the officer's body camera footage to be released.
"Seriously like I really wake up everyday asking myself why would this police officer tell these ludicrous/ridiculous stories on me that now have me having to go to court facing a felony at 12 years old as if I'm really a robber, killer / Murderer or some kid that cuss out and fight police officers or sum!!" reads the caption to his post.
Jackson appeared in court earlier this month where his attorney denied all charges. The accusations against Jackson are grave and could lead to this young man spending time in prison as one of them is a felony for obstruction.
Getting accused of selling CDs is a dangerous move in the Land of the Free. As illustrated by the above case, it can lead to felony charges against children. In more extreme cases, however, it can lead to death by cops.
As TFTP previously reported, Alton Sterling was accused of selling CDs out front of a convenience store in Baton Rouge, Louisiana. Just 90 seconds after police showed up on the scene, Sterling would be shot and killed.
Sterling was shot around 12:30 a.m. on July 5, 2016, at the Triple S Food Market after Baton Rouge police officers responded to calls about a man selling CDs in front of the store who was armed. The store owner, however, knew Sterling and noted that he'd been selling CDs there for years.
It took only 90 seconds for Baton Rouge police officer Blane Salamoni to threaten to kill and then kill Sterling that fateful night. However, it took nearly two years for the body camera footage to be released and for Salamoni to be fired.
Two years after Sterling was killed, the state announced that the officers responsible for his death would not be charged.
"They said they didn't find anything," Veda Washington-Abusaleh, Sterling's aunt said through tears last year during the press conference. "They said it was justifiable, what happened to Alton was justifiable."
Hopefully, this same lack of logic will not tarnish the life of Jackson, who would face a lifetime blacklist for having a felony on his record.