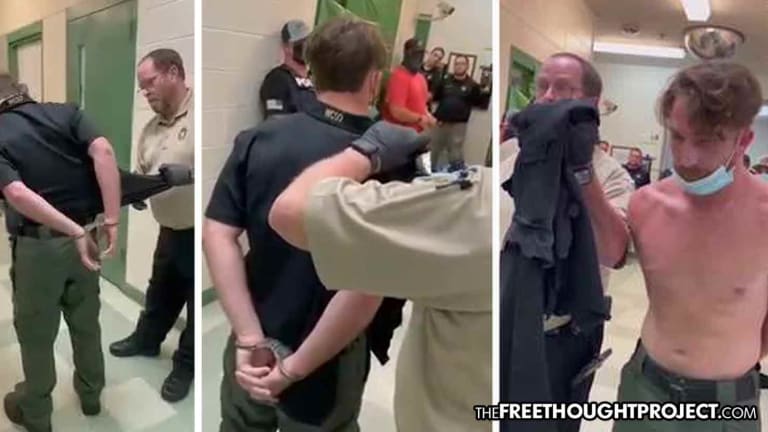 'You're a Disgrace to the Uniform': Cops Cut Fellow Cop's Uniform Off for Being Corrupt
Deputies accused a fellow deputy of corruption and then filmed themselves cutting off his uniform to humiliate him for "breaking his oath."
Wayne County, GA — As the Free Thought Project has pointed out time and again, the war on drugs is an embarrassing black stain on human history and a complete failure of government at all levels. Highlighting this notion is the fact that the war on drugs and all of it's police state tyranny can't even keep drugs out of prisons. That's because people are corruptible — including the people who run prisons.
Deputy Dayton Beasley with the Wayne County Sheriff's Office is one of the corrupt ones. On the Wayne County Georgia Sheriff's Office Facebook page, his alleged corruption was on full display as he was handcuffed, surrounded by fellow officers and "stripped of his authority" — literally.
Video of the debacle was posted and then removed from the WCSO's Facebook page showing an officer cut the uniform from Beasley's body during his arrest for allegedly bringing contraband in to other prisoners.
"You come to our jail and do this, this is what it's gon' get you," an officer says after he cut off the man's shirt. "You're a disgrace to this uniform and you need to go to jail for good."
According to police, the WCSO launched a two week undercover investigation into drug trafficking within the Wayne County Jail which ensnared the alleged drug dealing deputy. Beasley has since been charged with Violation of Oath of Office, Trading with Inmates without Consent of Warden or Superintendent, among other charges, according to reports.
Police say the investigation was launched after they received "credible complaints" about the "corruption of one Detention Officer," according to a release. They pointed out that more arrests may be forthcoming.
"Sheriff Mosely and Cheif Morgan would like this case to serve as an example of their hard stance against corruption in Law Enforcement," reads the press release.
After posting the video to their Facebook page to make an example out of Beasley, it was quickly deleted and an apology was issued.
To all that has seen the video that we have removed, I want to say that the post was put up as a show of transparency. When Sheriff Moseley ran, his platform included numerous pledges, 1 which was transparency. We felt that everyone wanted to know what was going on and feel this video did just that. There was no property damaged that belonged to the young man shown and as far as embarrassed, I am sure he was embarrassed from the get go. I have read where people said what was there and even a picture showed up of drug related items. All I can say is the truth will come out as to what all was involved in the charges. Sheriff Moseley in no way knew that the video was being posted, it was a decision made on other levels. For the ones that supported the post, thank you for your support and for the ones that opposed the post, I apologize.
Many folks have weighed in on the Facebook post and called out the department for acting as judge and jury, seeing as Beasley was only accused of a crime and had yet to undergo due process. Some folks even said that the "contraband" he was smuggling into the jail was little more than cigarettes.
So, while the idea of police officers holding their own accountable is certainly welcoming, this appears to be more corruption than actual accountability.
Oddly enough, this is not the first time on which TFTP has reported cops cutting off uniforms of fellow cops. Cops in Albuquerque, New Mexico conducted a similar stunt on officer Jeffrey Wharton. In that case, however, there was undeniable proof that Wharton had beaten his girlfriend.
The beating was captured on the home surveillance system. Wharton's girlfriend was discovered with her head and face covered gashes and she was rushed to Rust Medical Center where she was diagnosed with a brain bleed and was then immediately transported to the University of New Mexico Hospital where she was hospitalized in critical condition.
Wharton deserved far more than simply cutting off his uniform. Sadly, however, because the system protects woman-beating cops, he was sentenced to probation, not jail.