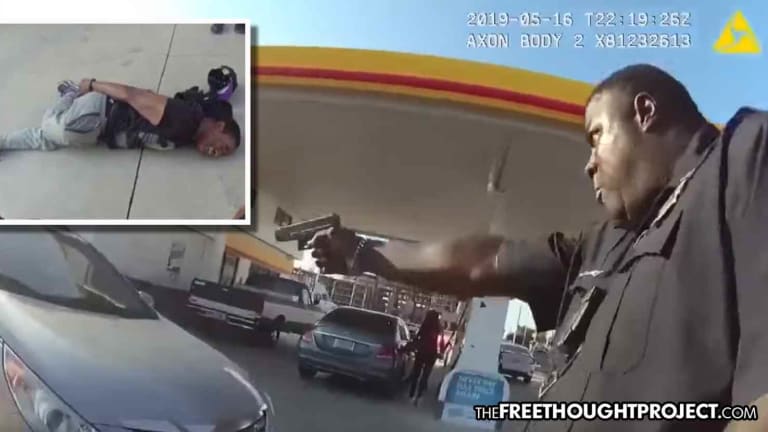 WATCH: Cops Hold Innocent Man at Gunpoint, Break His Leg After He Cussed at Them
For practicing his constitutionally protected free speech, an innocent man was pulled from his car, and had his leg broken by police.
Miami, FL — All too often, TFTP reports on case after case of innocent people falling victim to assault by police officer for no other reason than that police officer's ego gets hurt. It happens every day. A Miami man learned this the hard way earlier this year when he was attacked, beaten, his leg broken, and kidnapped over his entirely constitutionally protected speech.
The Doral Police Department was conducting a random roadside sweep of motorists, apparently looking for infractions such as illegal window tint, broken license plate lights, or lights which simply were not working. Craig Nembhard, 31, says on May 16th he was one of several motorists who were singled out to be pulled over at a gas station at the intersection of Northwest 79th Avenue and 36th Street.
After Nembhard received his ticket, he didn't like the way one of the Doral officers told him to "Get the f**k outta here." So he cussed back at the officer. The entire dirty word exchange can be heard on the police body camera footage captured and uploaded to YouTube.
The locker room bantering continued with the police using just as inflammatory of language as the motorist with one officer warning "someone is about to get stomped on." It was a promise, a premonition, and it most definitely came true moments later.
Nembhard was supposedly attempting to turn around and get gas at the pump station when Officer Cooper saw him coming back around because there were no available pumps on the far side of the station. Cooper apparently took his return quite personally, as if he was attempting to strike the officer with his car—which was clearly not the case. Cooper intimated with his words that Nembhard was going to hit the officer with his ride.
Cooper and his partners then drew their guns and pointed them at Nembhard. Cooper then starts yelling at Nembhard. "You tried to run me over!" he shouted just before reaching and grabbing the man, yanking him out of his car and slamming him to the ground. "You picked the wrong person to play chicken with," Cooper told Nembhard as he screams in pain.
Nembhard immediately believed his leg to be broken and was screaming in pain.
Following the incident the police blamed the victim with the broken leg saying Nembhard could have yelled at the officers further away from the scene. Then, in typical police fashion, Cooper claimed he was in "fear for his life," which is why he had to be so aggressive with the motorist.
Nembhard suffered irreparable damage and had a rod surgically inserted into his leg. He was arrested and charged with several crimes. As CBS 6 reports:
Nembhard was arrested and charged with aggravated assault on a law enforcement officer. He says he spent five days in the hospital, where he had to have surgery to put a rod in his leg. Then, he was taken to jail.
Proving the man's innocence, prosecutors dismissed all the charges after reviewing the matter and realizing Cooper was the aggressor. Despite clear evidence of official oppression and assault caught on video, Cooper was never punished. Instead, he was actually awarded. Following the incident, the 9-year-veteran officer received a commendation for his work in traffic enforcement, something considered a slap in the face to victims of police brutality.
Nembhard says he now has to learn to walk again and has suffered other disgraceful losses such as losing his job and his home.
"I got to learn to walk again...I lost my job. I lost my apartment because I couldn't work," he said.
David Kubiliun, Nembhard's lawyer, has notified the police department he and his client will be suing for damages.
We will let the public decide as to whether or not Nembhard was acting in an erratic manner and whether or not his taunts deserved the beating he received.
https://m.youtube.com/watch?fbclid=IwAR0qiaivD-xi0dI3N2S_EUToq-p6Um1PGQHBVQQbTnEH_m56HhODR3KDGts&v=ct7PAP7Y4ow&feature=youtu.be