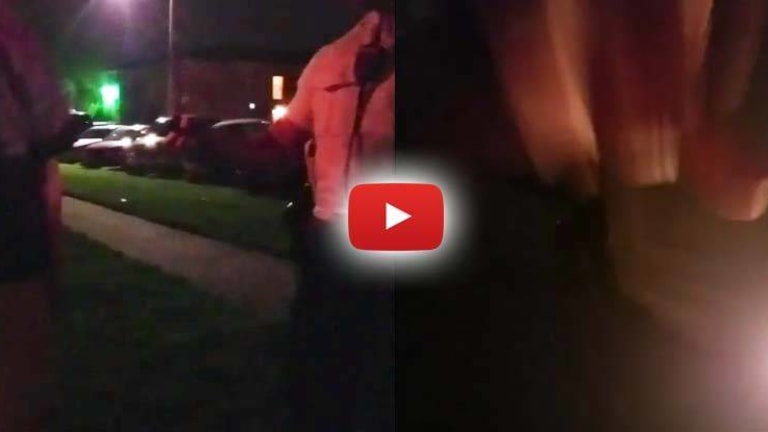 "You're a Sh*thead" -- Video Catches Cop Verbally Abuse Innocent Man Before Snatching His Phone
After this cop realized his verbal assault was just recorded, he gets physical.
Midlothian, IL -- A video uploaded to social media this week is going to make a Midlothian police officer 'YouTube Famous' for violating a young man's rights.
In the video, the officer, who is identified by the person who filmed the incident as Sgt. Edmond Olmos, is heard swearing at and disrespecting two individuals. The man taking the video is 22-year-old Paul Szykowny.
As the video begins, Olmos is heard referring to the two men as "crackheads" over the radio. According to Szykowny, they were doing nothing but standing there when Olmos approached.
"Where you guys from?" asked Olmos.
After they replied, the department comes back over the radio apparently asking if he needs backup, to which Olmos responds, "Negative, just some crack heads."
When Szykowny denies that he is a "crack head," Olmos rebuts, telling him that "you are who you roll with asshole."
"If you're rolling with this asshole here," the oh-so-professional officer states, "that means you're a shithead, and you're a shithead."
"What the fuck are you rolling with a shithead for?" asks Olmos as he continues to berate the young man.
"A shithead?" asks Szykowny, "We grew up together. Just because we took different paths doesn't mean I'm not gonna stop..." He is then cut off by the other officer who then demands he show Olmos, who has been referring to him as a "shithead," respect.
"You know what....." Olmos stops mid sentence as he realizes that he's being filmed. Then, instead of recognizing the right of Szykowny to film him, the officer snatches the phone from his hand and turns off the recording.
The Free Thought Project has submitted the video to the Midlothian Police Department, and we have asked for a statement. We have yet to receive a response.
This move by Olmos is out of character considering the fact that he crossed the blue line in 2014 and testified against a fellow officer who he witnessed severely beat an innocent man with a metal baton.
Officer Steven Zamiar alleged his victim took a swing at him before waylaying on the innocent man. However, Sgt. Edmund Olmos, backed up the victim's version of events, telling the jury he saw Zamiar strike the man as he was trying to run for cover.
Olmos' testimony was the key factor in getting Zamiar convicted of assault.
[author title="" image="https://tftpstagingstg.wpengine.com/wp-content/uploads/2016/03/magorist-e1456948757204.jpg"]Matt Agorist is an honorably discharged veteran of the USMC and former intelligence operator directly tasked by the NSA. This prior experience gives him unique insight into the world of government corruption and the American police state. Agorist has been an independent journalist for over a decade and has been featured on mainstream networks around the world. Follow @MattAgorist[/author]