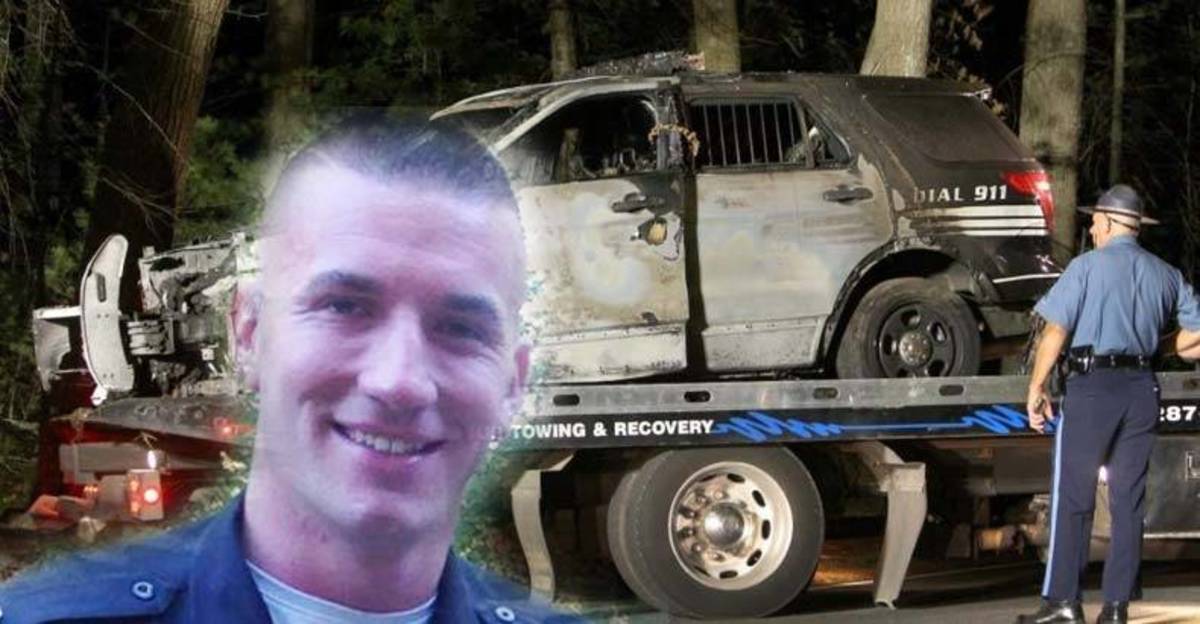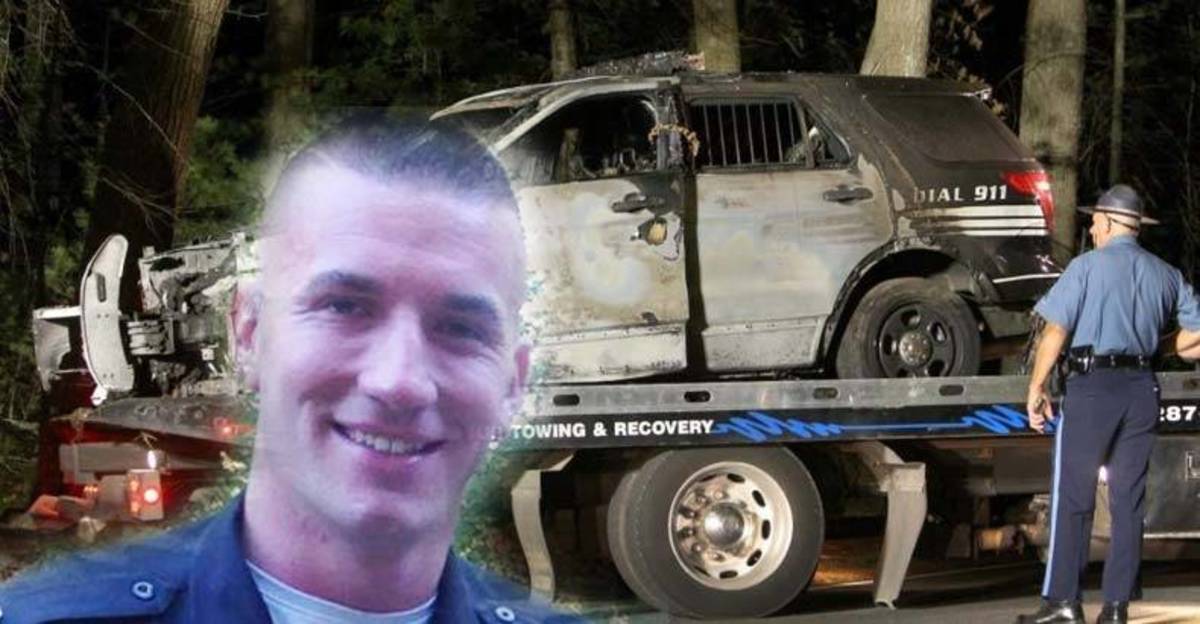 Millis, MA — A new cop on the Millis police force, who put a whole neighborhood on lock-down and initiated a massive manhunt when he fabricated a story to cover up his car accident, has just been found dead in his residence near Millis, Massachussets.
In September, Officer Bryan Johnson, 24, said someone in a pickup truck opened fire on his vehicle as they passed in opposite directions on Forest Road.
"My cruiser's been shot at. I'm at Forest Road. It's going to be a dark maroon pickup," the officer radioed to dispatch at 2:17 p.m.
As the story goes, he spun around to avoid the gunfire and seek shelter, whereupon his vehicle slammed into a tree and caught fire.  The fire part is true, as his cruiser was photographed in a charred state, but the gunshots were all his own.
"We have determined that the officer's story was fabricated. Specifically, that he fired shots at his own cruiser as a plan to concoct a story that he was fired upon," Millis Police Sgt. William Dwyer said. "The evidence indicates the shots were not fired by a suspect, and there is no gunman at large in or around the town."
Last week, Johnson was indicted on six counts after calling in a bomb threat at Millis High School as well as the staged shootout. If he would have been convicted, he faced up to 40 years behind bars.
However, the case has now been dropped as Johnson was pronounced dead over the holidays.
According to the Washington Post, 
A spokesman for the Millis Police Department, which fired Johnson in September after determining that he made up a story about having been shot at, said police and firefighters responded to the scene at his home. Upon arrival, they found a deceased 24-year-old man, but the police spokesman would not confirm it was Johnson.

The Norfolk District Attorney's Office, which identified Johnson as the decedent, said in a statement that there were no signs of foul play and that the death is not being investigated as a homicide.
Police say they were called to the home by another resident of the house who found Johnson unresponsive.
Johnson is the second police officer in just weeks to die after faking their own attack.
In September, a massive manhunt ensued after Lt. Joe Gliniewicz was found dead 50 yards from his cruiser 15 minutes after he radioed in that he was pursuing three suspects on foot. Despite locking down the entire town, as was the case in Johnson's situation, no suspects were found in the area.
Earlier this month, it was revealed that the reason no suspects were ever found was due to the fact that Gliniewicz killed himself. In a press conference Wednesday morning, Lake County Major Crimes Task Force commander George Filenko said, "This staged suicide was the end result of extensive criminal acts that Gliniewicz had been committing."
An investigation revealed Gliniewicz had been stealing and laundering money from the police department program that mentored young people hoping to become law enforcement officers.
While the cause of death in the case of Johnson has not been released, the fact that no signs of foul play are suspected indicates that his death was most likely a suicide.
Johnson, like Gliniewicz was clearly ready to lie and proved to be destructive to cover up his own crimes, yet both were reveared as hero cops until word of their behavior became public. What other horrors are going on inside police departments in this country?
"It's hard for me personally; Bryan was a friend, and when this is all over, I wish him the best," Sgt. William Dwyer, who was running the department at the time, told the Boston Globe. "But we are not going to allow anyone who violates the public trust or commits a crime to receive special treatment.''
DASH cryptocurrency and The Free Thought Project have formed a partnership that will continue to spread the ideas of peace and freedom while simultaneously teaching people how to operate outside of the establishment systems of control like using cryptocurrency instead of dollars. Winning this battle is as simple as choosing to abstain from the violent corrupt old system and participating in the new and peaceful system that hands the power back to the people. DASH is this system.
DASH digital cash takes the control the banking elite has over money and gives it back to the people. It is the ultimate weapon in the battle against the money changers and information controllers.
If you'd like to start your own DASH wallet and be a part of this change and battle for peace and freedom, you can start right here. DASH is already accepted by vendors all across the world so you can begin using it immediately.