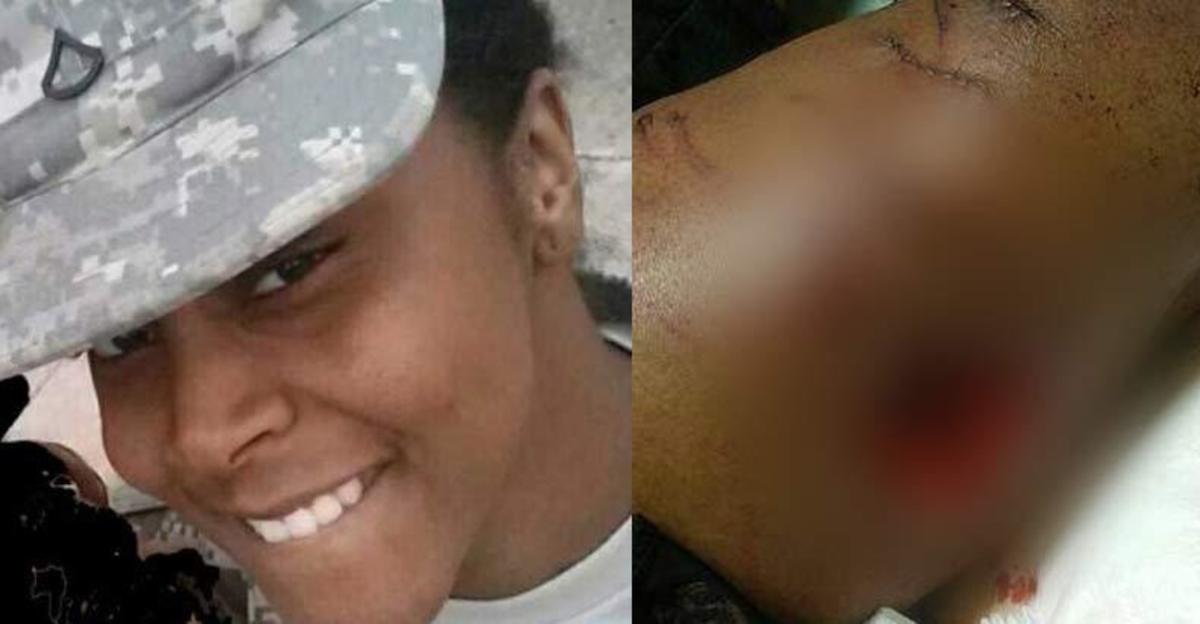 Norfolk, VA — A 21-year-old Army private was hospitalized with severe wounds after an incident involving three Norfolk Police officers.
London Colvin is a second-semester junior and Sociology major at Norfolk State University and a private in the 3rd Brigade, 318th Regiment and 78th Training Division, based at Fort Belvoir.
Colvin was at an off-campus party early Sunday morning when a fight broke out. According to her cousin, her and her friends were leaving when the police showed up.
"She was at a party off campus. She said that a fight broke out, and she had nothing to do with the fight. She did say she was at the party, and her and her friends were leaving," said Whitney Dunn, the victim's cousin. "She was definitely being loud – she did admit to that."
Dunn explained to Potomac Local the series of events leading up to the attack:
She told her family that one of the police officers approached her as she was leaving the party to question her. She also told her family that she had nothing to do with the situation, so she didn't want to talk to the officer.
Colvin was completely within her rights to not to talk to the police officers. Also, unless she was being detained, she would've not had to stop. Dunn explains what happened next:
"Her and her friends continued to walk, and she said that she definitely continued to be loud, however they were walking away. The two other police officers approached her – asked her to stop. Whatever the case may be, they had her down on the ground when the dog came. Two of the police officers restrained her on the ground, and then they allowed the dogs to attack her."
Colvin's leg was subsequently torn to shreds after the dog was released.
Colvin was later transported to a nearby hospital, where she received 40 stitches to close some of wounds on her leg.
"The one [wound] that is open on her leg can't be closed. That's going to need plastic surgery," Dunn said.
Officer Daniel Hudson with the Norfolk Police Department explains why the dog was used:
"When we have a crowd that large, we release dogs for crowd management," he says. "Our dogs are trained to bite in areas that will not cause life-threatening injuries."
According to Hudson, the woman—whom her father describes as 5-foot-3 and 110 pounds—was fighting with two officers as they were trying to restrain her.
"They gave her demands to stop resisting, and when she didn't respond, the third officer released the dog to physically contain her and maintain control," he says. "She was actively fighting back with the officers."
Hudson claims that releasing the dog helped free up the two officers so they could return to trying to subdue the crowd.
Apparently two men, trained in subduing combative suspects, couldn't get handcuffs on a 110 pound woman, nor could any of the officers reach a taser, or pepper spray. Instead the choice was made to sic the K-9.
Officer Hudson confirmed that there are charges pending against Colvin but could not verify the exact charges.
"How I felt about the situation was, and how I think my whole family feels about the situation is – we can understand her getting arrested, because she was being disorderly or anything like that – however she didn't have a weapon. She can't put her hands up, or remove her hands from anywhere, or do anything because she's being restrained by two police officers. So to allow the dog [to attack] is the only thing that we have a problem with," said Dunn.
---
DASH cryptocurrency and The Free Thought Project have formed a partnership that will continue to spread the ideas of peace and freedom while simultaneously teaching people how to operate outside of the establishment systems of control like using cryptocurrency instead of dollars. Winning this battle is as simple as choosing to abstain from the violent corrupt old system and participating in the new and peaceful system that hands the power back to the people. DASH is this system.
DASH digital cash takes the control the banking elite has over money and gives it back to the people. It is the ultimate weapon in the battle against the money changers and information controllers.
If you'd like to start your own DASH wallet and be a part of this change and battle for peace and freedom, you can start right here. DASH is already accepted by vendors all across the world so you can begin using it immediately.