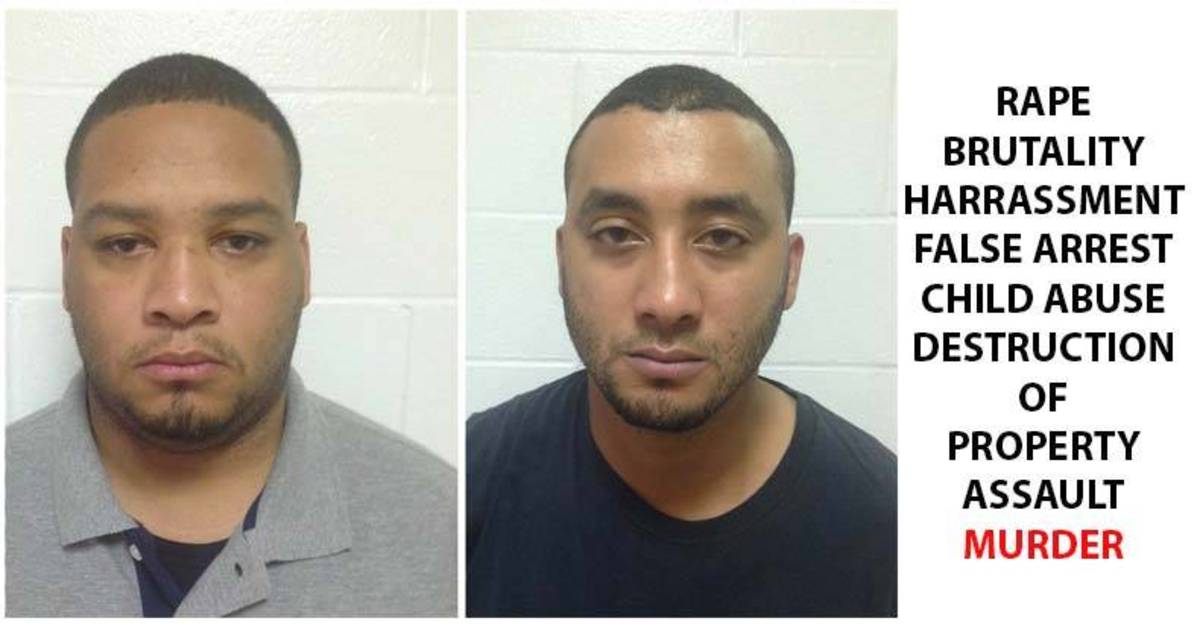 Marksville, LA – More information is coming to light about the two Marksville City Marshals who ruthlessly shot to death a 6-year-old boy as he was buckled into the front seat of a vehicle.
Officers Derrick Stafford and Norris Greenhouse, Jr. were arrested and charged with second-degree murder of Jeremy Mardis and second-degree attempted murder of the father, Chris Few. 18 bullets were fired into the vehicle, with five striking Jeremy in the head and torso.
During the announcement, Louisiana State Police Col. Mike Edmonson said, "It is the most disturbing thing I've seen, and I'll leave it at that," referring to the unreleased body cam footage.
It turns out that cold-blooded murder is not the only assault these cops have committed.
Stafford was indicted by a Rapides Parish grand jury in 2011 on two counts of aggravated rape. The case was "resolved," but KATC Investigates is waiting to receive documents on the outcome.
Stafford has quite the history of abusing citizens. According to KATC, the following civil suits are still pending:
"January 3, 2011 — While arresting a woman, Stafford allegedly threw her in the backseat with her hands cuffed and tased her without warning in the left side of her stomach while she was sitting in the backseat.

July 4, 2012 — While the Fourth of July parade was in progress, a family with a dog suffering from seizures and a stroke says they tried to get across the parade to make it to a veterinarian's and was told he could not go cross. The officer allegedly yelled at the wife and the husband ran across the street to make it to the vet. The man later called the sheriff's office to make a complaint against the officer, and was arrested for disturbing the peace. While he was being arrested, Stafford reportedly arrived and asked to arrest the suspect himself and put his handcuffs on him. The man spent the night in jail and later filed a lawsuit. The lawsuit is still pending.

December 2012 — While breaking up a fight between two girls on an Avoylles Parish school bus, Stafford was working for the City of Marksville and allegedly pulled a 15-year-old girls' arms behind her back and apparently broke it. The girl's mother filed suit and it's still open."
Stafford and Greenhouse have collaborated previously in acts of incompetence and brutality.
"June 18, 2013 — Stafford and Greenhouse were driving a Marksville Police Department cruiser when they ran into an open gate owned by the Avoylles Parish Sheriff's Department. They sued the department and the case is still open.

July 4, 2013 — Greenhouse and seven other officers, including Stafford,  broke up a fight during a Fourth of July Celebration by pepper spraying into the crowd.  It was here another officer allegedly arrested and assaulted a 14-year-old boy. A mother who was there with her three children, sued. The case is still pending. At the same event another man says he lost his keys in the confusion of the spray, and was slammed to the ground and assaulted by several officers who also allegedly pepper sprayed him again. The man sued. The suit is still pending."
In July, a lawsuit was filed in federal court against Stafford and Greenhouse by Ian Fridge, who was arrested and booked in Marksville in July 2014. Fridge claims that the officers lied about what happened, taunted him and used excessive force.
"The police report accuses Fridge of having an odor of alcohol on his breath, but he denies drinking at the event. He claims the officers taunted him to try to persuade him to draw his weapon, and accused him of being from out of town. He claims in his suit that he offered to take his gun to his car, but was "startled by the unanticipated use of force." He denies resisting the officers, and claims the officers were shouting things like "stop resisting" for the benefit of onlookers.

Fridge claims he told officers he had just had surgery on his shoulder and wrist, at which time the officers tightened the handcuffs on his wrists. He also claims that he was hit by the Taser after he was cuffed and lying facedown on the ground.

Fridge also alleges that the officers deleted video of the incident he had managed to capture on his cell phone."
Stafford, Greenhouse and other officers made several false claims in their reporting of the shooting of Mardis and Few.
They said that Few had an outstanding warrant when he was being pursued, that there was an exchange of gunfire with Few, and that Few had backed into the marshal's vehicle while attempting to flee.
None of this is true, and Few was, in fact, unarmed. This gives further insight into the devious nature of these killer cops.
How is it that violent, abusive liars continue working as law enforcement officers that are supposed to "protect and serve" the citizens?
It turns out that Norris Greenhouse, Jr.'s father, Norris Greenhouse, Sr. is the Civil Assistant District Attorney for Avoyelles Parish, where Marksville is located. The Free Thought Project has spoken to a source with knowledge of this relationship, who says the police chief and D.A. had been warned that Stafford and Greenhouse, Jr. were dangerous men. These warnings were ignored, according to the source.
It appears that these violent lunatics were let loose to wreak havoc on the unsuspecting citizens Marksville, all the while having high-level officials cover for them.
The situation is a clear example of what can happen when a cop's history of bad behavior is ignored by superiors. When cops continue to work on the force after committing rape and civil rights abuses, it's only a matter of time before they commit more atrocious acts.