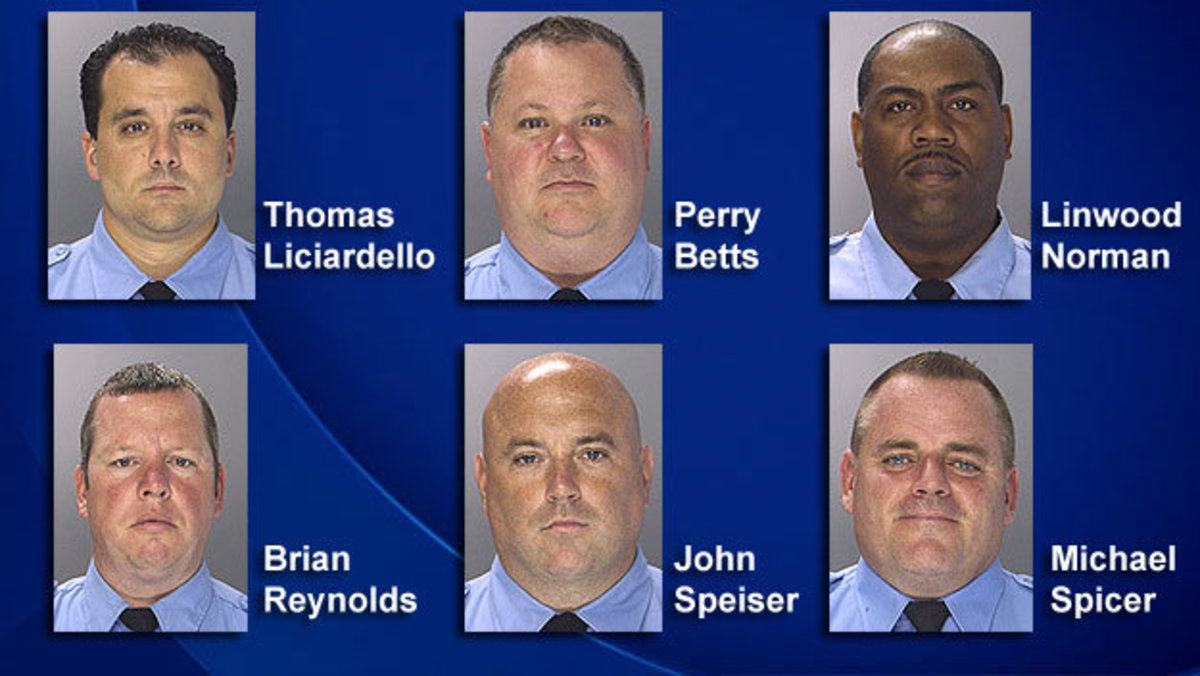 "One victim was reportedly dangled over the edge of an 18th-floor balcony in order to get information."
The Free Thought Project
Matt Agorist
July 31, 2014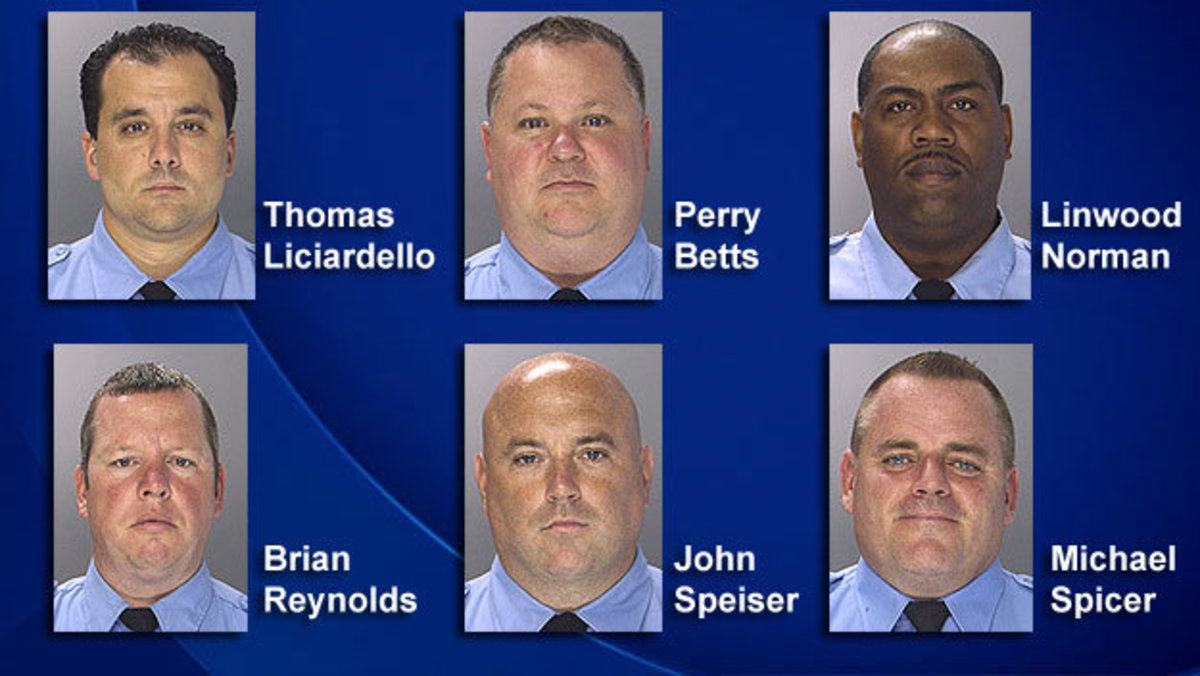 Not one, not two, not even five, but six Philly 'bad apples' were taken into custody by the FBI Wednesday morning as part of a federal corruption probe.
All of the officers were either current or have been a part of the narcotics division. John Speiser, Brian Reynolds, Michael Spicer, Perry Betts, Thomas Liciardello, and Linwood Norman are all facing multiple charges including extortion, robbery, kidnapping, and drug-dealing.
The investigation started last year when former cop, Jeffrey Walker, was arrested and pleaded guilty to corruption charges. As part of an apparent plea arrangement Walker has been rolling over on his fellow corrupt brothers in blue.
Sources have confirmed that these officers are being accused of allegations stealing drugs and money, robbing drug dealer suspects at gun point, and worse.
According to CBS Philadelphia, 
In one incident, officials say, the accused held one of the drug suspects for days in a hotel while threatening him and making threats against his family.

In another alleged incident, one victim was reportedly dangled over the edge of an 18th-floor balcony in order to get information.

"It was a nightmare, an absolute nightmare," James McIntyre told CBS 3's Walt Hunter in an interview. McIntyre, in a lawsuit filed against several of the officers, claims he was manhandled then wrongfully arrested, spending six months behind bars before charges were withdrawn.
Of course the department has gone on the defensive and Commissioner Ramsey stated yesterday that, "These officers don't represent the majority of this department," and that "The majority of our department was represented in the dedicated police work displayed during the past few days, working endlessly with the community and getting wanted criminals off the street,"
Apparently Commissioner Ramsey is not a very close observer of his own force, nor an apparent reader of The Free Thought Project.
Philly cops have been involved in mass disobedience to the law, confiscating a baby from a mother because it was born at home, forcing women to strip naked and masturbating in front of them, forcing children to fight for entertainment, forming gangs and robbing and terrorizing store owners, and even their former police chief calls them "dangerous, alienating and sociopathic."
Sure thing Commissioner Ramsey, the Philadelphia Police Department sounds like a group of well behaved boy scouts.
The six officers involved in this most recent debauchery have all pleaded not-guilty and prosecutors are asking that all six men be held in prison, without bail.
DASH cryptocurrency and The Free Thought Project have formed a partnership that will continue to spread the ideas of peace and freedom while simultaneously teaching people how to operate outside of the establishment systems of control like using cryptocurrency instead of dollars. Winning this battle is as simple as choosing to abstain from the violent corrupt old system and participating in the new and peaceful system that hands the power back to the people. DASH is this system.
DASH digital cash takes the control the banking elite has over money and gives it back to the people. It is the ultimate weapon in the battle against the money changers and information controllers.
If you'd like to start your own DASH wallet and be a part of this change and battle for peace and freedom, you can start right here. DASH is already accepted by vendors all across the world so you can begin using it immediately.