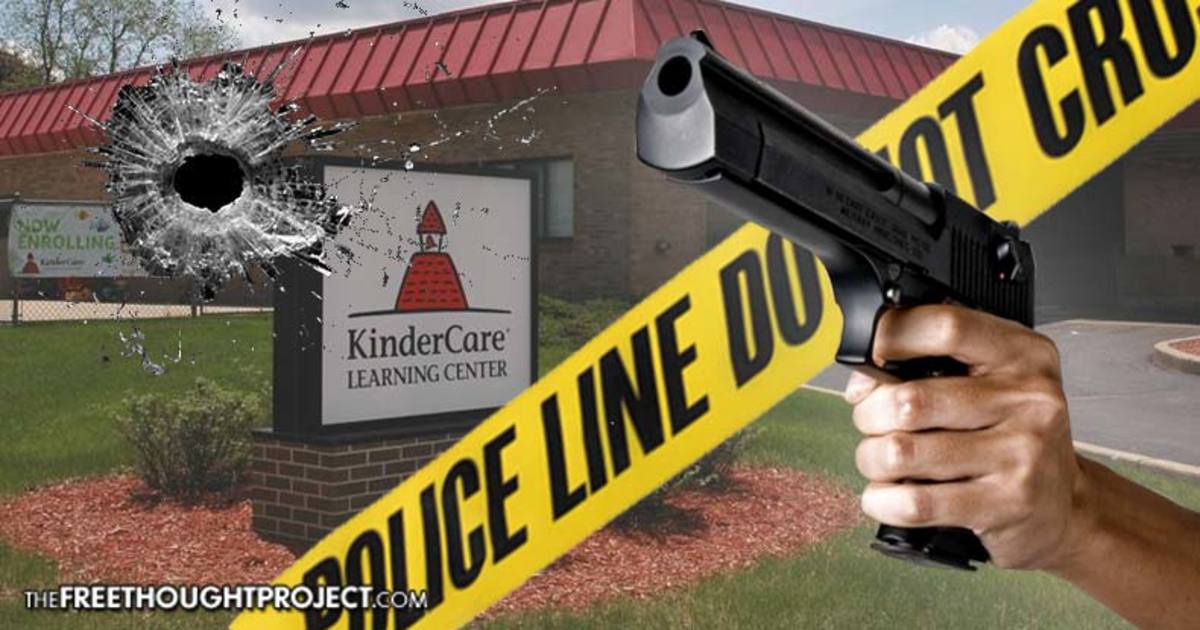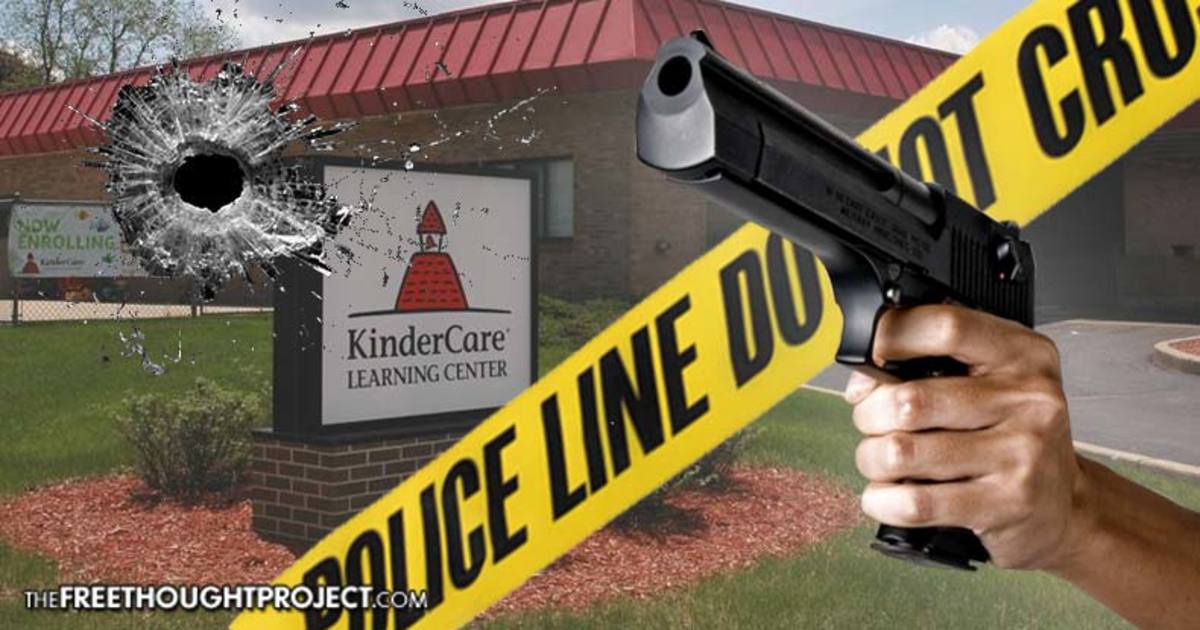 Cuyahoga Falls, OH — Authorities are only 'contemplating' criminal charges against an East Cleveland police officer today after he discharged his weapon sending a bullet hurling into a day care center.
The staff and children at the KinderCare Learning center were likely terrified when a bullet came blasting through the fence and lodged into the wall of the school around 3:35 pm on Tuesday.
Police have refused to release the name of the officer who negligently discharged his firearm. Authorities did, however, note that the officer was unloading his 9mm Glock inside his home, directly behind the daycare, when it 'accidentally' discharged.
Up until that point, the staff and parents of the children at KinderCare probably thought that their children were safer being neighbors with a police officer.
Despite the officer clearly admitting to committing the misdemeanor offense of discharging a firearm within city limits, police have yet to charge him.
"Right now our law department has it and they are reviewing it to see if there should be any charges," Police Chief Jack Davis said Wednesday morning.
"It was a very unfortunate incident for the school, as well as him," he added.
Outside of skating out of the misdemeanor charge so far, this officer also seems to be avoiding the felony offense of discharging a weapon in a gun-free school zone.
Imagine for a moment that you were cleaning your pistol and all of the sudden, you accidentally squeeze off a round sending the deadly projectile through the wall of a daycare center, in a gun-free zone.
There are two possible scenarios that would take place; the first one being that a SWAT team responds and you are killed. The second, less lethal result would be your inevitable arrest and charges of public endangerment, unlawful discharge, illegal use of a firearm, assault with a deadly weapon, terrorism, or a myriad of other charges associated with sending a deadly projectile hurling through walls and near the heads of innocent people. You would immediately be facing fines, jail time, probation, and firearms restrictions.
However, if you are a government agent who's trusted with carrying a deadly weapon into places others cannot, you needn't worry about any of those repercussions as this case will likely prove.
When the Akron Beacon Journal contacted the East Cleveland police department to inquire as to what would happen to this officer, they said their department was unaware of the incident.
"We're just grateful that nobody was hurt," KinderCare spokeswoman Colleen Moran told Ohio.com. So are we.
As the gun controllers call for guns to be taken out of the hands of US citizens, what they really mean is they only want cops to have guns. This cop proves how silly, and dangerous, that demand actually is.
DASH cryptocurrency and The Free Thought Project have formed a partnership that will continue to spread the ideas of peace and freedom while simultaneously teaching people how to operate outside of the establishment systems of control like using cryptocurrency instead of dollars. Winning this battle is as simple as choosing to abstain from the violent corrupt old system and participating in the new and peaceful system that hands the power back to the people. DASH is this system.
DASH digital cash takes the control the banking elite has over money and gives it back to the people. It is the ultimate weapon in the battle against the money changers and information controllers.
If you'd like to start your own DASH wallet and be a part of this change and battle for peace and freedom, you can start right here. DASH is already accepted by vendors all across the world so you can begin using it immediately.