Orlando, FL — Fifty people have been killed and 53 injured in an Orlando nightclub shooting that occurred early Sunday morning, the city mayor said during a press briefing. The shooting is the deadliest in recent US history and the worst attack on US soil since 9/11.
"Today we're dealing with something that we never imagined and is unimaginable," city mayor Buddy Dyer said during the press briefing on Sunday. "It is with great sadness I share that we not have 20 but 50 casualties (dead), in addition to the shooter. There are another 53 …hospitalized."
Mayor Dyer: 50 dead in Pulse nightclub shooting. @ChiefJohnMina Suspect had handgun and AR15 type rifle.

— Orlando Police (@OrlandoPolice) June 12, 2016
According to authorities, the shooter has been identified as 29-year-old US citizen Omar Mateen, US media reported. The CBS network added that the FBI is currently checking whether he was linked to extremists.
The shooter was of Afghan descent and had weapons training, Peter King, US congressman and chairman of the House subcommittee on counterterrorism and intelligence, told US media.
Politicians across the US are already using this tragic event to push their distorted agendas, with Texas Lieutenant governor Dan Patrick stooping to extraordinary lows, capitalizing on the fact the nightclub catered to the LGBT community. Hours after the shooting, Patrick, a devout anti-LGBT politician, tweeted "man reaps what he sows."
"The one who sows to please his flesh, from the flesh will reap destruction," the passage continues. Patrick, who's made headlines recently over his nonsensical gender bathroom legislation, will undoubtedly be hung out to dry over his choice to make such a disgusting tweet.
Patrick has since pulled the tweet after heavy backlash, including from this author. However, predicting he would do so, we saved a screen grab of it.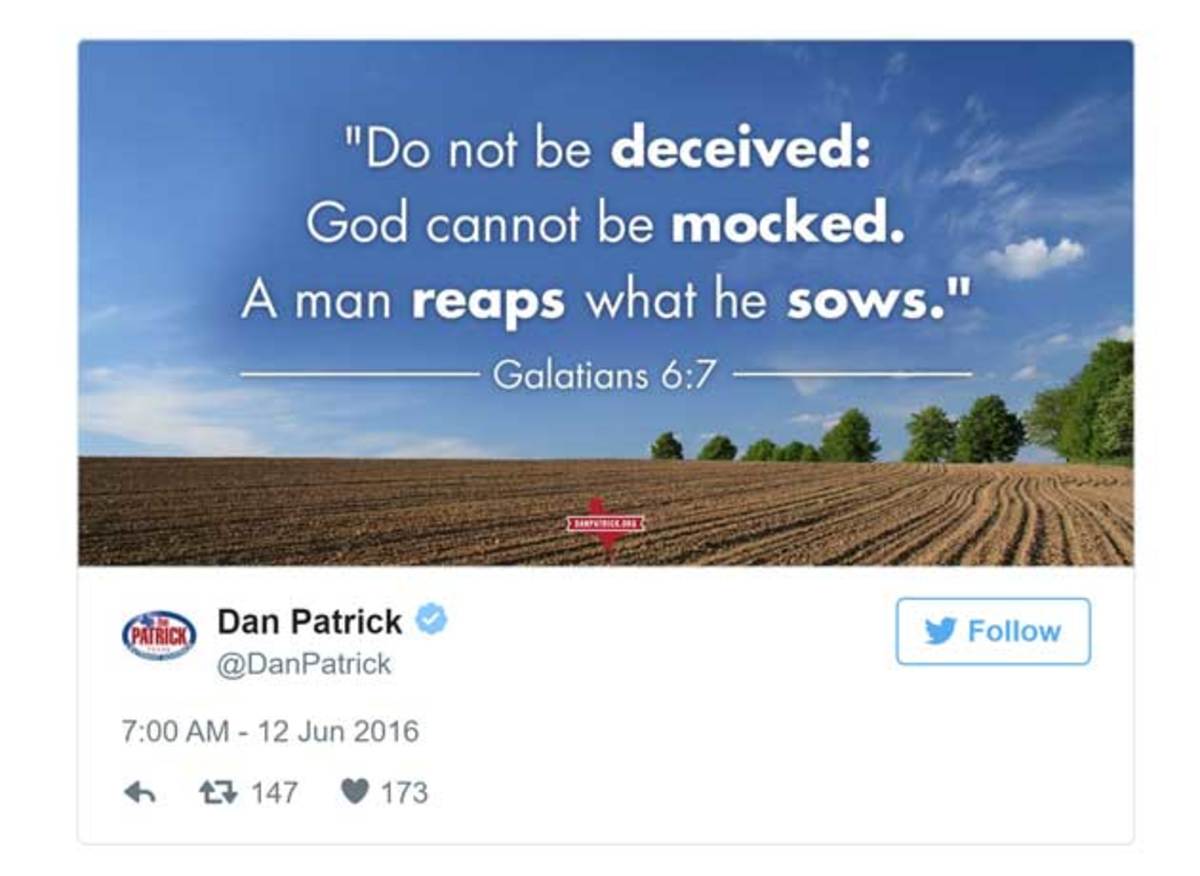 https://twitter.com/DanPatrick/status/741963306294902785
One can only imagine how the tragic deaths of these individuals will be used to further political agendas. If Patrick is any indication, Americans better hunker down — because things are about to get bad.
According to the Orange County Sheriff, the process of removing the victims from the club continues. Hospital officials told journalists during the briefing that some victims of the shooting are undergoing surgery, with a number of them in critical condition.
Today, a black cloud hangs over America.
DASH cryptocurrency and The Free Thought Project have formed a partnership that will continue to spread the ideas of peace and freedom while simultaneously teaching people how to operate outside of the establishment systems of control like using cryptocurrency instead of dollars. Winning this battle is as simple as choosing to abstain from the violent corrupt old system and participating in the new and peaceful system that hands the power back to the people. DASH is this system.
DASH digital cash takes the control the banking elite has over money and gives it back to the people. It is the ultimate weapon in the battle against the money changers and information controllers.
If you'd like to start your own DASH wallet and be a part of this change and battle for peace and freedom, you can start right here. DASH is already accepted by vendors all across the world so you can begin using it immediately.