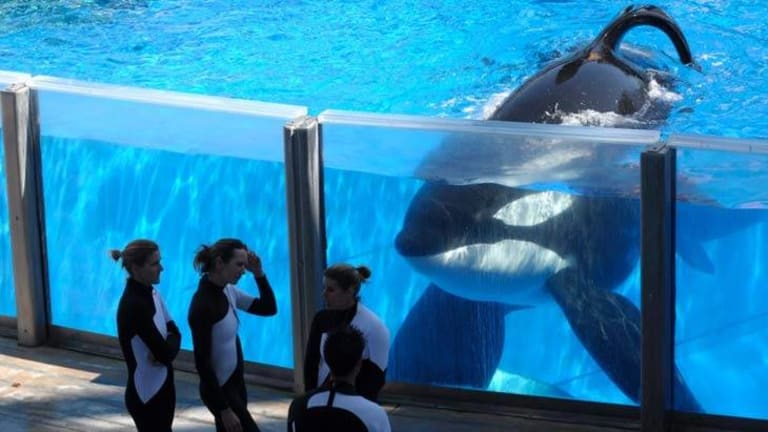 Your Activism Worked! Sea World Can No Longer Breed Orcas
This week it was announced that SeaWorld will no longer be able to breed orcas in captivity.
For the past few years, SeaWorld has been under heavy scrutiny, due to criticism from animal rights activist who say that they mistreat the whales and dolphins that they have in captivity. The theme park has been at the center of controversy since the 2013 release of the documentary "Blackfish", which exposed the inhumane treatment of its animals.
After years of activism from a variety of groups and individuals, the California Coastal Commission banned captive whale breeding and set unprecedented limitations on how the company can hold and transport the animals.
The board also approved the construction of a $100-million project called Project Blue World, which SeaWorld says will greatly improve the quality of life for the whales that they have captive. The new project will reportedly be an expansion of the pools, and an enhanced habitat, but the plan has been criticized by many activists who say that the project is "a joke."
Oddly, SeaWorld representatives have said that a ban on orca breeding is "inhumane" and will lead to a "slow extinction."
John Reilly, president of SeaWorld San Diego, told reporters that "A ban on breeding would sentence these animals to a slow extinction in our care."
In a formal statement, SeaWorld later said that "We are disappointed with the conditions that the California Coastal Commission placed on their approval of the Blue World Project and will carefully review and consider our options. Breeding is a natural, fundamental and important part of an animal's life, and depriving a social animal of the right to reproduce is inhumane."
SeaWorld contends that their parks are more like veterinary clinics than zoos, because according to the company, they nurse sick animals back to health and keep them in captivity because they would not be able to survive on their own. However, these claims are mostly rejected by animal rights activists.
In figures released earlier this year, it was shown that SeaWorld's income dropped from $37.4 million in 2014 to $5.8 million in 2015, and attendance dropped by more than 100,000 tickets.
John Vibes is an author, researcher and investigative journalist who takes a special interest in the counter-culture and the drug war. In addition to his writing and activist work, he organizes a number of large events including the Free Your Mind Conference, which features top caliber speakers and whistle-blowers from all over the world. You can contact him and stay connected to his work at his Facebook page. You can find his 65 chapter Book entitled "Alchemy of the Timeless Renaissance" at bookpatch.com.